Wedding Ideas Blog
Quick Stat:

Powered by: CostofWedding.com



The Wedding Blog is a collection of enteries about wedding planning. Subscribing to the Wedding Blog will allow you to:
--See any new entries on the wedding-planning-101 site.
--Will keep you up to date with any wedding news.
--Allows you to see any new offers or vendors that we have recently found - which may make planning your wedding even easier.
Click on the Orange Button to subscribe.
Custom Search
Tropical Wedding Cake Ideas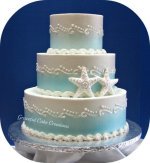 Tropical Wedding Cake Ideas. Are you looking for tropical wedding cake ideas? Learn more today!