Australia Honeymoons - 4 Top Australian Resorts To Consider

Learn more about vacationing and honeymooning in Australia.
Planning Your Honeymoon? Have you considered Australia Honeymoons? For an exotic experience during your honeymoon, why not decide to honeymoon in Australia?
_______________________________________________________________________________
Advertising Disclaimer:
Pamela Kazmierczak (owner of wedding-planning-101.com) is a participant in the Amazon Services LLC Associates Program, an affiliate advertising program designed to provide a means for sites to earn advertising fees through advertising and linking to amazon.com.
On my pages you will find text links and photo links to amazon products as well as other programs I am an affiliate of. I also use other forms of advertising such as google adsense. 
If you click to add or purchase an item through a link, I might earn a commission.
_____________________________________________________________________________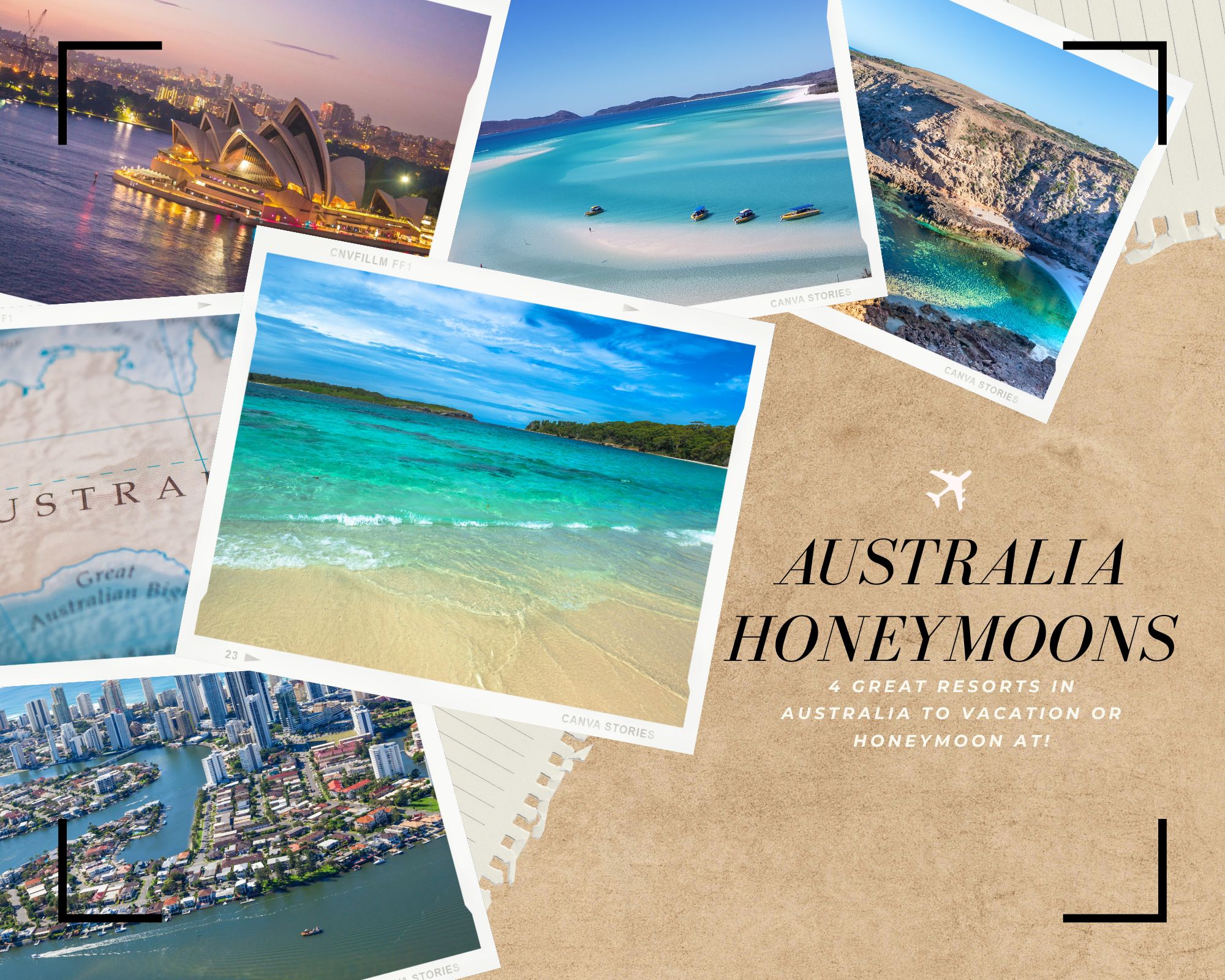 There are so many resorts and hotels you can stay at and such great things to see and visit in Australia. Let's look at some places you might decide to stay in Australia!
Australia Honeymoons – Thala Beach Nature Reserve

Want a super unique and exciting honeymoon experience? Your stay at Thala Beach Nature Reserve would be a fabulous opportunity to have a memorable honeymoon experience. 
Accommodations – This resort offers super unique accommodations. The rooms are all elevated in the sky, giving guests a gorgeous view of the natural surroundings. You can choose between 3 suites and 3 bungalows to spend your honeymoon at!
The Reserve – Spending time on the nature reserve is not just limited to your beautiful accommodations. Honeymoon at the Thala Beach Nature Reserve (located in Port Douglas, Australia) offers many on-site experiences, including a private beach and restaurant.
Eating on Your Honeymoon – While there, you will have several different food opportunities. You can eat at Osprey's Restaurant, located 10 minutes south of Port Douglas. They offer breakfast, lunch, dinner, coffee, sundowners, and cocktails. They use fresh local ingredients on a seasonal menu. This restaurant will allow you to dine in the treetops while enjoying a panoramic view of the great barrier reef.
Besides Osprey's, you can also enjoy a beautiful picnic meal anywhere on the grounds of the resort – from your room to the beach!
Things To Do – While on vacation, you can enjoy each other's company, spend time on the beach and enjoy your time eating fresh local cuisine. You can also spend time star gazing with telescopes and binoculars, seeing stars you can not see while living city life. You can go on local tours, bird & butterfly walks, nature & garden walks, the coconut tour, or spend time at the spa!
Australia Honeymoons - Q1 Resort and Spa

Are you looking for a more traditional honeymoon resort? The Q1 Resort and Spa may be a great choice, regardless of what type of Australian vacation you are looking for. 
Accommodations – There are 10 different room choices while staying on the property. These properties cover everything from one bedroom to penthouses. So, although this would be a fantastic honeymoon destination, they have rooms for all types of trips, including single travel, friend vacations, and family vacations.
Eating on Your Honeymoon – There are 4 restaurants to enjoy during your stay at the Q1 Resort and Spa. These restaurants are the Asami Teppanyaki, the Skypoint Bistro and Bar, Longboards Eatery and Bar, and Osaka Kaiten Sushi. 
Things To Do – There are many different things to do while staying at this centrally located resort and Spa on the Gold Coast in Queensland. You can easily book activities before arrival to help plan the perfect honeymoon. Some popular activities include visiting theme parks, water sports, day tours, nighttime entertainment, cruises, and other attractions. 
Australia Honeymoons - Sheraton Grand Mirage Resort

If you are looking for a name you know and trust, you can spend your Australian honeymoon at the Sheraton Grand Mirage Resort on the Gold Coast. 
Accommodations – There are 20 room accommodations to choose from, including basic guest rooms, studios, suites, and villas. This is an excellent place for a honeymoon, or you can go back later for a friend or family vacation in one of their Villas. Their 3 bedroom Villa can sleep up to 7 people.
Eating on Your Honeymoon – While enjoying your honeymoon at the Sheraton Grand Mirage Resort, you can enjoy one of the five restaurants that have one site. The restaurant choices are Terraces Restaurant, Oyster Bar & Grill, Pearls Bar, Oasis Pool Bar, and The Deck. 
Want to leave the resort for breakfast, lunch, or dinner? That's fine. There are 3 restaurants located only .4 KM (1/4 mile) away. These restaurants are Omeros bros Seafood Restaurant, Glass Dining & Lounge Bar, and La Luna Beach Club.
Things To Do – What types of experiences will you have there? There is plenty to do at or around this resort. There are two pools on the property (The Oasis Pool and the Villa Pool), or you can enjoy miles and miles of beaches. Go to a theme park, shop locally with theMarina Mirage Shopping Centre only 10 minutes away, enjoy water sports, whale watching, or go on day trips.
Australia Honeymoons – Smiths Beach Resort

Our final recommendation is to have fun in the sun at Smiths Beach Resort, located in Yallingup (Western Australia).  If you are looking for a beachside escape for your romantic vacation, look no further than this Resort! 
Accommodations – When staying at the Smiths Beach Resort in Yallingup, Australia, you will have 11 rooms to choose from. You can stay in 1 and 2-bedroom beach shacks, 1-bedroom apartments, 1, 2, or 3-bedroom villas, or 3 or 4-bedroom beach houses. 
Eating On Your Honeymoon – While staying at Smiths Beach resort, you can enjoy in-room dining or venture out to Lamont's Restaurant. You can also stop by the gourmet deli and wine store to bring food back to your accommodations so you can eat in bed together (or anywhere else in your room, of course).
Things To Do – While staying at this resort, there are many different things for you to do during your stay. For instance, you can go sailing, take a tasting cruise, go whale watching, charter a deep sea fishing boat, go on a river discovery tour, go surfing and enjoy the beach. If you want to do non-water-related activities, that is also a possibility! Enjoy an afternoon of cheese and wine, go on a wine, beer, and food tour, or have a wine-tasting experience. You can also do different types of picnics or multiple different types of tours.
---
---
LeaveAustralia Honeymoons and Go Back To Top Honeymoon Locations
Go Back To Wedding Ideas