Wedding Reception Ideas
Even though most of us think about the ceremony when we hear the word wedding, the wedding reception is where most of the planning is needed. It is also where you spend most of your time on your wedding day. Keep reading for wedding reception ideas and answers to your questions.
_______________________________________________________________________________
Advertising Disclaimer:
Pamela Kazmierczak (owner of wedding-planning-101.com) is a participant in the Amazon Services LLC Associates Program, an affiliate advertising program designed to provide a means for sites to earn advertising fees through advertising and linking to amazon.com.
On my pages you will find text links and photo links to amazon products as well as other programs I am an affiliate of. I also use other forms of advertising such as google adsense. 
If you click to add or purchase an item through a link, I might earn a commission.
_____________________________________________________________________________
The wedding reception could last anywhere from 4 – 8 hours so it is important that you take the time to plan for the night accordingly.
In addition to the wedding reception ideas and information below find more
Wedding Ideas
at Wedding Ideas Guide.
When you plan for the reception and come up with wedding reception ideas you will need to think about the following things: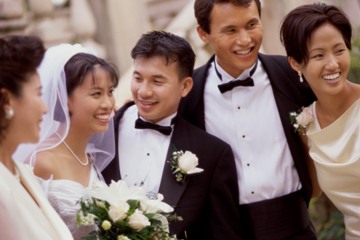 The Location
You must come up with wedding reception ideas for the location. This is what you choose first. You must decide where the reception will be, how many hours and what time of day.
The Food
Do you have any wedding reception ideas for the food? You must decide what to serve. Will you be having a sit-down meal or a buffet? Have you decided against a full meal and are serving finger foods instead?
The Bar
Are you serving alcohol? Will you have top shelf or not? Will there be a period when the bar is closed (like during dinner)? You should come up with wedding reception ideas for the bar, including the possibility of coming up with speciality drinks for your wedding.
Dancing
Is there a dance floor at your location? Is it big enough? Do you have enough room for a band or DJ?
Music
Don't forget to get wedding reception ideas for the music. You need to decide whether you are having a DJ or live music along with what music you are playing and when, including for speciality songs. What music will be played? Who is providing the music? Do you have a song list ready to go?
Cake
What will the wedding cake look like? Are you providing additional desserts?
Decorations
What are you decorations like? Have you picked out centerpieces? Are you usually pictures, balloons or candles? Do you have a wedding theme that needs to be incorporated into the décor?

That small list is just the basics. We have articles to get you started listed below.
More On Wedding Reception Ideas
Autumn Wedding Reception Ideas
Casual Wedding Ideas
Cheap Wedding Reception Ideas
Country Wedding Ideas
Decorating For Wedding Receptions
Decorations For Wedding Tables
DIY Wedding Ideas
Elegant Wedding Ideas
Fun Wedding Ideas
Gothic Wedding Ideas
Outdoor Wedding Reception Ideas
Simple Wedding Ideas
Spring Wedding Ideas
Summer Wedding Themes
Unusual Wedding Ideas
Wedding Backdrop Ideas
Wedding Centerpiece Ideas
Wedding Reception Activities
Winter Wedding Colors
Winter Wedding Reception Ideas
Wedding Reception Decorations Balloons
Wedding Reception Itinerary
Winter Wedding Themes
---
---
Go Back To Wedding Reception Ideas
Go Back To Wedding Ideas