Winter Wedding Reception Ideas
A winter wedding reception is the perfect opportunity to combine the happiness brought about by the upcoming holidays with the joy and love that comes with your marriage. That's why there are so many wonderful ideas available to make your winter wedding reception an unforgettable experience for all who attend.

_______________________________________________________________________________
Advertising Disclaimer:
Pamela Kazmierczak (owner of wedding-planning-101.com) is a participant in the Amazon Services LLC Associates Program, an affiliate advertising program designed to provide a means for sites to earn advertising fees through advertising and linking to amazon.com.
On my pages you will find text links and photo links to amazon products as well as other programs I am an affiliate of. I also use other forms of advertising such as google adsense. 
If you click to add or purchase an item through a link, I might earn a commission.
_____________________________________________________________________________
Winter Wedding Reception Ideas - The Location
For starters, the location of your reception can be anything from a cozy restaurant with a chimney to a huge banquet hall adorned with Christmas ornaments. The season to be jolly can also be celebrated at a frozen lake where everyone, including the bride and groom, enjoy some ice-skating. Or, you can choose to have your winter wedding reception at a lodge or ski resort so guests can enjoy other outdoor activities before or after your event.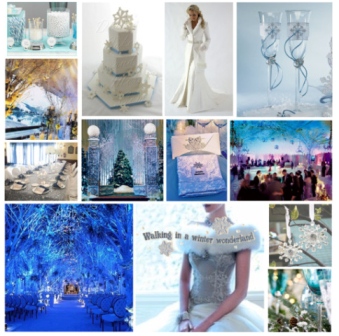 Winter Wedding Reception Ideas - Winter Colors
When it comes to decoration ideas for your winter wedding reception, a great idea is to use a combination of winter colors. One such combination can be white, silver and blue, all of which make us think of snow and ice. Or, if your wedding is around Christmas, you can use a combination of red, green and gold, colors which always bring thoughts of Christmas trees and ornaments to mind. Gold, blue and shades of orange can be used to decorate the site of your wedding reception if your wedding is on or near Hanukkah.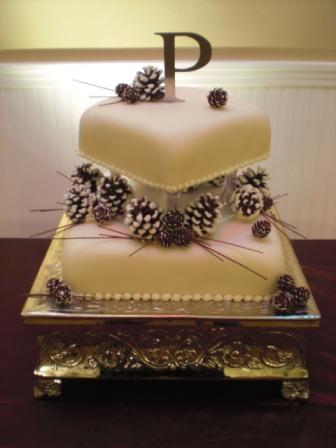 Winter Wedding Reception Ideas - Symbols of the Season
Blending other symbols of winter into your theme is a great way to make your wedding reception interesting. This can include the use of snowflakes as part of your decoration, be it painted on the napkins, adorning the cake, or paper snowflake wedding favors or placemats. Nothing says "winter" quite like a snowflake.

Another traditional holiday symbol is a snowman. Use this playful character to decorate your winter wedding reception as part of a centerpiece or in cut-out cookies or pastries. You can also design your own wedding favors that include the use of a small menorah, a small pine tree or a basket of Christmas ribbons and bells. Ribbons and bells are especially useful for decorating the table, chairs, and stage and dance floor of your wedding reception.

Winter Wedding Reception Ideas - Unique Wedding Drinks
One thing that can set your reception apart is offering your guests hot beverages. Have some delicious egg nog or warm brandy as appetizers before your wedding dinner. Or, top the meal with a glass of peppermint liquor, which always brings out the Christmas spirit. And of course, a tasty turkey - a true holiday favorite - can be part of the main dish at your winter wedding reception.

---
---
Leave Winter Wedding Reception and Go Back To The Wedding Reception
Go Back To Wedding Ideas