Wedding Cake
Find Wedding Cake Ideas Here
Question:

What is beautiful and tasty, a real centerpiece at your reception?
_______________________________________________________________________________
Advertising Disclaimer:
Pamela Kazmierczak (owner of wedding-planning-101.com) is a participant in the Amazon Services LLC Associates Program, an affiliate advertising program designed to provide a means for sites to earn advertising fees through advertising and linking to amazon.com.
On my pages you will find text links and photo links to amazon products as well as other programs I am an affiliate of. I also use other forms of advertising such as google adsense. 
If you click to add or purchase an item through a link, I might earn a commission.
_____________________________________________________________________________
Answer:
Your wedding cake.


Are you looking for wedding cake ideas? Your wedding cake can be a gorgeous focal point, yet another way to display the wedding colors or theme that you have so lovingly chosen.
Whether you are having a traditional romantic theme or more exotic themes such as the Mediterranean or a Vegas affair, the cake can be used to further showcase the particular theme or mood you are trying to create. Of course, you can also add cake accessories, such as wedding cake jewelry, to any cake to make it even more special!
How To Choose a Wedding Cake
The wedding cake, or the dessert table, is a big focal point of a wedding reception. These desserts have their own table as well as a specific ritual around cutting the cake as the bride and groom. Photos will be taken of the cake, the cutting and everyone will talk about your cake at some point or another! So how does one choose the perfect cake for their wedding?
Have a Budget in Mind
Before you think about what the cake looks like you will need to have a budget for the actual cake. Keep in mind that most bakeries charge by the slice, not the cake, so to create a budget you will not only need to know how much you are willing to spend but an approximate headcount for the wedding.
The overall price of a cake can vary by a lot, just like most wedding items! You might spend $3.50 per slice or you could spend $25.00 a slice. This is why it is so important going in knowing how much you are willing to spend on the cake itself.
Get Design Ideas Before You Go
Have an idea of what you do and do not like before walking into the bakery. You can find plenty of cake design ideas on this website as well as sites like Pinterest and Instagram. Get ideas and bookmark your favorites to see how your baker can work with you to make your cake meet your style needs.
Wait Until the Rest of Your Wedding Style is in Place
You do not want to commit to a wedding cake style until you have a firm grasp of the look and feel of the rest of the wedding. This would include choosing wedding colors, choosing whether or not to have a theme, and understanding how you want your wedding to feel.
If your wedding has a specific feel to it – like elegant, traditional, modern, minimalist, rustic, or country – you do not want your cake to stand out like a sore thumb. Although there are many different stylistic elements or a wedding they all must come together and work as one overall style or theme.
Wedding Cake, Wedding Cupcakes, Both or a Whole Dessert Table
At a traditional wedding, you will probably only have a wedding cake. This cake will dominate the wedding cake table and it will be the star of the show. You might even see elaborate decorating of the table with confetti, candles, mirrors, or flower petals but make no mistake, it is all about the cake.
If this is what you are dreaming of, that is perfectly fine. However, if you are having a more modern affair you might decide that you want to use cupcakes instead of cake or even both. If you and your always and forever have a particular fondness for sweets you might want to take the cake table a step beyond and create a full-fledged dessert table.
If you are using a cake and cupcakes or adding even more dessert choices for your guests, there are more things to think about. We already discussed the need for a budget before ordering your cake. Now you need to decide if the budget is just for the wedding cake or if that budget needs to include all the desserts.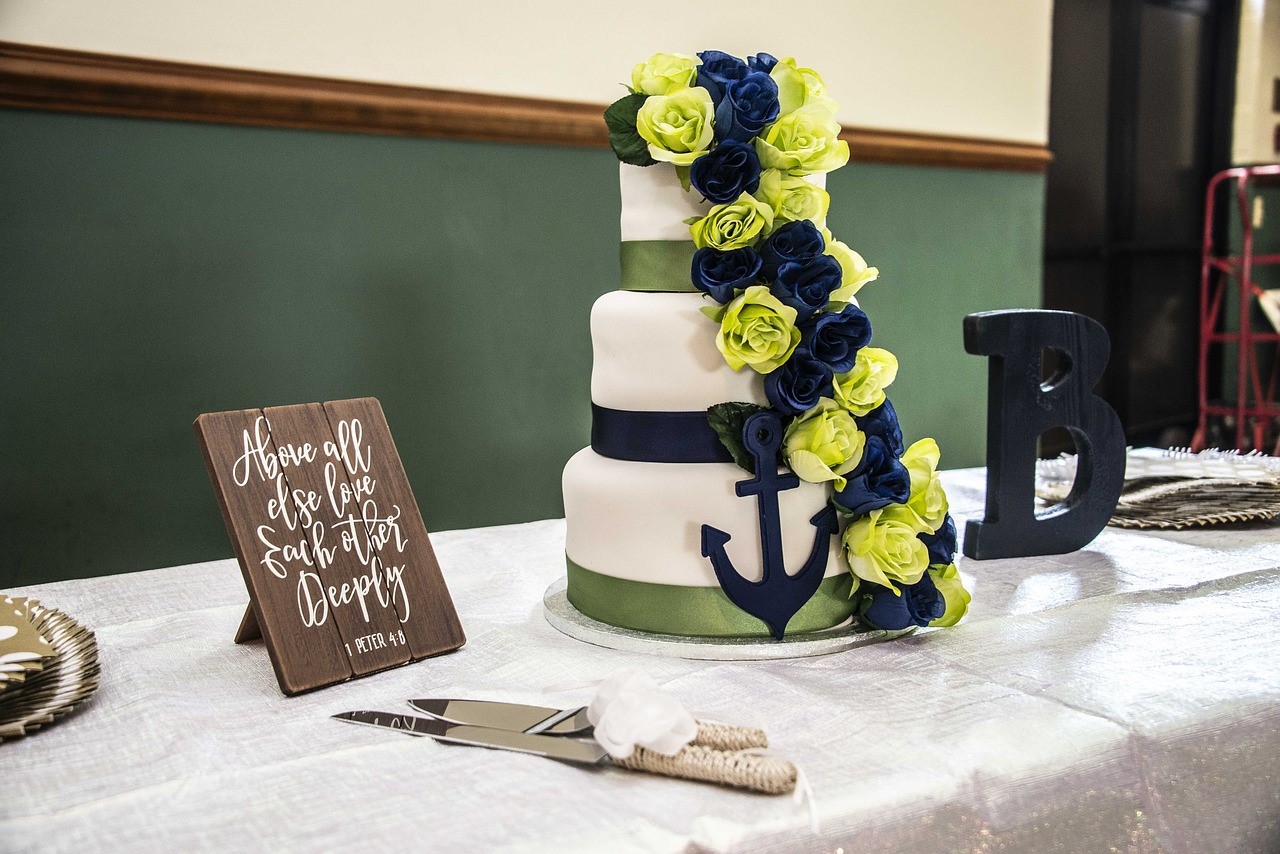 Are you going to order everything from a bakery or are you going to have family and friends assist with the types of desserts you are sharing?
There are so many possibilities for a dessert table. You may start with a wedding cake or cupcakes as the centerpiece, but you can add whatever else you like! Mini pies, brownies, full pies, tarts, truffles, candy, cookies, and more.
Choosing The Right Baker
Besides being decorative the cakes other purpose is to give your guests a sweet treat once dinner is over. You want the cake to look beautiful and make all your guests happy at the same time. So how do you choose your cake? Well, you can start by choosing a cake maker, or a bakery.
If you have recently been to a wedding where you especially enjoyed both the decoration of the cake and the taste find out who they went through. If you haven't been to any big events lately ask your friends and colleagues if they have suggestions.
Do not forget to use the internet and social media. Ask people online who are local what bakeries they like to use for weddings or just delicious cakes and pastries. Stalk your final choices websites and social presence online to see photos, flavor choices, pricing, and reviews.
Once you have some ideas of who you want to go through you can always go in and see the type of cakes they make, look through portfolios of previously decorated cakes, find out what flavors and additional decorations and styles are available, and even schedule attending a cake tasting, where you can sample several different varieties that are available. If you are unhappy with what you have seen and tasted you can always try another bakery.
Remember your wedding cake can be personalized to make it feel more like you and your fiancé than just another cake. You can do tons of things to make the cake yours.
Some popular suggestions include having the baker use a family recipe, utilize wedding cake jewelry, or by using a family heirloom in the cake design or as the topper, or using a certain flower to decorate the cake either because it ties into the wedding theme or because it has special meaning to you personally.
Don't forget to buy a cake topper or wedding cake jewelry for your cake as well as the serving essentials you will need. These will certainly turn into keepsakes you will treasure for years to come.
Choosing Wedding Cake Flavors
There are so many different ways to choose wedding cake flavors. Here are some of our top ideas!
1 – Relax! This is one of the parts of wedding planning which can be a lot of fun. Remember the wedding planning process and engagement can be a whirlwind. Take the time to have fun and create memories you will cherish later – do not look at this as a job!
2 – Now that you are ready for a good time to decide if you are looking for something traditional, something daring, or somewhere in between! There are many different ways you can choose a flavor – between what you love, what is traditional, what is in and exciting right now, or even to match your wedding theme.
Think about what excites you the most. Do you want vanilla or chocolate because they are safe or would you rather have a pumpkin or apple flavor as you are getting married in the autumn? Think about the different possibilities and go from there.
3 – Choose something you know you personally love. Did you go to a friend or family member's wedding where the cake was just incredible? Well reach out and find out who their baker was and what flavor profiles they choose.
4 – Ask the baker. Although we all have an idea of what we may or may not like, the bakers know what is popular, what flavor combinations work, and which ones do not. Ask the professional for their expertise.
5 – Have a tasting. Do not skip out on the possibility of having a cake tasting with multiple flavor choices and frosting combinations. Why just order something you think will work without knowing that it will work for sure!
Saving Money
Weddings can be expensive, the cake is not immune to this issue. If you have a set budget or you just want to save a little money, that is perfectly fine. There are places you can always save money and your desserts are no exception.
The first thing you can do is to shop around. Different bakers are going to charge differently for their time and services. You may need to price compare to get the cake you want for the budget you do not want to exceed.
Consider making the cake or some of the other desserts yourself. If you really want to save money you might consider learning how to make the cake yourself or even just making some of the simpler desserts (if you are serving more than cake) like cupcakes or cookies instead of paying $10 – 20 a pound from a bakery.
Ask the bakery about ways to cut costs. For example, you can choose to have a small display cake while serving the actual slices from sheet cakes in the kitchen. Like the idea but have your heart set on a large multi-layer wedding cake? Many bakers will create a large cake to decorate with some of those layers being made of something other than cake, like foam inserts. This will give you the grand wedding cake you want to have on display without paying for every layer that you might not even need.
Go Simple - Think of ways to simplify your cake without crushing your style choices. You can save money by choosing a simpler design, more basic flavors, using in-season flowers to decorate, or using buttercream frosting instead of fondant.
---
More Wedding Cake Ideas
Autumn Theme Wedding Cakes
Beach Theme Wedding Cakes
Black and White Wedding Cakes
Castle Wedding Cakes
Creative Wedding Cakes
Cup cake Wedding Cakes
Cupcake Tiered Wedding Cake
Daisy Wedding Cakes
Disney Wedding Cakes
Fall Wedding Cakes
Fall Wedding Cake Designs
Halloween Wedding Cake
Heart Shaped Wedding Cakes
Red Wedding Cakes
Seashell Wedding Cake
Simple Wedding Cakes
Square Wedding Cakes
Summer Wedding Cake
Tropical Wedding Cakes
Tropical Wedding Cake Ideas
Unusual Wedding Cakes
Wedding Cake Flavors
Wedding Cake Styles
Wedding Cakes With Fresh Flowers
Wedding Cupcakes
Western Wedding Cakes
White Wedding Cakes
Winter Wedding Cakes
---
---
---
Leave Wedding Cake and Go Back To Wedding Ideas