Unusual Wedding Cakes
What are unusual wedding cakes? I guess that answer would be different depending on the person. If you are a traditionalist any wedding cake which is not white or ivory colored and has any wedding topper other than the traditional bride and groom could be considered unusual.

_______________________________________________________________________________
Advertising Disclaimer:
Pamela Kazmierczak (owner of wedding-planning-101.com) is a participant in the Amazon Services LLC Associates Program, an affiliate advertising program designed to provide a means for sites to earn advertising fees through advertising and linking to amazon.com.
On my pages you will find text links and photo links to amazon products as well as other programs I am an affiliate of. I also use other forms of advertising such as google adsense. 
If you click to add or purchase an item through a link, I might earn a commission.
_____________________________________________________________________________
Modern Wedding Cakes
Many modern cakes would be considered unusual wedding cakes to a lot of people. There is more to today's wedding cakes then even tiers frosted in safe white and ivory colors. Today wedding cakes have bold colors ?? such as red, green, purple and even black. Cakes can have multiple colors, not just one, and can stand out in a number of ways.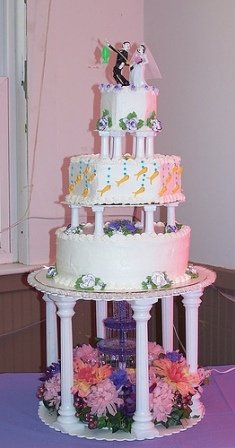 Mema_nh / BY-NC-SA/2.0
Themed Wedding Cakes
These days what the bride and grooms want goes. There are many themed wedding cakes out there today. Did the two of you meet during October? Then maybe you will consider having a Halloween wedding cake or a gothic wedding cake. Maybe you want to celebrate your heritage, your astrological sign, your favorite sports team or your ideal vacation spot. Whatever theme you want, your baker will be able to create a wedding cake around it.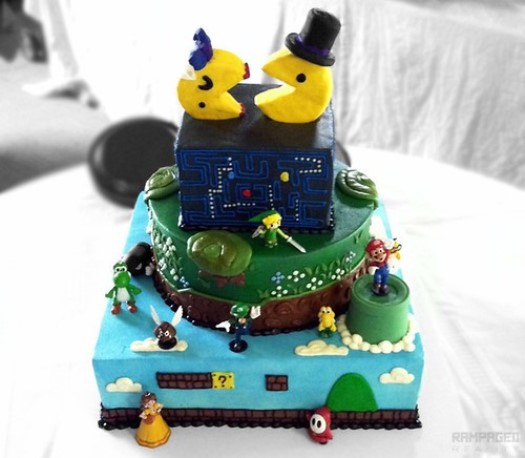 photo credit: Justin Rampage 3UP Video Game Wedding Cake via photopin (license)
Wedding Cake Toppers
When you are decorating unusual wedding cakes you need to consider the topper as well. There are a lot of unique toppers on the market. Sometimes they represent themes like hearts, beach weddings or fairytale weddings. However, many other times these cake toppers are more whimsical and humorous, celebrating clichés like the ball and chain.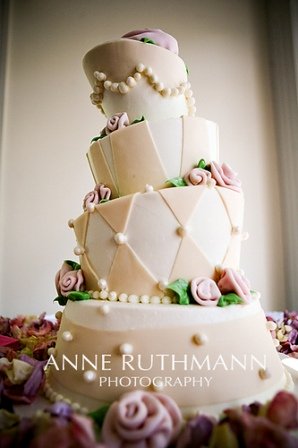 https://www.flickr.com/photos/annemarlow// / BY-NC-SA/2.0
Wedding Cake Flavors
Maybe you want to make  unusual wedding cakes  not on the visual sense but also how they taste. If you are looking for something a little more unique you might consider having a different and unique flavored wedding cake. Maybe you want a strawberry or banana cake. Or along with the cake you might want to serve other desserts like fruit pies, cheesecake or chocolate covered strawberries. 

photo credit: Graceful Cake Creations Modern Whimsical Wedding cake via photopin (license)
---
---
Leave Unusuak Wedding Cakes and go back to Wedding Cake
Go Back To Wedding Ideas