Halloween Wedding Cake Ideas
19 Halloween wedding cake photos, 39 fall wedding flavors and 10 additional Halloween cake ideas.
Pinterest Wedding Cake Board:
There are two major options for designing a Halloween wedding cake: 


Go all out with the Halloween theme, or
Be subtle by creating a traditional wedding cake with Halloween accents.
_______________________________________________________________________________
Advertising Disclaimer:
Pamela Kazmierczak (owner of wedding-planning-101.com) is a participant in the Amazon Services LLC Associates Program, an affiliate advertising program designed to provide a means for sites to earn advertising fees through advertising and linking to amazon.com.
On my pages you will find text links and photo links to amazon products as well as other programs I am an affiliate of. I also use other forms of advertising such as google adsense. 
If you click to add or purchase an item through a link, I might earn a commission.
_____________________________________________________________________________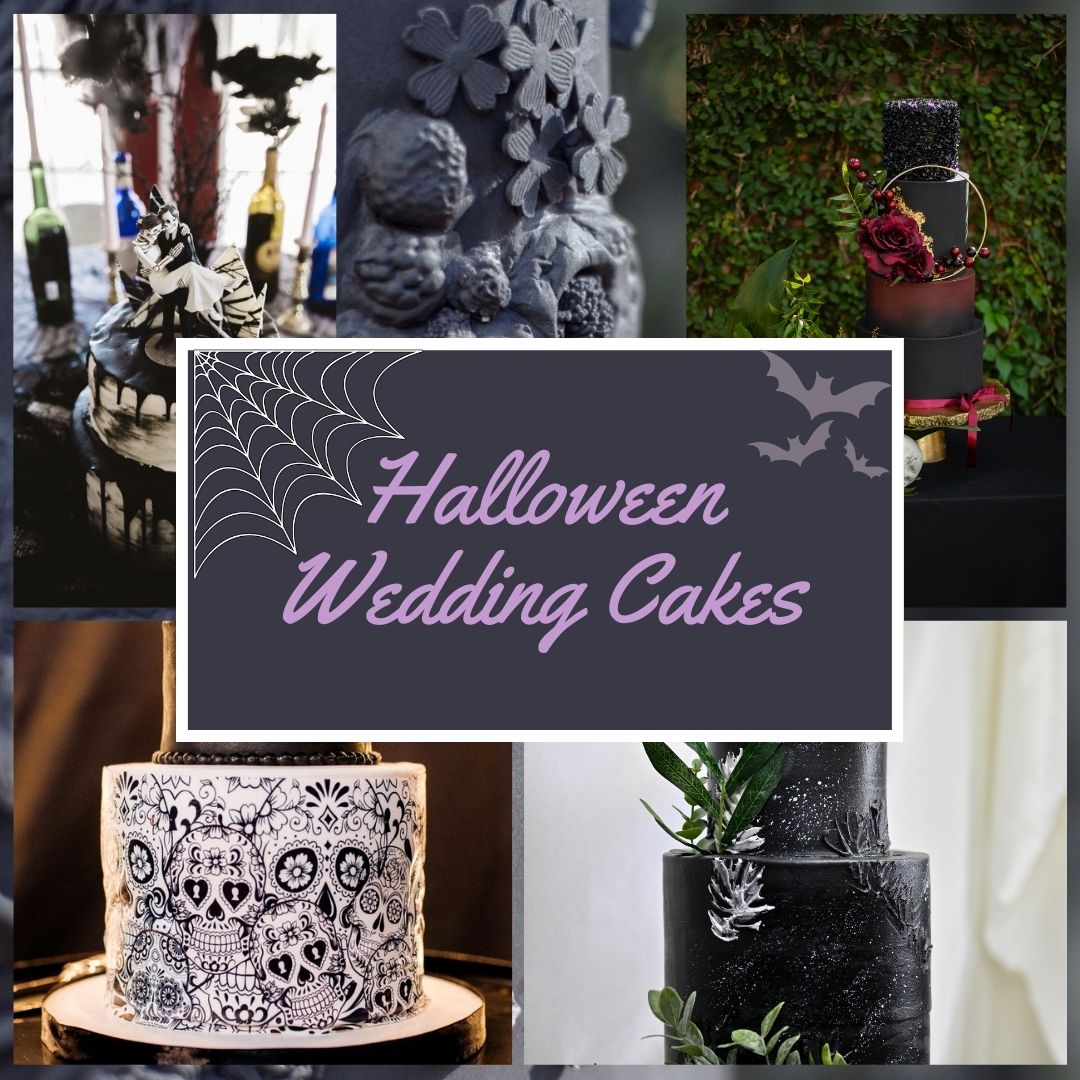 Your Halloween Wedding Cake - Be Creative
The first option is appropriate for a wedding reception that incorporates the Halloween theme in other ways, such as with Halloween music, favors, and decorations, or perhaps even a costume party. The cake could be funny or elegant. Not sure how to obtain elegance with a Halloween-themed wedding cake? Well, elegance could be achieved by decorating the cake so that the Halloween theme and elements come alive while making sure it still looks like a beautiful wedding cake. 
Need some examples? You could have a tiered cake with an orange frosting trimmed in black lacey decorative frosting, or you try a yellow chiffon frosting with trailing green pumpkin vines and orange pumpkins. Another option would be to decorate a white frosted cake with orange rosebuds or arches. 
Are you looking to inject some humor and good-natured fun into your cake? A funny cake that totally incorporates the Halloween theme could be a tiered Halloween wedding cake designed to be in the shape of a character or Halloween object. Some objects that would work well include pumpkins, jack-o-lanterns, a pair of Halloween masks, or a ghost. A tiered cake could be designed to look like candy corn; a bit more creativity might yield a haunted mansion or witch's cauldron. 
A sheet cake has so many possibilities. Any Halloween scene could be portrayed here, from ghosts and ghouls to Peanuts characters awaiting the Great Pumpkin. It could also be cut in tombstone or pumpkin shapes. A sheet Halloween wedding cake could be made into just about any type of Halloween picture you want to portray. 
Your Halloween Wedding Cake - Be More Subtle
Subtlety is the second direction in designing a Halloween wedding cake: In this case, choose accents to be added to a beautiful, traditional wedding cake. Consider the cake topper - the bride and groom could be Dracula and his Bride, mummies, skeletons, or Frankenstein and his bride. Creative cake toppers are a great way to add any theme to your wedding without it being too overdone. 
You may want to use the cake to say happy Halloween to your guests. Or a slightly contrasting frosting color could be used to ask, Trick or Treat? Or to trace cobwebs and spiders, cats, or witches. Yet more subtle would be discovering a hidden Halloween theme once the cake is cut. There might be an orange swirl throughout the cake or colored frosting between layers. 
One further option that has been gaining popularity is to use a tiered cupcake arrangement. Once again, the decorations might be vivid or subtle, funny or elegant. This option would allow using Halloween-themed cupcake liners and frosting colors and decorations. 
In any case, the tone of the reception and the reasons behind choosing a Halloween wedding cake must inform the choices. Imagination can take this idea to beautiful, funny, and even spooky heights. Try choosing a howling werewolf or the one-eyed purple people eater song for the cutting of the funnier cakes or an intense organ fugue in a minor key to go with an elegant one. 
Bring in The Seasons of Fall
Halloween is smack dab in the middle of the Autumn season. You can choose to not only have a Halloween decorated wedding cake, but you can also select the flavors of the cake (or other dessert offerings) to celebrate the season!
Flavors can be added to the cake flavor, the frosting, fillings, and toppings. Here are 39 wedding cake flavors to consider:
Pumpkin
Pumpkin Latte
Apple
Apple Cinnamon
Apple Caramel
Applesauce
Apple Cider
Salted Caramel
Hummingbird
Spice Cake
Carrot Cake
Peanut Butter
Peanut Butter Chocolate
Peanut Butter Hazelnut
Chocolate Hazelnut
Hazelnut Praline
Brown Butter Chai
Sweet Potato
Gingerbread
Chocolate Ginger
Cranberry
White Chocolate Cranberry
Maple
Spiced Pear
Butterscotch
Bananas Foster
Pistachio
Red Velvet
Vanilla Mocha
Earl Grey
White Chocolate Raspberry
Orange Chocolate
Grand Marnier
Chocolate Chai
Coffee Cream
Snickerdoodle
Mexican Chocolate
Rum Butter
Orange Cranberry
10 Other Halloween Wedding Cake Ideas
There are many ways to pick a wedding cake for Halloween or decorate it. Here are some additional ideas for your Halloween Wedding Cake!
Be Elegant. If you are not into overly in-your-face Halloween symbols, use colors instead. Choose Halloween color palettes like red and black, purple and green, or black and gold. Sprinkle in some orange aspects, and you can have a Halloween aesthetic without the blood and gore.
Combine Halloween Colors and Steampunk themes. This can make a stylish but bold wedding cake. Use colors like black, dark gray, and deep purple.
Dress Up a Black and White Cake. Having a Halloween cake does not automatically mean the entire cake must be Halloween-themed. Have a simple cake designed and add small elements like Antique Cameo bride and groom toppers.
Make it Bloody. If you love the gory side of Halloween, go all out! Have your baker use the drip method during decorating to have "blood" dripping on your cake. Use a realistic-looking heart as a topper, or cover floral decorations in blood.
Design a Cute Halloween Cake. Turn scary elements into fun or funny ones. This can be done with spiderwebs, witches, or zombies.
Don't Rule Out Skulls. Skulls are an iconic Halloween symbol. Skulls can be used to decorate the cake or as an elaborate topper. Skulls can convey many emotions – sad, sweet, loving, fun, funny, or scary.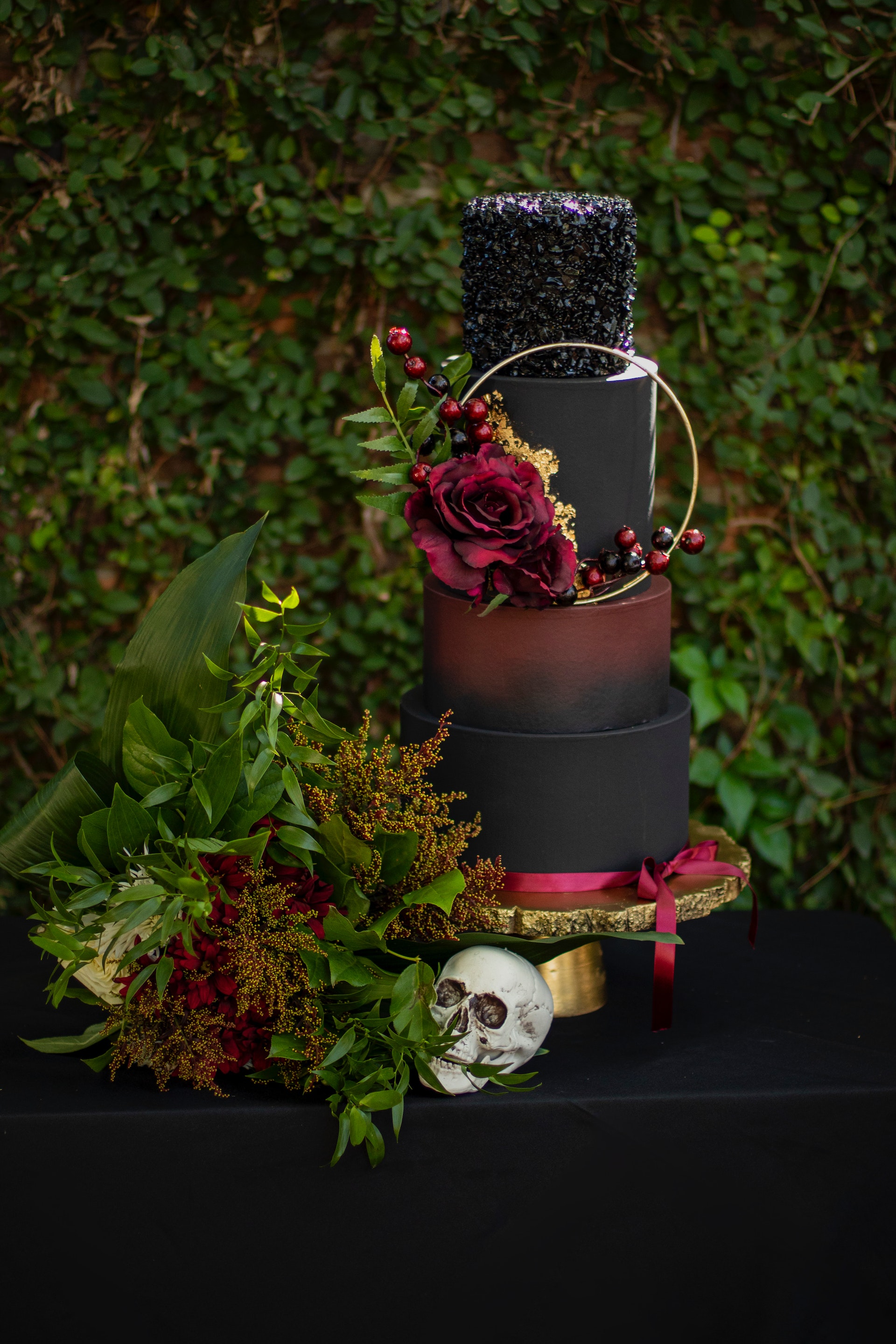 Make a Haunted House. Have your Halloween cake decorated to look like a haunted house. The different layers can show different home floors, and various house rooms, or each features a different ghost or creature. 
Use Pumpkins. Pumpkins can be done in many different ways. However, one fun way (with a talented cake decorator) is having one of the middle layers being a pumpkin. This can be done by the decorated, shaving, and carving the cake into the correct shape and then decorating it with orange and green frosting.
Trees, Branches, and Lighting Will Look Great Too! If you are using a black and dark purple color scheme, you can have the cake decorated with bare trees, creepy tree branches, or lighting coming from the sky.
Embrace The Chalkboard Look. The chalkboard look has been popular for wedding decorations and accessories such as signs and stationery. However, having the main cake painted in chalkboard colors and the decorations (like skulls or cameos) added in white will provide a dramatic and striking look for your Halloween wedding cake!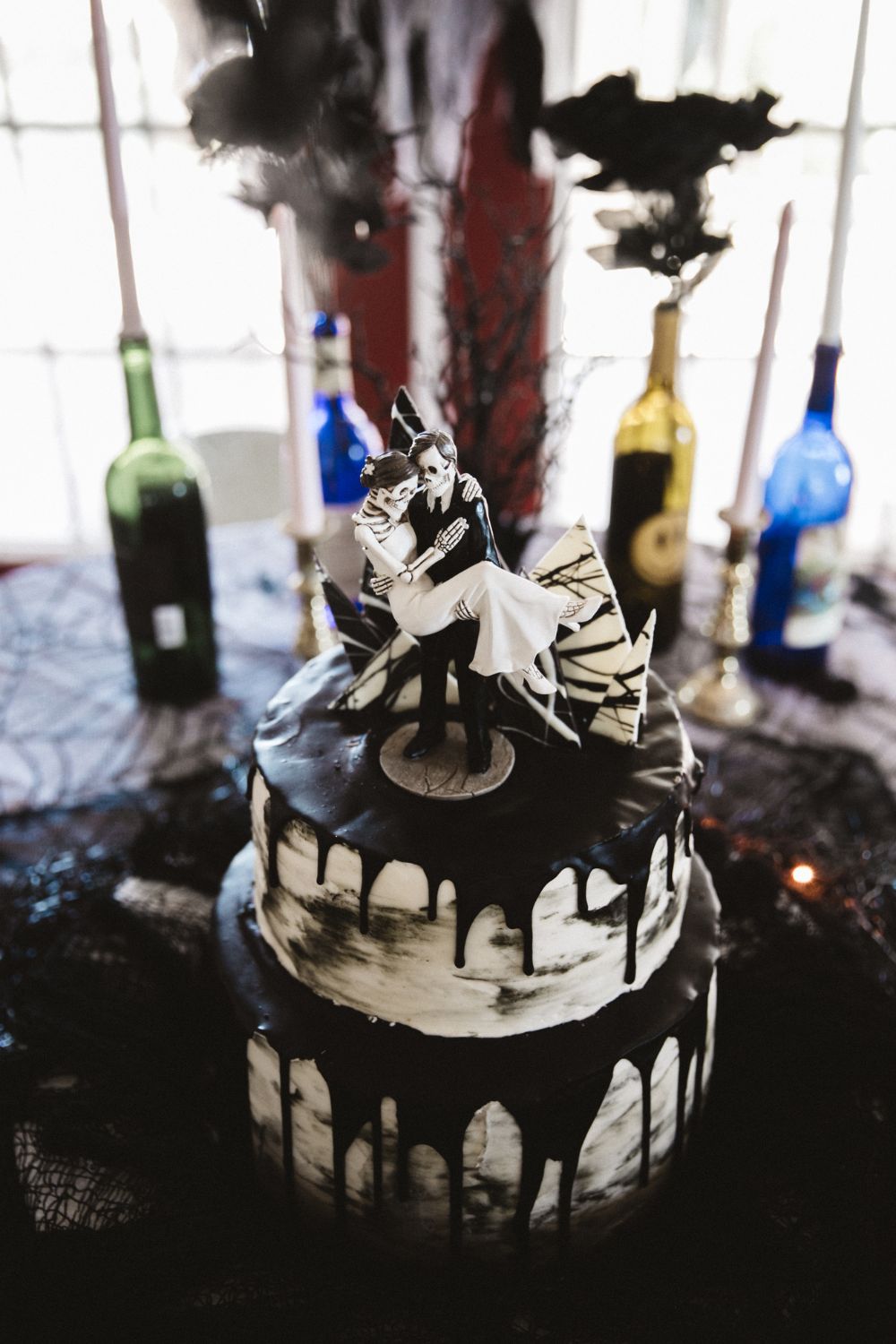 ---
---