Wedding Centerpiece Ideas
When planning your wedding you will need to come up with some wedding centerpiece ideas. Centerpieces will go on each of your tables at your reception and they should aid in helping the table look beautiful. Before making any decision on what will be there you may want to decide the height of the item, as different centerpieces have different heights.
_______________________________________________________________________________
Advertising Disclaimer:
Pamela Kazmierczak (owner of wedding-planning-101.com) is a participant in the Amazon Services LLC Associates Program, an affiliate advertising program designed to provide a means for sites to earn advertising fees through advertising and linking to amazon.com.
On my pages you will find text links and photo links to amazon products as well as other programs I am an affiliate of. I also use other forms of advertising such as google adsense. 
If you click to add or purchase an item through a link, I might earn a commission.
_____________________________________________________________________________
There is a noticeable difference of a centerpiece which is the main focal point, so much so that guests sitting across from one another cannot see each other through the centerpiece, and one which is nice but still allows everyone to look at each other without leaning to their right or left. Here are some nice wedding centerpiece ideas.
Candles
Candles are always a nice touch as an arrangement. Candles are especially nice as they come in many shapes, sizes, colors and scents. Picking candles as a centerpiece makes it pretty easy to match your wedding colors or theme. Another nice thing about candles is that they can be the whole centerpiece or they can be a small part of it. The candle can stand alone, certainly, or it can be wrapped in a wreath, vines, flowers or anything else you find to help beautify the centerpiece.

Besides wrapping or surrounding the candle you could also you hurricanes or decorative candle holders to enhance the look. Want the candle to stand alone but you don't want it to appear plain? That is not a problem either – how about decorating the candle with candle jewelry, or embedding it with decorations such as crystals, seashells, colored stones or gems?
Candelabra
Many people want to use some kind of candles, but they prefer something a little more elegant or traditional. Whether you are looking for something very nice for the head table alone, or if you prefer this elegant timeless centerpiece for all of your tables, the candelabra may be just what you are looking for! Wedding centerpiece ideas come and go, but the candelabra is one that has weathered the test of time. If you are looking for a more traditional look you might choose to use one made of brass or silver. However, if you want it to be more modern or even a little flashy, these days there are plenty of candelabras to choose from made of different materials like wrought iron, crystal, black crystal and colored crystal.

Flowers
When thinking about wedding centerpiece ideas - flowers are always a nice choice. Flowers, like candles, can be of different varieties, sizes and colors. Flowers have the added bonus of being easily mixed and matched, creating a variety of different looks.

You could choose one color and use several different shades or use multiple colors and either make flower arrangements showcasing your wedding colors or create a few different types of arrangements and using different arrangements at different tables. There are also plenty of different vases and holders for you to put the beautiful flowers in.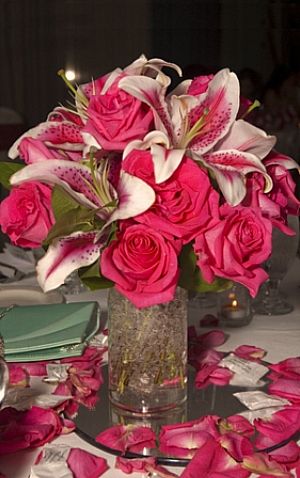 Candy
Need more wedding centerpiece ideas? One of the newer trends emerging is to purchase nice crystal bowls as the major centerpiece and filling them with candy and treats for your guests to snack on throughout the night. By using certain kinds of candy you can still stick to a major color theme or just make the arrangement very colorful. Some ideas are m&m's, after dinner mints, jelly beans or hard candy. You also could put other treats like miniature chocolate bars in there, or anything you think your guests would enjoy.
Other Ideas
Like the above ideas but still searching for more wedding centerpiece ideas? There are plenty of them available. If you wedding is heavily themed you might want to use items like seashells, sandcastles, pictures or postcards from the city you are honeymooning in, or anything else that symbolizes your wedding.
---
---
Leave Wedding Centerpiece Ideas and Go Back To Wedding Centerpieces
Go Back To Wedding Ideas