The Engagement Party - Everything You Need To Know
Everything engagement party: Everything you want to know – FAQ, tips, ideas, themes, and more!

Having an engagement party is not mandatory, but if you decide to indulge in yet another way to celebrate your engagement, here are some ideas and guidelines for engagement party planning.
_______________________________________________________________________________
Advertising Disclaimer:
Pamela Kazmierczak (owner of wedding-planning-101.com) is a participant in the Amazon Services LLC Associates Program, an affiliate advertising program designed to provide a means for sites to earn advertising fees through advertising and linking to amazon.com.
On my pages you will find text links and photo links to amazon products as well as other programs I am an affiliate of. I also use other forms of advertising such as google adsense. 
If you click to add or purchase an item through a link, I might earn a commission.
_____________________________________________________________________________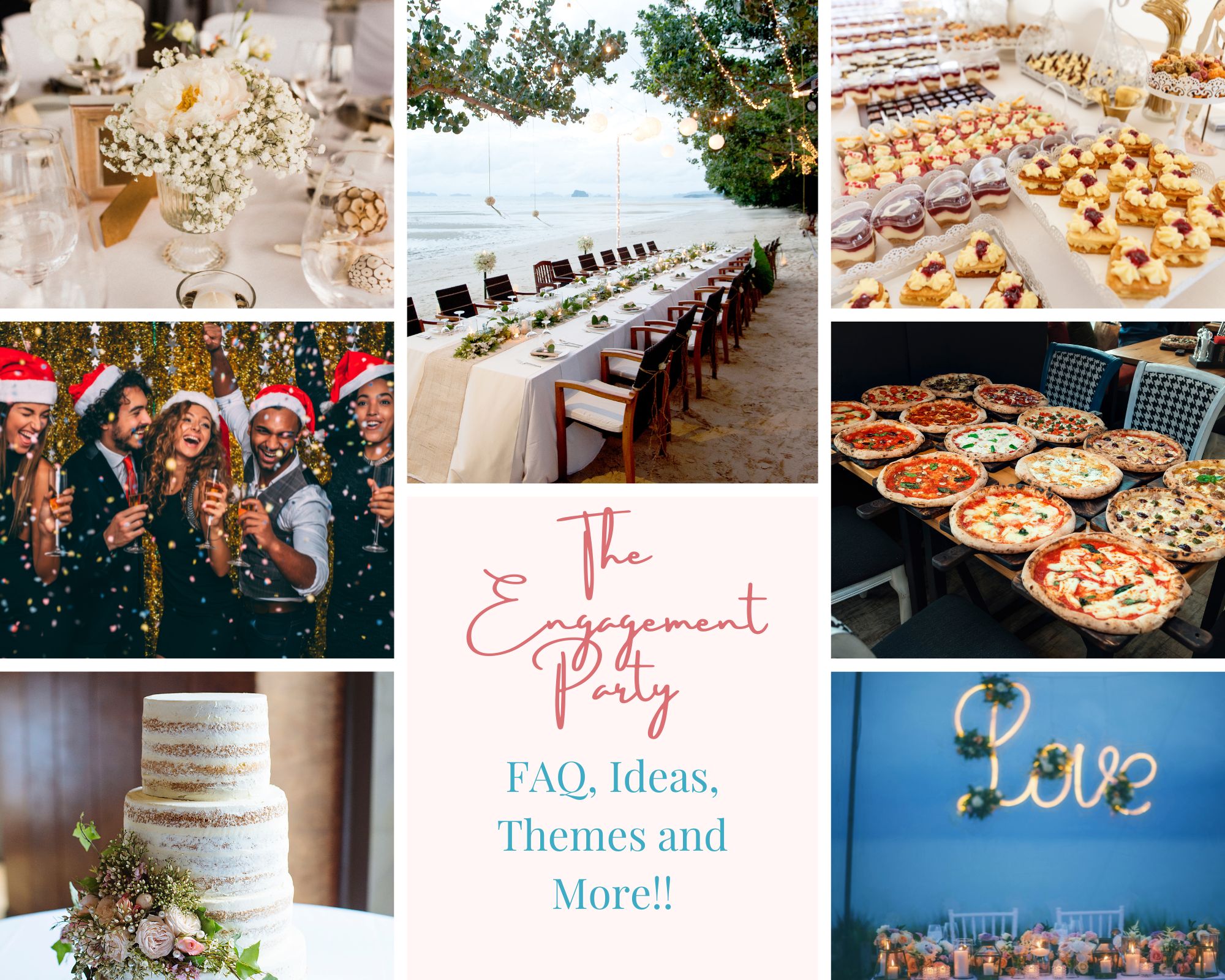 What is an Engagement Party?

The engagement party is a mix of a celebration of the couple and a way for them to announce their engagement to all their family and friends. This is the first party the couple will have related to the wedding.
Do All Engaged Couples Have Engagement Parties?

No. This is certainly not a mandatory party. These parties are better for longer engagements, couples whose weddings are at least a year away. If the engagement is going to be relatively short, six months or less, most people do not have a party. Between all the planning that needs to be done for the wedding, bachelor and bachelorette parties, a bridal shower, and rehearsal dinner, engagements that last less than 6 months are already a little rushed, so planning another party (including the added expense) is usually not done.
When Does The Engagement Party Happen?

Unlike many other wedding events, there is no hard and fast rule or timetable with engagement parties. However, they are usually relatively quick after the proposal. This could be from a few weeks to a few months after the engagement has started.
Who Hosts And Pays For This Party?

Traditionally, the bride's parents pay for the engagement party, which is often held at their home. However, times have changed, and either set of parents could host, as could the bride and groom themselves or anyone else close to them. No matter who throws this party, this should be worked out before you get too far in the planning stages.
The Guest List

There are two schools of thought on this, so it is up to you to decide what works best for you and your situation. The first is that whoever is invited to the engagement party should also be invited to the wedding. That said, it is vital to have the final wedding invitation list done before an engagement party occurs. The party should be close to the actual engagement, so the bride and groom do not have much time to decide who is and is not going to be invited. This should be taken into consideration if still deciding whether or not to have a party. 
The second school of thought is that the engagement party should be a scaled-down version of the final wedding list; it should only include nearby people and those closest to the bride and groom.
What Type of Party Is It?

Traditionally, Most weddings are black tie events and very formal. Engagement parties can be either formal, like the upcoming wedding, or casual. If you decide to make the party more on the fun and casual side, you may want to send handmade invitations instead of ordering them. The invitation will help set the tone of the event. 
If the invitation is handmade, with, say, a funny picture of the couple on the cover, the guests will be less inclined to believe it is strictly a black tie event. The invitation should specify whether or not it is a black tie and any special things that the partygoers need to be aware of.
Should There Be a Theme?

Themed engagement parties can be a lot of fun. There is no reason why a theme cannot be used, even if it is not carried over into any other part of the wedding. However, a theme does not have to be used. Themes are more consistent with casual parties than black tie events. So, if you decide on a theme unless it fits in a formal setting, ensure the theme fits with the clothing and attire being worn. Either way, make sure the theme is made clear in the invitations.
Engagement Party Favors

Many couples decide to give out engagement party favors. This is an excellent way to thank your guests for celebrating your engagement. Party favors can be anything from kitchen tools (measuring spoons, pizza cutters), home accessories (coasters, koozies, bottle openers) to snack and sweets grab bags. The choice is really up to you.
Will The Guests Bring Gifts?

The guests do not have to bring gifts, but it is possible. Since it is not traditionally required, the invitation should not mention gifts. It should have no mention of where the couple is registered. However, some guests will want to bring gifts, so even if the bride and groom do not have a full registry done yet, they should have a small one or two started, and the parents should know where so if guests can and inquire before the party they can pass on the information. It is also a good idea to have a wedding website or a social media page set up with links to your registries, this way, people can find these registries without having to call and text your parents.
Since the gifts will be an extra treat, not a central part of the party, any gifts received will be put aside until after the party ends. Once the party is over, they can be opened, and thank you notes should be sent.
Other Engagement Party Details To Think About

Now that the big questions are out of the way, it is time to plan the party! Here are things you will need to do along the way!
Figure out who the host is. The answer to this question will determine just how involved the bride and groom will be in this process.
Set the Budget. The budget is the first thing that needs to be determined as this will be directly involved with when the party will take place, the guest list, menu, and decorations that can be used.
Set the Date. Pick your date wisely. Think about the most important guests and ensure you are not having a party around someone's wedding, birthday, or anniversary.
Decide if there will be a theme. This needs to be decided early as this may change where the party is held or the type of décor needed.
Make the guest list. It is time to decide who you are inviting to the party. We put this step above picking a venue, as the final head count may affect your venue choices.
Pick a Venue. You will want a place that fits within the budget, can host the number of guests you are inviting and can be decorated to match the theme or level of formality you have chosen.
Pick and send out engagement party invitations. You will want to have enough time for people to determine if they can come and to RSVP.
Plan the Décor. Understand how you want to decorate for the party and start shopping! This can also mean shopping for DIY items to make centerpieces and party decorations.
Decide on the Menu. What food will be available? Will you cater, cook yourself, or have some combination of the two. It is time to decide the menu for your party and make a plan to execute it.
Plan the details. The host should plan for help from people, commonly known as the day of details. Who is accepting guests? Who is setting up the decorations and taking them down? Think about what will need to be done in the hours leading to the party, during the party, and afterward, and whose responsibility those tasks will be.
Don't Forget the Clothes. Regardless of the theme or how formal this party is, the couple should plan their outfits carefully for the party!
Plan For Photos/Videos. This is a party, and it will be memorable. However, it will be more memorable with photos and videos. Plan for how these moments will be captured.
42 Engagement Party Theme Ideas

Do you want to have a themed engagement party? These types of parties are popular because they can be a lot of fun. Here are a few ideas (or 42) to start your brainstorming process!
Wine and Cheese Night
Christmas Wonderland
Travel Theme (one location or a different location in different areas of the party)
Roaring 20's
Garden Party
White Party
Summer BBQ
Floral Theme
Nature Theme
Picnic Party
Halloween Party
Family Reunion
Rock and Roll Night
Country Night
Casino Night
Boat Party
Ski Party
Camping Party
Boho Chic
Movie Night
Dessert Party 
Dinner Party
Cocktail Party
Brunch Party
Murder Mystery
Pool Party
Craft Party
Bonfire Party
Costume Party 
Game Night Party
Ice Cream Social
Tea Party
Tailgate Party
Pizza Party
Pajama Party
Coffee Bar Party
Karaoke Night
Taco Bar Party
Decade Party (your favorite one)
Arcade Party
Fairytale Party
Hawaiian Luau
---
---