Do It Yourself Wedding Decorations
Do It Yourself Wedding Decorations - Ideas and Inspiration
Get ideas for easy ways to save money while creating some of your own wedding decorations today!
Are you looking for info on do it yourself wedding decorations? Getting married means having a lot of expenses from engagement up to your honeymoon, but there are many ways to save your money, like DIY wedding decorations. It's also advantageous for you to do your own wedding decorations, so you will be sure that yours are unique and splendid. 
_______________________________________________________________________________
Advertising Disclaimer:
Pamela Kazmierczak (owner of wedding-planning-101.com) is a participant in the Amazon Services LLC Associates Program, an affiliate advertising program designed to provide a means for sites to earn advertising fees through advertising and linking to amazon.com.
On my pages you will find text links and photo links to amazon products as well as other programs I am an affiliate of. I also use other forms of advertising such as google adsense. 
If you click to add or purchase an item through a link, I might earn a commission.
_____________________________________________________________________________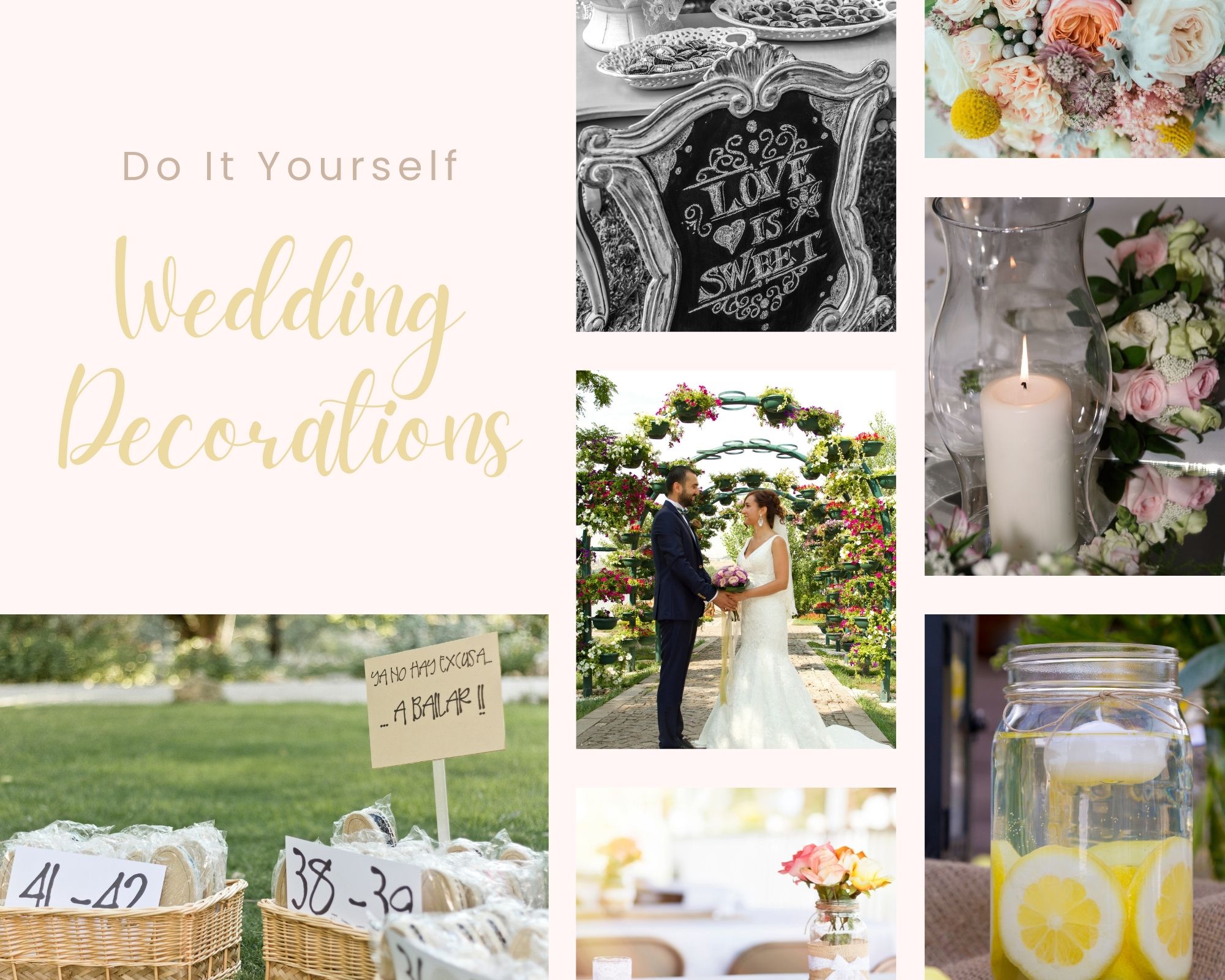 Another benefit of do-it-yourself wedding decorations is that you know every tiny detail of your wedding. If something goes wrong, you can easily think of an idea to fix things up. You'll just have to plan in advance so you will not be overly stressed as your wedding day nears. 
Do It Yourself Wedding Decorations – Quick Ideas

You must consider several things when working with do-it-yourself wedding decorations. The wedding that you're going to have and the decorations should match. A formal wedding needs formal decorations; you can create simple items if you're planning an informal one. 
Include flowers and other objects found in nature when creating your do-it-yourself wedding decorations if you're planning on an outdoor wedding; an arch, arbor, or gazebo would look nice if added to the setting. If your wedding theme is the beach, try adding a few shells and floating candles in a bowl for a simple centerpiece, and include sand for a more authentic feel. 
The do-it-yourself wedding decorations you're going to include should be attractive and, most of all, romantic. It is always wise to choose decoration functionality if you're on a budget. For example, decorate the reception area with twinkling and intertwined mini-white lights; they could be hanging from the ceiling or on the walls. This gives the wedding a more dream-like feel and also provides proper lighting. 
Do It Yourself Wedding Decorations – The Basics

Decorating for weddings has changed so much over the last several decades. Many people are moving away from traditional weddings that seem rigid to many people. Even people who like the look and feel of more conventional weddings still add some modern elements.
Themed weddings are trendy these days – this includes themes based on colors, holidays, and seasons. Of course, sometimes the theme is the wedding type. Some examples of these weddings include simple weddings, modern weddings, elegant weddings, rustic weddings, country weddings, and garden weddings.
Regardless of a couple's wedding type, there are tons of small ways to make Do it yourself wedding decorations. DIY wedding decorations can be charming because they are usually unique elements your guest has not seen at every wedding they have attended for the past several years.
DIY wedding décor, decorations, and centerpieces can range from simple to complex. However, often the ideas are simple but can make a bold statement.
Sometimes these are small items, like a table decoration or a centerpiece, as simple weddings and minimalist décor can pack a punch. Other times they could be one or two large items (like a backdrop). A few big things can replace dozens of smaller items.
Do It Yourself Wedding Decorations – 11 More Ideas

Still looking for some ideas for projects you can start or plan for your upcoming wedding. Here are 11 DIY Wedding ideas!
Transform Your Table Lanterns. Table lanterns have become increasingly popular over the years. Most of them are either battery-operated or have a candle inside. However, do something different to make them stand out. Some ideas include filling them with fairy lights for a different lighting effect, using colored lights inside, or not using them as lighting. Instead, line the glass panes with photos of the couple – these could be photos of them growing up individually or throughout their relationship. Another thing you can do is buy white lanterns and repaint them to match your color scheme.
Use Wooden Signs. Although many people are using both more wooden elements in their weddings (especially for rustic or country weddings), or wedding signs, often these are premade or commissioned signs. Make your own. You can easily buy wood and cut it into different shapes and sizes. Typically, wedding signs are to welcome guests to your wedding. However, they do not have to be. You can have these signs for different things. Fun examples small wooden signs can be announcing a special cocktail at your wedding with the name and ingredients, on the cake or dessert table listing the cake flavors or types of desserts available, or having a schedule of events for the reception.
The Mason Jar. Mason jars often hold flowers or other decorations at a wedding. They are super cute, affordable, and fun. You can always buy some mason jars, put a few blooms inside and call it a day. Of course, you can be more creative as well! Plain mason jars are nice, or you can buy or create colored mason jars or ones with words or photos on them. You can paint them in wedding colors or even different colors for each table – then attach pictures of the couple to them. You can also attach words related to weddings (wed, love, forever, always) or phrases associated with flowers and nature. You can also use them for other things like leaves, swigs, seashells, or as candle holders.
Fun Vases. If you want to use vases instead of trendier flower holders like mason jars, fishbowls, and wine bottles, you should. Vases can be purchased in bulk and all in the same size. However, you can always do things to dress them up if you wanted to. You can give them a glitter treatment inside or outside the vase to make it sparkle and shine. You could paint them different colors to make them stand out instead of leaving them as a clear vase. Or you could do simple crafts, like gluing or taping patterned fabrics, scrapbook paper, or wrapping paper on the outside to make a pretty vase with a fun pattern.
Use Candy and Sweets. Some of the best DIY decorations double as a useful items. For instance, if you create a self-serve candy station for your guests, this will create a wedding decoration as long as it is set up nicely and provide a service for your guests. The wedding day can be long for everyone, so why not give your guests a little pick me up! Create a small table and decorate it with wedding colors or whatever else you want. Place candies in clear glass jars or bowls and let your guests help themselves.
Use A Wedding Backdrop. You can make or purchase large backdrops for the wedding ceremony or reception. If you or someone close to you is artistic, you can paint the backdrops yourself. You can add flowers and greenery if you want it for photos or an aesthetic. You can do any theme you want! Be creative with what you want your wedding to look like.
Pampas Grass. Pampas Grass is a large decoration that can make a statement. You can grow it yourself or buy it online, already dried and ready to use. Pampas grass can be used in centerpieces or in-floor urns to line walkways and aisles.
Bridal Arches. Archways are also big decorative pieces that can be decorated in numerous ways. The most popular décor for these items include flowers (artificial can be used to save money), greenery, and vines or balloons.
Colored Glassware and Silverware. Most weddings have silverware that is silver and glasses that are clear. If you want to add a little color to the reception, you can change the color of the plates, napkins, glasses, and silverware. You can change them all or just one or two. Different and unexpected colors or everyday items will make the tables stand out.
String Lights. String lights are relatively cheap and can be bought in large quantities. Hanging string lights from the ceiling (or trees if having an outdoor wedding) can significantly impact the entire look and feel of your wedding reception.
Balloons. Balloons are one of the cheapest wedding supplies you can buy. You can buy balloons in all types of colors and patterns. You can use balloons on aisles, arches, table corners, or even stand-alone decorations.
---
---
Leave Do It Yourself Wedding Decorations and go back to Wedding Decorations
Go Back To Wedding Ideas