Hawaii Prince Hotel Waikiki
Hawaii Prince Hotel Waikiki - Plan Your Honeymoon Today!
Being one of the luxurious hotels in Waikiki, Hawaii Prince Hotel Waikiki  will give you the ultimate honeymoon experience you have always dreamt of. This is viewed as a fabulous destination for honeymooners! 
_______________________________________________________________________________
Advertising Disclaimer:
Pamela Kazmierczak (owner of wedding-planning-101.com) is a participant in the Amazon Services LLC Associates Program, an affiliate advertising program designed to provide a means for sites to earn advertising fees through advertising and linking to amazon.com.
On my pages you will find text links and photo links to amazon products as well as other programs I am an affiliate of. I also use other forms of advertising such as google adsense. 
If you click to add or purchase an item through a link, I might earn a commission.
_____________________________________________________________________________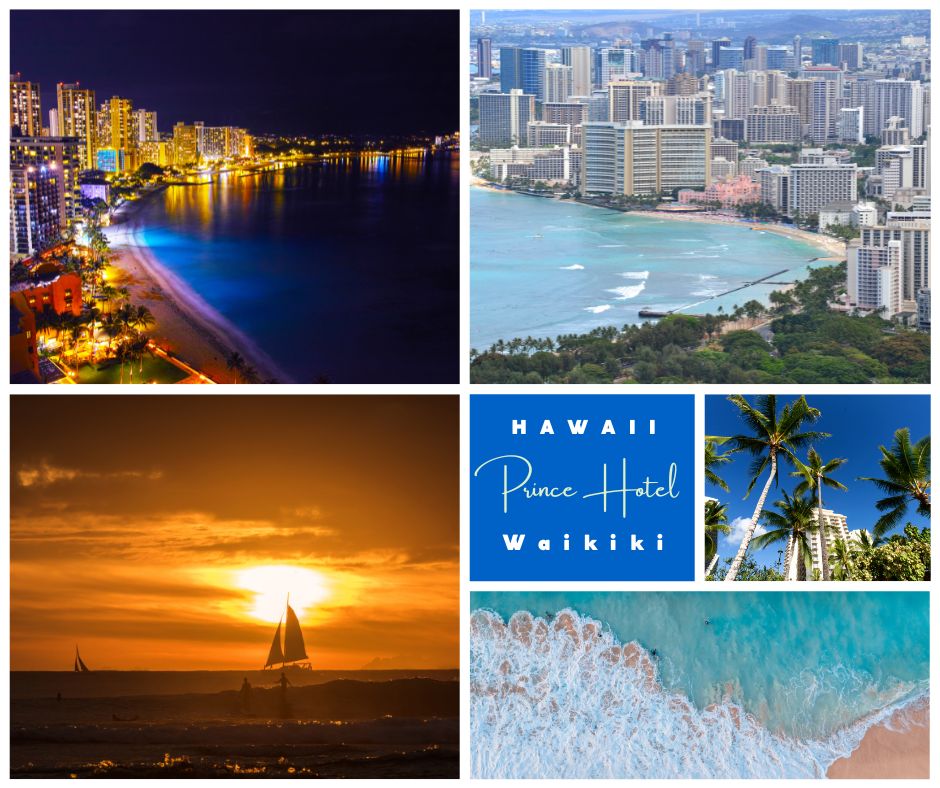 If you have already decided that Hawaii is where you want to honeymoon but are unsure of which hotel or resort, Hawaii Prince Hotel Waikiki should be one that you seriously consider. Keep reading to learn more about what this hotel has to offer!
Hawaii Prince Hotel Waikiki – Accommodations
When you have a vacation or honeymoon at the Hawaii Prince Hotel in Waikiki, you can choose to stay in a room, a suite, or a club room. If you choose a standard room, you will have a choice between an ocean view room, an ocean front harbor room, an ocean front room, or an ocean front premier room. The ocean view room is 385 square feet, and the other 3 room types are each 414 square feet. Each room has queen or king beds, 46-inch smart TVs, a shower, tub, mini fridge, coffee maker, tea kettle, and in-room safe.
You can also choose a club room. These rooms are located on the highest floors to offer the best views of the ocean. They are also lovely to view sunrises and sunsets from. These rooms are also 414 square feet and include a 50-inch television. Guests who stay in the Club rooms also have access to the club lounge. The lounge has member-only key access and includes additional amenities. Some of these amenities include personalized concierge services, daily serviced breakfast delights, afternoon snacks, and evening dinner presentations. The lounge also has chilled beverages, draft beer, and house wine.
There are several suites available as well. Each of these suites is a different size 838 square feet (1 bedroom Ocean view suite), 855 – 1,221 square feet (1 or 2 bedroom Ocean Front Suites), and 1,042 square feet (1 bedroom Lanai Suite). These suites have 60-inch televisions, a living room area, and a dining room table.
Hawaii Prince Hotel Waikiki – Food and Beverage
Good meals, food, and the atmosphere are integral to any vacation. So what food will be available while you vacation at the Hawaii Prince Hotel Waikiki? Like many quality hotels and resorts, in-room dining is an option. They serve in-room breakfast from 7am – 10:30 am, in-room lunch from 11am – 1:30pm and in-room dinner from 2:00pm – 10:00pm.
If you are looking for a quick snack or sandwich, you can stop by the Honolulu Coffee Company, located in the hotel lobby. You can get coffee, tea, espresso, seasonal drinks, iced coffee, and smoothies. If you are in need of a light meal or a snack, you can pick up fruit, pastries, acai bowls, sandwiches, hand pies, and desserts!
Also available in the lobby is take-out from Katsumidori Sushi Tokyo. There is a 3-page menu for lunch and dinner to choose from. If you are looking for casual dining and refreshing beverages, you can visit the Hinana Bar on the Muliwai Deck.
Finally, suppose you are looking for a nice sit-down restaurant. In that case, you can visit The Honolulu Hawaii 100 Sails Restaurant and Bar. This is a signature, award-winning restaurant that offers fresh island cuisine.
They offer a breakfast buffet Monday – Friday. On Sunday, they have both a breakfast buffet and a brunch buffet. Monday through Wednesday, they have an A la Carte dinner, and Thursday through Sunday, they have a dinner buffet. Thursday – Saturday, they also offer live entertainment.
Hawaii Prince Hotel Waikiki – Entertainment and Experiences
Now that you know the type of rooms you will stay in, and where you will eat, you might be wondering what other things you will be doing at the Hawaii Prince Hotel Waikiki Resort! You will be able to enjoy many different activities while you are there!
Need some relaxing time away from the room? Why not spend a morning or afternoon lounging at the infinity pool? Not relaxing enough? If you need extra help with relaxation, you can visit the Naio Bliss spa to refresh, renew and restore! While at the spa, you can get a massage, facials, and body treatments or purchase a package.
While on vacation, you can also visit their fitness center, go golfing on their golf course, go shopping in the resort shops, or spend some time checking out their art collection. They have a resort events calendar, which will allow you to learn about special events, when you can catch live music or when their DJ has a set.
Of course, while vacationing in Hawaii, you may want to spend time outdoors, participate in water activities and explore the land. You can always contact the hotel concierge services for assistance in making plans, including before going on your trip, for questions!
---
---
Leave Hawaii Prince Hotel Waikiki and Go Back To Top Honeymoon Locations
Go Back To Wedding Ideas