Engagement Party Invitation Wording
Engagement Party Invitation Wording – Examples and Ideas

Get ideas and examples of the way to word your engagement party invitations. See photos and stationery options as well!
Are you looking for guidelines on Engagement Party Invitation Wording? There was once a time when everyone followed the same wedding rules. Weddings were traditional; we had set rules on who to invite, what pre-wedding parties to have, who paid for once, and how to word all of the invitations and various pieces of stationery bought while planning the wedding.
_______________________________________________________________________________
Advertising Disclaimer:
Pamela Kazmierczak (owner of wedding-planning-101.com) is a participant in the Amazon Services LLC Associates Program, an affiliate advertising program designed to provide a means for sites to earn advertising fees through advertising and linking to amazon.com.
On my pages you will find text links and photo links to amazon products as well as other programs I am an affiliate of. I also use other forms of advertising such as google adsense. 
If you click to add or purchase an item through a link, I might earn a commission.
_____________________________________________________________________________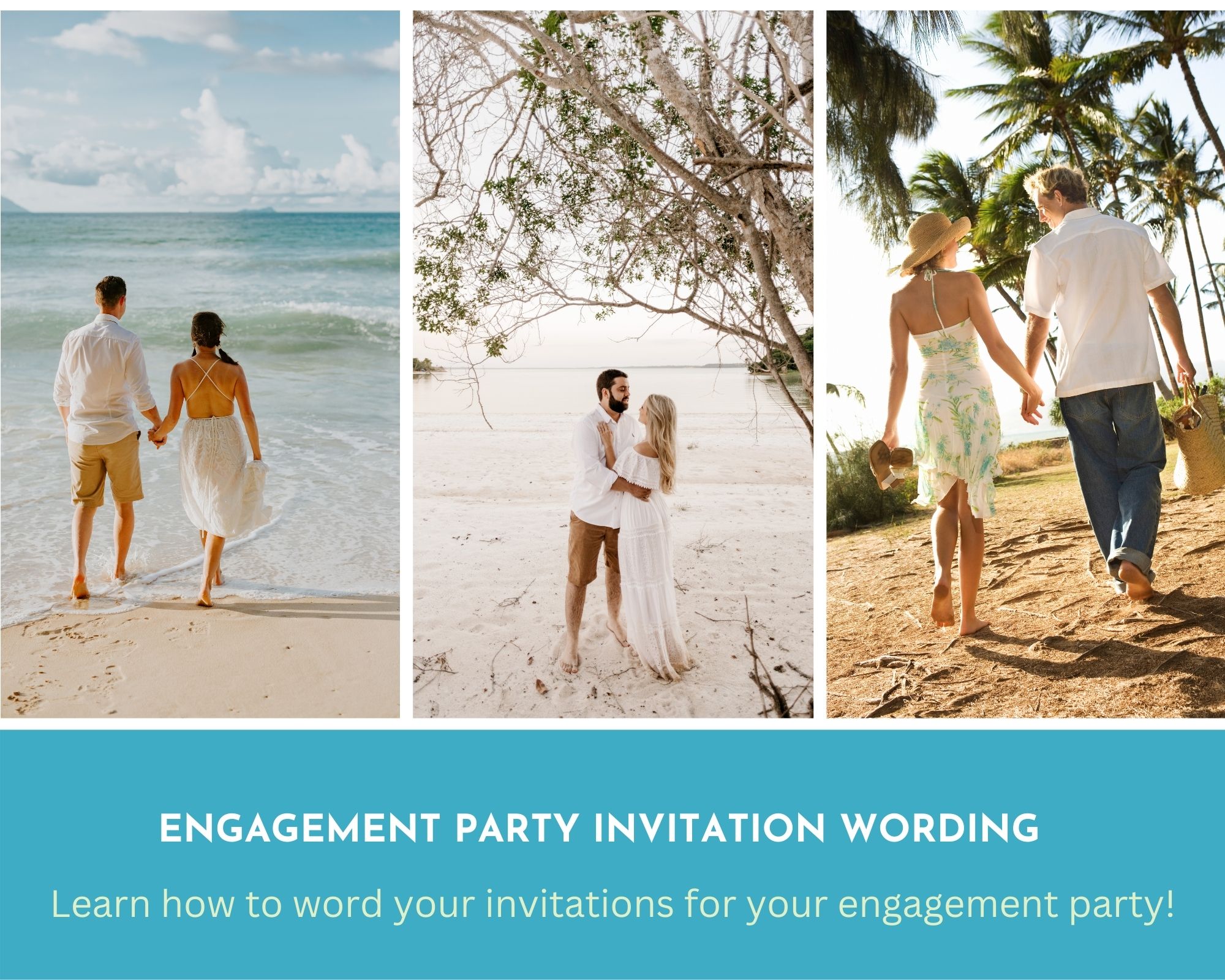 The wedding world has changed so much! Although some people still throw traditional weddings, more and more people have modern and casual weddings. This has opened up so many different things related to weddings – not wearing white, not wearing full-length gowns, bridesmaids in different dresses, fun colors, wild themes, and wording on stationery that is less ridged. 
Engagement Party Invitation Wording – Basic Wording

Like any other invitation, you only need to cover the main points. Think like you're a journalist. Who, What, Where, Why, When, and maybe How. Cover those questions, and it will be fine!
Here is a basic example:
Please join us for an engagement party for Anna and Alex on Saturday, July 3, 2025, at 3:00 pm. Seashore Beach Club 12345 ocean drive, any city, any state 00000. RSVP by 04/01/25 to Amelia at (123)456-7890.
So the party is what, the couple is who, the location is where the engagement is why 04.01.25 is when.
Simple!
Engagement Party Invitation Wording For Different Types of Parties

The wording for your party is really up to you. Following your heart is the best advice you can get during your wedding. 
However, some people want directions, easy to follow instructions.
If you are buying invitations, the wording will be pretty pre-set. If you are making your invitations, you may need a little guidance. Even if you are not buying invitations, there is no reason you can not go check out invitations on Zazzle or Purple Trail and just look at the invitations to get inspired for your party invitations.
If you have a themed party, you may want to change the wording to the party theme. 
There are many types of parties, so we will share examples of varying engagement party invitations. This will allow you to see the actual invitations, what they may look like, and the different wording used.
Typically, the wording is pretty similar. Sometimes some specific language or phrases will be added to sell a theme. Here are some examples!
Engagement Party Invitation Wording – Elegant Engagement Party Invitations

Elegant and Traditional engagement party invitations are pretty similar. Traditional may be a little different as they are usually black and white and only have wording. There are rarely graphics, and the fonts usually include a script font. Here are a few examples of what an elegant invitation to the engagement party may look like. 
Engagement Party Invitation Wording – Modern Engagement Party Invitations

Modern engagement party invitations can be for themed events or have lots of colors, photos and graphics. The wording can also be different, less formal. These types of stationery may have photos of the couple or graphics - flowers are popular. Here are a few quick examples of a modern engagement party invitation
Engagement Party Invitation Wording – Rustic Engagement Party Invitations

Rustic Engagement Party Invitations usually have a country feel to them. They are great for rustic engagement parties or weddings, or parties that are country, or outdoors. Most rustic stationery has a lot of brown, cream or beige colors. Trees, leaves, flowers, lanterns and string lights are popular in this category of wedding stationery. Here are a few examples.
Engagement Party Invitation Wording – BBQ Engagement Party Invitations

BBQ Engagement parties are on the rise. Many couples are moving away from traditional and overly formal parties and having a more family friendly and casual backyard BBQ. If you like the idea of this type of party, you will want to choose BBQ engagement party invitations! Here are a couple examples.
Engagement Party Invitation Wording – Beach Engagement Party Invitations

Because beach weddings are so popular, this is often also a theme for many of the wedding parties leading up to the big day. If you (or the couple) is getting married in the summer, at the beach, at a tropical destination wedding or planning a beach themed wedding, you may want to start using this theme now. There are plenty of beach engagement party invitations to choose from! Here are a few you might like!
---
---