Wedding Ceremony Ideas
Planning Your Ceremony is an important task, one which many brides and grooms ignore. So let's start coming up with wedding ceremony ideas.

_____________________________________________________________________________
Advertising Disclaimer:
Pamela Kazmierczak (owner of wedding-planning-101.com) is a participant in the Amazon Services LLC Associates Program, an affiliate advertising program designed to provide a means for sites to earn advertising fees through advertising and linking to amazon.com.
On my pages you will find text links and photo links to amazon products as well as other programs I am an affiliate of. I also use other forms of advertising such as google adsense. 
If you click to add or purchase an item through a link, I might earn a commission.
_____________________________________________________________________________
As adults when we think about our wedding we think about the whole day from getting ready to our last dance. But when we were children we thought mostly about our wedding ceremony.

As children we pictured ourselves looking like a princess, in a beautiful white wedding dress. Our hair and our makeup is perfect and we walk down the aisle in a huge church. We glide down the aisle, looking and feeling beautiful and all grown up, we glide towards the groom, our prince.

In our childhood fantasies we see the best version of ourselves, all grown up and marrying the man of our dreams in front of all of our family and friends.

If walking down the aisle is all we dream about when we are little girls, why is it when we are planning our wedding we spend so little time on the actual ceremony and coming up with great wedding ceremony ideas?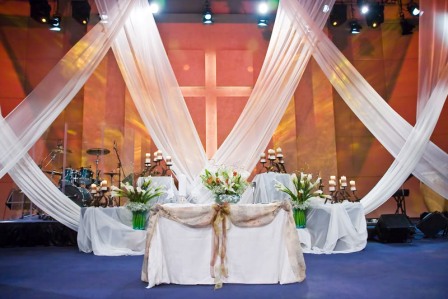 The reception is certainly a lot of fun and of course many memories are made there. Our first dance, cutting the cake and throwing the bouquet are all quite memorable. However, there are just as many memories at the ceremony. Without the ceremony there is no need for a reception and before you get married you should really take the time to come up with fabulous wedding ceremony ideas.

There are many moments in a ceremony that brides will remember for years to come. Almost all brides remember walking down the aisle, reciting vows, exchanging rings, and the first kiss as man and wife.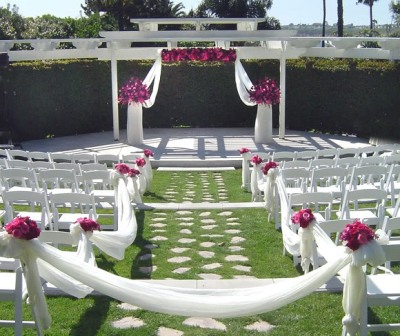 Planning the perfect wedding includes the perfect ceremony. Take the time to come up with wedding ceremony ideas, including finding the right wedding site which is perfect for your wedding.. Do not forget to take care of all the details such as what readings to use, decorations for the site, and what traditions, if any, to implement in your ceremony.
More On Wedding Ceremony Ideas
Autumn Weddings
Backyard Wedding Ideas
Beach Wedding Ideas
Budget Wedding Ideas
Bridal Arches
Catholic Wedding Vows
Celtic Wedding Ceremony
Cheap Wedding Tips
Christmas Wedding Ideas
Cinderella Wedding Ideas
Cheap Wedding Plans
Choosing Your Wedding Ceremony Site
Fall Wedding Colors
Fall Wedding Ideas
Fall Wedding Themes
Hawaiian Wedding Ideas
Inexpensive Wedding Ideas
Las Vegas Garden Wedding
Love Quotes
Small Wedding Ideas
Spring Wedding Colors
Spring Wedding Themes
Summer Wedding Colors
Unique Outdoor Wedding Ideas
Wedding Ceremony Decor
Wedding Ceremony Outline
Wedding Colors Ideas
Wedding Planning in Vegas
Wedding Sand Ceremony
Western Wedding Ideas
What Elements Does A Basic Ceremony Have?
Winter Wedding Accessories
Winter Wedding Themes
Winter Wonderland Wedding Ideas
---
---
Leave Wedding Ceremony and Go Back To Wedding Ideas