Autumn Weddings
There's nothing as rich and colorful as autumn weddings because autumn is the time of the year when everything is rich in colors and the season of harvesting is beautiful and the perfect time for a wedding. It is the perfect time to celebrate and start the journey of a couple's life together.





With autumn weddings, there are plenty of ideas that you can come up with to have a wonderful and memorable exchanging of vows. And because it's an off-peak season for weddings, you can save a lot of money if you'll be having your reception at a hotel or function room. And since its harvesting season, you can maximize the goodies and the abundance of elements of the season.






Autumn weddings can be done indoors or outdoors, it would really depend on your preference. if you want the feel and the taste of an autumn breeze on your big day, you can have your wedding outdoors. You can rent an open restaurant or have your reception at the park; an old villa can be a great place also, and even your own garden could be perfect.


For indoor autumn weddings, when the breeze is getting colder, you can decorate the room with autumn elements to have the autumn feeling even if you're inside. You can use freshly harvested goods such as berries, pumpkins, apples, and grapes as centerpieces; place it in a bowl or simply on the center top of the table and embellish it with golden leaves and twigs for a unique look.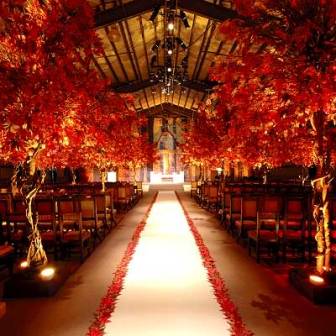 For your autumn wedding invitations, use dried golden leaves to decorate it or you can use stationeries with rich autumn colors such as burnt orange, brown, burgundy, golden yellow, red and maroon. Wedding favors in autumn weddings can be a box of chocolate, a bottle of jam or applesauce, a piece of pumpkin pie, a bag of breads, or a seed packet. Autumn wedding menu usually contain thanksgiving dishes like roast turkey and vegetables, pumpkin pie, apple pie, cinnamon bread, applesauce, pumpkin soup, berries and apple cider.


For your bridal bouquet, colorful autumn flowers will definitely complete your ensemble. You can have roses or calla lilies in different colors in different colors. Sunflowers and mums are also in abundance during this time of the year. Add some greenery to your bouquet to highlight the colors of the flowers; berries like hypericum berries can be used as an additional decoration to add texture to your bouquet.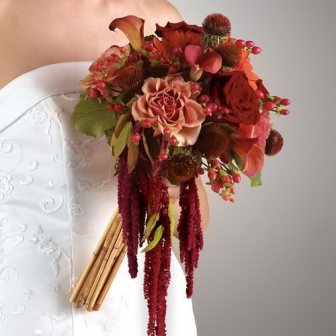 Your autumn wedding gown can be white, ivory, or any color you prefer. But for autumn weddings, ivory gown or gown in any shade would be perfect. But if you still prefer white wedding gowns, you can embellish it with ribbon or sash similar to the wedding motif. And since autumn breeze is a bit colder, if you'll be wearing a sleeveless or strapless gown, make sure that it has a matching shawls or blanket.


Autumn weddings just like any weddings, it should be well-planned and organized even if you have all the resources around you. You must be aware of the weather condition to avoid unnecessary problems; it is your big day, you should enjoy it to the fullest.



If you enjoyed autumn weddings you should Subscribe to our free monthly newsletter today! All subscribers get access to a free wedding planning ebook.
Wedding Ideas Newsletter
Do you have your own ideas for autumn weddings? We would love to hear from you! Share your wedding stories today! Share wedding planning stories and your ideas today. Share what you know and ask our readers for their advice and thoughts on your questions and ideas!
Wedding Stories and Advice
Leave Autumn Weddings and Go Back To Wedding Ceremony
Go Back To Wedding Ideas
Shop For Autumn Weddings Accessories
Looking For Wedding Ideas? Search This Site For What You Are Looking For!


Custom Search
Autumn Fallen Leaves Mint Tin Favor
A Beaucoup exclusive, our Autumn Fallen Leaves mint tins add a personalized touch to fall engagement favors, bridal shower favors or fall wedding favors. All tins can be customized with two lines of text and inside is filled to the brim with peppermints.
Free Shipping when you Spend $99
Available from Beau Coup
Use coupon code FREESHIP
Offer expires 2010-10-31
Buy Now
Graceful Gratitude Party Invitation
Gather your favorite people together to give thanks with this gorgeous, autumn-hued invitation that can be customized for any fall event. Ann Kelle's design features a graceful display of lively leaves that perfectly captures the essence of autumn's splendor.
Save $10 on Orders of $99 or More
Available from Wedding Paper Divas
Use coupon code AFL10
Offer expires 2010-10-22
Buy Now
Elegant Autumn Fall-Leaf Favor Box
Whoever said "It's what's inside the box that really matters," clearly had never seen our Elegant Autumn Fall-Leaf Favor Boxes. This two-toned 2" cube comes with an accent ribbon and base in your choice of accent color - either Apple Red or Chocolate Brown. The ivory slip on top has got also got a laser-cut maple leaf, allowing your Red or Brown box base to show through for a truly cohesive look. Simply fill each box with a truffle or chocolate candy treat to truly make it your own.
Take 10% Off your Purchase
Available from Gracious Bridal
Use coupon code BLSP10
Offer expires 2011-03-25
Buy Now
Oak Tree Mint Tin Favor
Our Oak Tree design mint tins are great for your Fall Wedding or Garden Bridal Shower. Mints are included so they are ready for you to just hand out to your guests.
Free Shipping when you Spend $99
Available from Beau Coup
Use coupon code FREESHIP
Offer expires 2010-10-31
Buy Now
Apple of My Eye Candle Wedding Favor
Good things really do come in small packages. Handpainted in deep red, the wick on this mini candle is cleverly disguised as the stem of the apple. Each candle arrives in a 2" gift box, tied with sheer ribbon and adorned with a matching gift tag.
This item is available from our shopping partner, Advantage Bridal.
Enjoy This Site?
Then why not use the button below, to add us to your favorite bookmarking service?


Shop For Autumn Weddings Accessories
Birch Save the Date Magnet Kit
Save your date with this adorable forest of birch trees magnet in brown and sage with matching card. Each magnet is a do it yourself kit with everything done but printing your names and information, so you get the look of custom designed without the cost. Simply print on a laser or inkjet printer, add the magnet back, insert into the backer card and slip into the envelope. Magnets are 2" wide and 3 1/2" tall, the coordinating backer card measures 3 1/2" wide and 4 3/4" tall. Ivory envelopes are included. Each kit includes 10 save the dates.
This item is available from our shopping partner, Eliza Fig.