Autumn Weddings
There's nothing as rich and colorful as autumn weddings because autumn is the time of the year when everything is rich in colors and the season of harvesting is beautiful and the perfect time for a wedding. It is the perfect time to celebrate and start the journey of a couple's life together. 

_____________________________________________________________________________
Advertising Disclaimer:
Pamela Kazmierczak (owner of wedding-planning-101.com) is a participant in the Amazon Services LLC Associates Program, an affiliate advertising program designed to provide a means for sites to earn advertising fees by advertising and linking to amazon.com.
On my pages you will find text links and photo links to amazon products as well as other programs I am an affiliate of. I also use other forms of advertising such as google adsense. 
If you click an add or purchase an item through a link, I might earn a commission.
_____________________________________________________________________________
With autumn weddings, there are plenty of ideas that you can come up with to have a wonderful and memorable exchanging of vows. And because it's an off-peak season for weddings, you can save a lot of money if you'll be having your reception at a hotel or function room. And since its harvesting season, you can maximize the goodies and the abundance of elements of the season.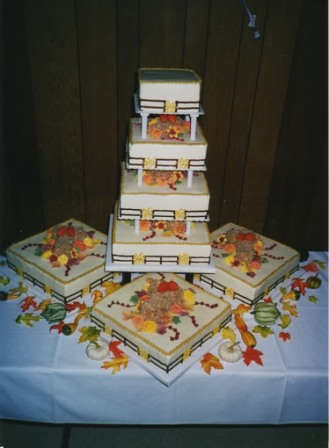 Autumn weddings can be done indoors or outdoors, it would really depend on your preference. if you want the feel and the taste of an autumn breeze on your big day, you can have your wedding outdoors. You can rent an open restaurant or have your reception at the park; an old villa can be a great place also, and even your own garden could be perfect. 

For indoor autumn weddings, when the breeze is getting colder, you can decorate the room with autumn elements to have the autumn feeling even if you're inside. You can use freshly harvested goods such as berries, pumpkins, apples, and grapes as centerpieces; place it in a bowl or simply on the center top of the table and embellish it with golden leaves and twigs for a unique look.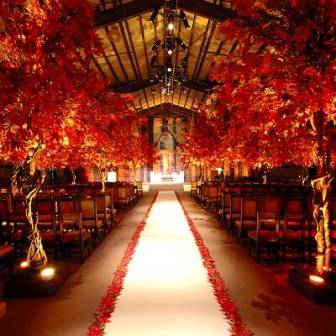 For your autumn wedding invitations, use dried golden leaves to decorate it or you can use stationeries with rich autumn colors such as burnt orange, brown, burgundy, golden yellow, red and maroon. Wedding favors in autumn weddings can be a box of chocolate, a bottle of jam or applesauce, a piece of pumpkin pie, a bag of breads, or a seed packet. Autumn wedding menu usually contain thanksgiving dishes like roast turkey and vegetables, pumpkin pie, apple pie, cinnamon bread, applesauce, pumpkin soup, berries and apple cider. 

For your bridal bouquet, colorful autumn flowers will definitely complete your ensemble. You can have roses or calla lilies in different colors in different colors. Sunflowers and mums are also in abundance during this time of the year. Add some greenery to your bouquet to highlight the colors of the flowers; berries like hypericum berries can be used as an additional decoration to add texture to your bouquet.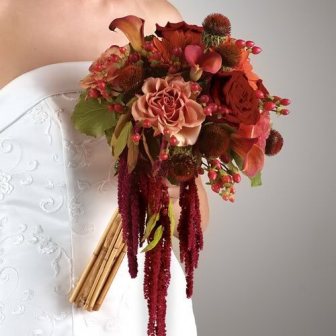 Your autumn wedding gown can be white, ivory, or any color you prefer. But for autumn weddings, ivory gown or gown in any shade would be perfect. But if you still prefer white wedding gowns, you can embellish it with ribbon or sash similar to the wedding motif. And since autumn breeze is a bit colder, if you'll be wearing a sleeveless or strapless gown, make sure that it has a matching shawls or blanket. 


Autumn weddings just like any weddings, it should be well-planned and organized even if you have all the resources around you. You must be aware of the weather condition to avoid unnecessary problems; it is your big day, you should enjoy it to the fullest.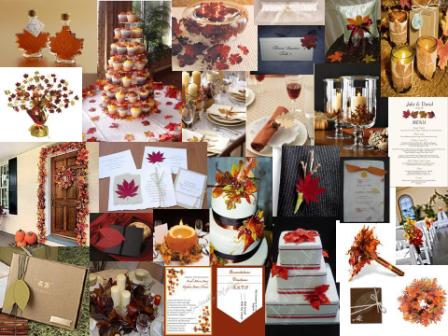 Leave Autumn Weddings and go back to Wedding Ceremony
Go Back To Wedding Ideas