Cinderella Wedding Ideas
Cinderella Theme Wedding
You are desperately looking for some great Cinderella wedding ideas for that special day. You never quite got over that childhood dream of having a Cinderella theme wedding. Read on to find just a few great ideas to start with on your road to a spectacular wedding you'll never forget.

_____________________________________________________________________________
Advertising Disclaimer:
Pamela Kazmierczak (owner of wedding-planning-101.com) is a participant in the Amazon Services LLC Associates Program, an affiliate advertising program designed to provide a means for sites to earn advertising fees by advertising and linking to amazon.com.
On my pages you will find text links and photo links to amazon products as well as other programs I am an affiliate of. I also use other forms of advertising such as google adsense. 
If you click an add or purchase an item through a link, I might earn a commission.
_____________________________________________________________________________
Cinderella Wedding Ideas: The Grand Entrance
One of the most important parts of a Cinderella theme wedding is the bride's grand entrance. Of course, you'll need a pumpkin coach or carriage. Be creative when it comes to the entrance, and make it as similar to Cinderella's entrance to the ball that changed her life. You can have a horse-drawn pumpkin shaped carriage or have one built to match the one all girls know all to well.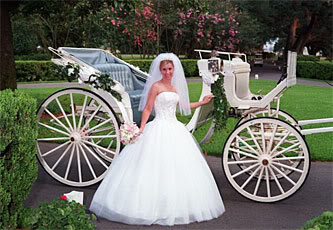 Cinderella Wedding Ideas: Location and Decoration
Your Cinderella theme wedding will be more than perfect if you choose to hold your reception at a castle or chateau. This picturesque location will also help your guests get a real feel for your desired theme. Most castles also function as hotels, so you can have your guests stay there before or after the ceremony and reception to enjoy the magic feel that castles give

As for decoration, make sure there is plenty of white and silver as these are the colors that are most commonly associated with Cinderella and her glass slippers. You can have medieval décor for your reception such as large candles or torches along the walls of the castle reception hall. Or, you can have your reception on the gardens of a castle or chateau, allowing for a beautiful view of the structure in the background. Amazing photos are guaranteed. 

Other Ideas: Centerpieces and Favors
Cinderella wedding ideas for centerpieces and favors abound. You can choose to have a huge glass slipper as your table centerpieces. These glass slippers can be used as vases, or candy holders. Either way, they are sure to catch your guests' eyes. You can also use tiny glass slippers as your wedding favors.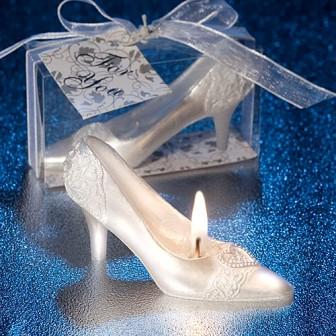 Another great idea for centerpieces and or wedding favors is to use crystal and diamond tiaras. These will help give your reception a royal feel to it and you can play several different wedding reception games to see which lucky guest gets to take the beautiful centerpiece home. 

So, if you decide to work to make that Cinderella theme wedding dream a reality, you now know there are endless ways to make it a fairytale event. 

Leave Cinderella Wedding Ideas and go back to Wedding Ceremony
Go Back To Wedding Ideas