Cinderella Wedding Ideas
Cinderella Theme Wedding
Are you desperately looking for some great Cinderella wedding ideas for that special day? Did you grow up on fairy tales and princesses? Have you always pictured yourself walking down the aisle in a full ball gown to marry your prince? I know that you are all grown up now, but there is nothing wrong with wanting a fairy tale-esque wedding! Read on to find just a few great ideas to start with on your road to a spectacular wedding you'll never forget.
_______________________________________________________________________________
Advertising Disclaimer:
Pamela Kazmierczak (owner of wedding-planning-101.com) is a participant in the Amazon Services LLC Associates Program, an affiliate advertising program designed to provide a means for sites to earn advertising fees through advertising and linking to amazon.com.
On my pages you will find text links and photo links to amazon products as well as other programs I am an affiliate of. I also use other forms of advertising such as google adsense. 
If you click to add or purchase an item through a link, I might earn a commission.
_____________________________________________________________________________
Cinderella Wedding Ideas: The Grand Entrance
One of the most important parts of a Cinderella theme wedding is the bride's grand entrance. Of course, you'll need a coach or carriage. Be creative when it comes to the entrance, and make it as similar to Cinderella's entrance to the ball that changed her life. You can have a horse-drawn shaped carriage or have one built to match the one all girls know all too well.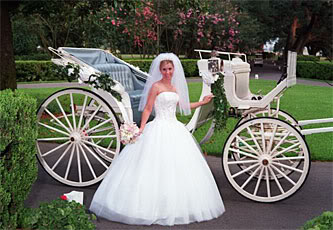 Cinderella Wedding Ideas: Location and Decoration
Your Cinderella theme wedding will be more than perfect if you choose to hold your reception at a castle or chateau. This picturesque location will also help your guests get a real feel for your desired theme. Most castles also function as hotels, so you can have your guests stay there before or after the ceremony and reception to enjoy the magic feel that castles give
As for decoration, make sure there is plenty of white and silver as these are the colors that are most commonly associated with Cinderella and her glass slippers. You can have a medieval decor for your reception such as large candles or torches along the walls of the castle reception hall. Or, you can have your reception on the gardens of a castle or chateau, allowing for a beautiful view of the structure in the background. Amazing photos are guaranteed.
Other Ideas: Centerpieces and Favors
Cinderella wedding ideas for centerpieces and favors abound. You can choose to have a huge glass slipper as your table centerpieces. These glass slippers can be used as vases or candy holders. Either way, they are sure to catch your guests' eyes. You can also use tiny glass slippers as your wedding favors.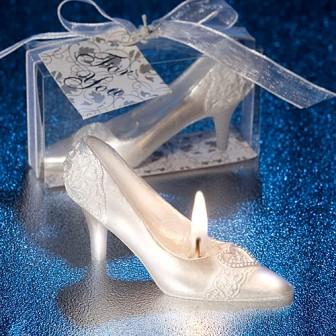 Another great idea for centerpieces and or wedding favors is to use crystal and diamond tiaras. These will help give your reception a royal feel to it and you can play several different wedding reception games to see which lucky guest gets to take the beautiful centerpiece home.
Cinderella Wedding Ideas: The Color Scheme
A great color scheme for a Cinderella themed wedding would be blue and white. You can walk down the aisle in a beautiful white wedding ball gown and your bridesmaids can wear blue – or you can switch this up and you can get married in the blue wedding dress and have your bridesmaids in white.
You can also use blue for the wedding flowers, the wedding cake, and the invitations. 
Cinderella Wedding Ideas – Go For Majestic
When you are planning a Cinderella wedding you are portraying marrying your prince in a castle and one day you will inherit the Kingdom. You are about to get everything you want and have it all. Let your wedding show this as much as possible. 
Go for majestic. Show opulence. If money is an issue, fake it. Everything does not need to be super expensive to look expensive. Find a couple areas to focus on. For instance, instead of doing one color bridesmaid gowns – do beautiful dresses in pastels or jewel colors, all different, all stunning. 
Design is key to making things look more expensive than they are. Making beautiful wedding centerpieces or choosing the perfect wedding cake can go a long way.
Think of things that might be in a fairy tale or a castle environment. Have a dessert table to go with the wedding cake table showing off beautifully designed treats. Decorate with flowers, love birds, and glass slippers. Use your imagination and decorate the way you have envisioned a princess wedding.
So, if you decide to work to make that Cinderella theme wedding dream a reality, you now know there are endless ways to make it a fairy tale event.  
---
---
Leave Cinderella Wedding Ideas and go back to Wedding Ceremony
Go Back To Wedding Ideas