Beach Wedding Ideas For All Parts of Your Wedding
Perfect your beach wedding theme by focusing on all the small details during wedding planning and wedding shopping.
If you are having a beach-themed wedding, you may look for beach wedding ideas. Whether you are getting married at the beach or just having a beach wedding theme, you may want to coordinate different wedding accessories to show off your theme. But what is available in this theme? Where do you shop? Where do you come up with these ideas? Keep reading for more information, ideas and inspiration!
_______________________________________________________________________________
Advertising Disclaimer:
Pamela Kazmierczak (owner of wedding-planning-101.com) is a participant in the Amazon Services LLC Associates Program, an affiliate advertising program designed to provide a means for sites to earn advertising fees through advertising and linking to amazon.com.
On my pages you will find text links and photo links to amazon products as well as other programs I am an affiliate of. I also use other forms of advertising such as google adsense. 
If you click to add or purchase an item through a link, I might earn a commission.
_____________________________________________________________________________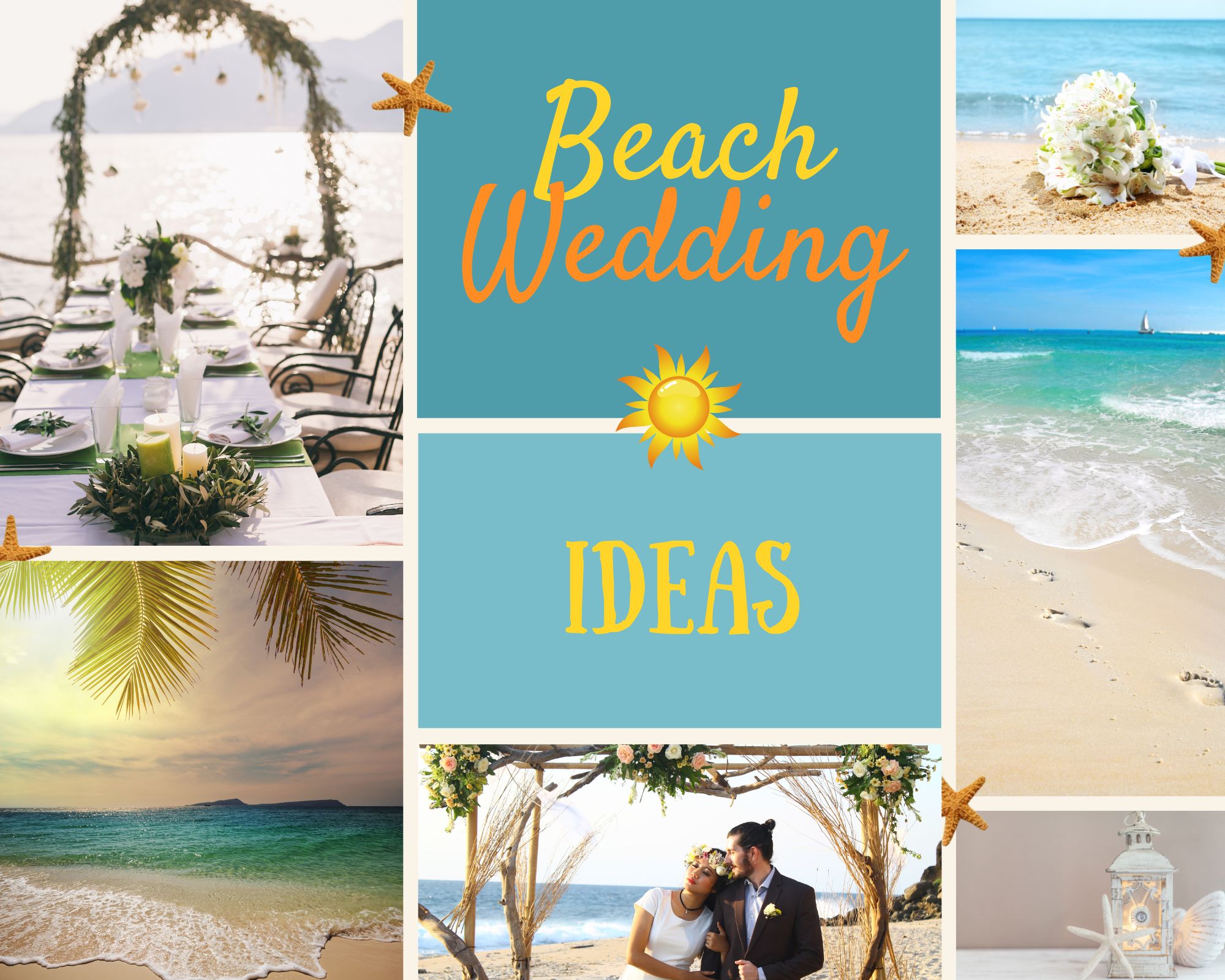 Beach Wedding Ideas - Wedding Apparel
Most brides start looking for beach wedding ideas with wedding apparel - the clothes worn during the wedding. Why not start with the dress when you are looking for beach wedding ideas? Choosing a wedding gown for a beach wedding or a beach wedding theme can be a lot of fun. These dresses are usually a little bit different from the traditional wedding gowns you may be used to. For instance, they are typically made of a lighter material and are slinkier; the full gowns and extra fabric is noticeably missing. There is a simple reason - comfort and functionality.
While coming up with beach wedding ideas, you can also look at other apparel outside the wedding dress. This would include the clothing for everyone else in the wedding party. Looking for more beach wedding ideas? The bridesmaid dresses can also be made of lighter material. Want to do something interesting with the groom and groomsmen? How about choosing a cummerbund with a beach wedding theme?
Beach Wedding Ideas - Jewelry, Shoes, and Hair
If you plan your day around a beach wedding theme, you may want to incorporate these ideas into the rest of your look. Once you have come up with good beach wedding ideas for the main attire, it is time to move on to jewelry, shoes, and hair. When planning for your beach wedding theme, it is up to you how much or how little you emphasize the theme throughout the day. If you choose to make the little things as important as the big things, you might decide to show off your theme here too.
You can choose a lovely necklace or bridal set made of pearls or other beads for beach wedding jewelry. You can select individual pieces or go with a wedding set meant to go together.
Brides who marry at the beach have started wearing bridal flip-flops for the occasion instead of traditional bridal shoes. You can either choose to wear simple flat flip-flops or ones that are a little fancier and come with a heel.
When you have a beach wedding theme, you want your hair to fit in, but do not worry. There are ways to do this as well. When coming up with beach wedding ideas for your bridal hairdo, you do not have to think long and hard about this one. Many tiaras and hair clips are available that look like flowers or beach items such as starfish. Adding one small item to your hairdo can make all the difference.
Brides typically avoid veils and trains if they are getting married on the beach (or outside at all). While beautiful and traditional, these items can get in the way or become cumbersome when dealing with wind, sand, and other natural elements.
Beach Wedding Ideas - Decorations, Favors, and Accessories
Now that we have devised ways to make the wedding party look like they fit in with the beach wedding theme, what do we do about the rest of the wedding? Here are some ideas.
If you are planning on having a long engagement before the wedding, you might want to start by choosing a nice save-the-date magnet. By selecting a beach wedding theme magnet, you can let your guests know right away what to expect.
Whether you use a save-the-date magnet or not, you can still choose to incorporate beach wedding invitations into your beach wedding ideas. These invitations will work the same way the magnets did; they fit into your theme, let your guests know what to expect, and make a lovely keepsake for everyone.
When choosing decorations, a simple centerpiece you can use is decorated candles. You can either use them as centerpieces at all the tables, or you can use them at certain spots like the cake table, the entranceway, or near appetizers.
You can also incorporate your beach wedding theme into your cake topper. In fact, there are many places in your ceremony and reception that you can come up with beach wedding ideas to utilize. Because beach weddings have gained popularity so much, there are many different types of beach cake toppers to choose from. You can use ones that are obviously a bride and groom on the beach or cake toppers depicting palm trees or starfish.
Finally, don't forget about the wedding favors. There are so many different designs and types of wedding favor that you can use. You can use ones that show flip-flops, sandcastles, sailboats, beach chairs, starfish, seashells, and more. These favors include coasters, mini-notebooks, candles, wine stoppers, mint tins, or other edible goodies. When choosing your favors, be creative and decide what you want to give and what you want to portray.
As you can see, there are so many beach wedding ideas to choose from when planning your wedding. It is not that difficult to come up with fabulous ideas for your beach wedding theme!
---
---
Leave Beach Wedding Ideas and go back to Wedding Ceremony
Go Back To Wedding Ideas