Hawaiian Wedding Ideas for Tropical Themed Wedding
Are you looking for Hawaiian wedding ideas for your wedding? Thematic wedding is becoming popular nowadays, depending on ethnicity, race, and location, a themed wedding is sometimes mixed with different customs. 
_______________________________________________________________________________
Advertising Disclaimer:
Pamela Kazmierczak (owner of wedding-planning-101.com) is a participant in the Amazon Services LLC Associates Program, an affiliate advertising program designed to provide a means for sites to earn advertising fees through advertising and linking to amazon.com.
On my pages you will find text links and photo links to amazon products as well as other programs I am an affiliate of. I also use other forms of advertising such as google adsense. 
If you click to add or purchase an item through a link, I might earn a commission.
_____________________________________________________________________________
Creative Hawaiian wedding ideas make the celebration unique. The tropical island of Hawaii is famous for its popular bodies of waters and dazzling flowers (Don't forget to pick a Hawaiian wedding flower to focus your bouquets or arrangements around) with exotic colors inspired by the sun. Red, Orange, Yellow, and the likes are the colors of Hawaiian Weddings. Elvis Presley himself was fascinated by this romantic island and wrote a song about the Hawaiian wedding.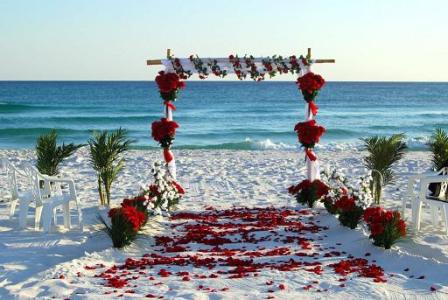 Hawaii has attracted thousands of couples to celebrate their matrimonial vows. Flying from all points of the world to tie a knot in Hawaii, perhaps for those who can afford to provide airfares for their visitors can actually celebrate it in Hawaii. Marrying in Hawaii has never been that hard, no waiting period, no blood tests, and all the documents needed for the ceremony can easily be acquired.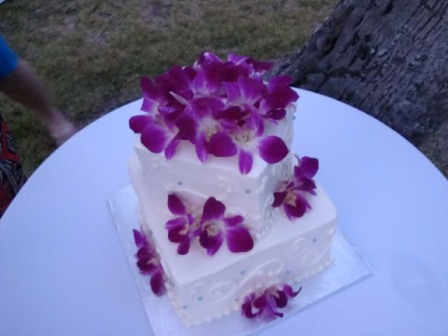 Although Hawaiian weddings are not really formal weddings, the binding of the hands by the Kahuna or the Hawaiian Sharman is the symbol of union. If you want the Ministers and priests to do the ceremony, they are not hard to find in Hawaii, in fact, there are a lot of them waiting to be called. 
What does it take to have a Hawaiian themed wedding? Honestly, you don't have to go to Hawaii to feel the ambiance. Consider spotting a good venue by visiting the beaches in the area. Gardens and Swimming Pools will do as long as you mixed it with numerous Hawaiian wedding ideas. 
Choosing the right season for this type of wedding is important. Grace the occasion with a little sunshine and decorate the venue with tropical colored flowers. You can create shell necklaces or cut crepe papers tied in strings. Garland of flowers can also grace the occasion and grass skirts are always in. Sometimes your Hawaiian wedding ideas can unleash that hidden creativeness in you. 
It is also good to have some research on Hawaiian wedding ideas on the internet or magazines to give you more ideas on how it is being done. It is important to list down all the ideas as detailed as possible so you can visualize what would it be in the actual ceremony.
Sometimes, the formal wedding is celebrated in the church and the transformation from formal to the Hawaiian theme takes place in the reception. You can mix it with different customs and traditions but the most important thing is to always plan ahead. Choosing the right Hawaiian ideas from several different sources is always best. 
Are you still looking for some specific ideas? Here are a few things you can do to pull off a great Hawaiian Wedding whether or not you actually get married in Hawaii.
Hawaiian Wedding Ideas – The Ceremony
If at all possible, get married outdoors and either at the beach or in gardens that show off a lot of greenery and beautiful flowers. Accentuate the natural beauty of the location as much as you can.
Get your guests involved at the door – have someone handing out Lei's at the door and encourage your guests to wear them. If you really want to get into the theme have the people giving out the lei's be hula dancers.
Decorate with traditional Hawaiian flowers such as orchids – use these on the end of the pews or rows of seats or the petals on the aisle.
Instead of using the wedding march, walk down the aisle to the Hawaiian wedding song.
Dress for a Hawaiian Wedding. Grooms wear a traditional green lei and brides wear a long flowing white wedding gown with a ring of flowers around her head. 
Hawaiian Wedding Ideas – The Reception 
Have a Luau instead of a traditional wedding meal. If you do not want a full luau or cannot have one, serve traditional Hawaiian food such as roasted pig, tuna poke, and macadamia rice. Serve Mai Tai's and Blue Hawaiians as specialty cocktails.
Make your wedding cake a Hawaiian cake by asking your baker to use pineapple and coconut flavors in the cake or in the frosting.
Decorate with greenery, pineapples, and tropical flowers. If your wedding is outdoors, use tiki torches at night to light up the evening portion of your wedding. 
Hawaiian Wedding Stationery
Finally, if you are looking to bring the look and feel of a Hawaiian wedding to your big day you can start early by choosing the correct stationery. There are so many different and wonderful choices of stationery on the market today.

You can choose stationery with the state of Hawaii on it, with Hawaiian words or phrases or with beach or tropical settings.
---
---
Leave Hawaiian Wedding Ideas and go back to Wedding Ceremony
Go Back To Wedding Ideas