Unique Outdoor Wedding Ideas – Get Ideas For Your Outdoor Wedding Today!
Great Tips for Outdoor Weddings
Are you looking for unique outdoor wedding ideas? Your outdoor wedding can become an interesting and fun event if you plan it well. Outdoor weddings allow for more freedom when it comes to the meal, beverages, and wedding reception activities. Besides, it also allows the bride and groom to fully enjoy nature on the most important day of their lives.
_______________________________________________________________________________
Advertising Disclaimer:
Pamela Kazmierczak (owner of wedding-planning-101.com) is a participant in the Amazon Services LLC Associates Program, an affiliate advertising program designed to provide a means for sites to earn advertising fees through advertising and linking to amazon.com.
On my pages you will find text links and photo links to amazon products as well as other programs I am an affiliate of. I also use other forms of advertising such as google adsense. 
If you click to add or purchase an item through a link, I might earn a commission.
_____________________________________________________________________________
Unique Outdoor Wedding Ideas: Beach Wedding
The idea of holding your wedding at the beach is not new. However, if both the bride and groom show up in scuba diving gear or wearing swimsuits or even dressed as Hawaiians, things can get interesting. If both of you are fans of scuba diving and snorkeling, then you might consider having your ceremony at sea and then jump into the water and swim off into the sunset. Or, you might even decide to have the ceremony underwater for an experience you'll never forget.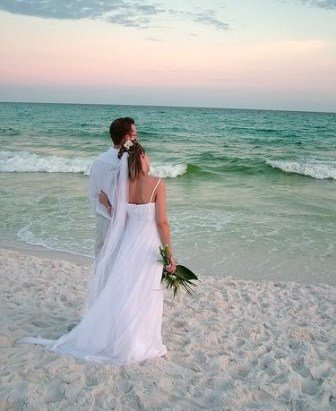 Unique Outdoor Wedding Ideas: Sports and Games
Another great way to make your outdoor wedding different than any other wedding you or your guests will ever attend is to include sports and games as part of your wedding reception activities. For beach weddings, a great idea is to play some beach volleyball to get your guests to participate. The winning team can be offered a prize or other reward. Other games can include three-legged races, potato sack races, and similar competitions to keep your guests laughing and having fun.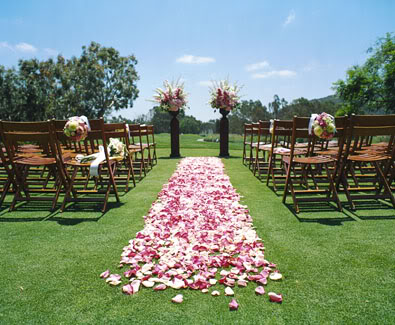 Unique Outdoor Wedding Ideas: Wedding Decorations
Decorating for your outdoor wedding is also a great way to make it unique. If you are having a backyard wedding or a garden wedding, you can use long pieces of silky fabric to decorate surrounding trees and tall plants. Arches can be made and decorated with fresh flowers to add a romantic touch to the wedding ceremony. You can also use landscaping lights to your advantage and give the garden a magic feel to it, especially if your reception is at night.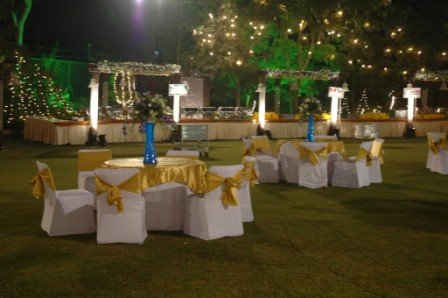 If your wedding has a more down-home or Rustic feel to it you can use wooden signs to direct the guests to their destinations (buffet, snack tables, the bar, the dance floor, and seating). You can invest in a photo booth or rent one for the occasion.
Traditional weddings tend to have florescent lighting and white or cream-colored linens. For your outdoor wedding, you might consider string lighting, decorative lanterns, and patterned and brightly colored linens.
Unique Outdoor Wedding Ideas: Wedding Food
Outdoor weddings also allow for exotic menus. You can have a tropical buffet if you have a beach wedding. Or, a more casual menu for a backyard wedding can include a good old-fashioned barbecue or even some hot dogs. The wedding cake can be exchanged for wedding muffins to make dessert easier and more original. Plus, beverages can be a wide assortment of juices made from the season's fruits.
Food is such an easy and fun way to spice up a wedding. When you have an outdoor wedding instead of a traditional reception you can really let your creativity run wild. Even if you want to keep the main meal and the cake "normal" you can add in some extras (or use these extras to replace the traditional).
For instance, you could rent an ice cream truck or a food truck to have as snacks and desserts. You could create an elaborate dessert table or instead of sweets, make a salty and savory table for snacks to enjoy through the evening. If you are concerned that it will cool off as the evening goes on why not create a warm drink table. This table can have (or someone can serve) a variety of coffee, tea, and hot cocoa drinks.
You can also use a more rustic serving style for your food. For instance, instead of typical cocktail glasses, you might want to use mason jars instead. 
Unique Outdoor Wedding Ideas: Plan For The Outdoors and Possible Weather Issues
Finally, you should plan for the possibility of different weather issues that might come up. First of all, I suggest you have a wedding tent in case it rains. Besides the tent, you might actually want to provide umbrellas for your guests. 
It is certainly possible that the opposite will happen and it might be really sunny and warm during your ceremony or even part of your reception. For this, you should provide sunglasses and hand fans. For the fans, you can actually get wedding programs that double as a fan so it will be useful and a keepsake.
Finally, it may get considerably cooler as the evening goes on and for this, you might want to provide some light blankets for people to put over their laps to provide them with additional comfort.
Shop For Wedding Accessories
---
---
Leave Unique Outdoor Wedding Ideas and go back to Wedding Ceremony
Go Back To Wedding Ideas