Beach Themed Wedding Centerpieces
Beach Themed Wedding Centerpieces - Find Fun, Beautiful and Modern Ideas!
Learn different ways to bring the beach into your wedding centerpieces and wedding table decorations today.
Beach themed wedding centerpieces are becoming more popular as beach and destination weddings are becoming more common. Even if your wedding or reception is held indoors, that does not mean you can not have a beach wedding theme.
_______________________________________________________________________________
Advertising Disclaimer:
Pamela Kazmierczak (owner of wedding-planning-101.com) is a participant in the Amazon Services LLC Associates Program, an affiliate advertising program designed to provide a means for sites to earn advertising fees through advertising and linking to amazon.com.
On my pages you will find text links and photo links to amazon products as well as other programs I am an affiliate of. I also use other forms of advertising such as google adsense. 
If you click to add or purchase an item through a link, I might earn a commission.
_____________________________________________________________________________
So what can you use for beach-themed wedding centerpieces? You can use many different things, from the most basic to the more elaborate. Here are some wonderful examples of beach centerpieces you can use.
Floral Beach Themed Wedding Centerpieces

Flowers are one of the most common elements of centerpieces at a wedding. So how will you use flowers to convey the feeling of being at the beach?
You can start by using tropical flowers. Here is a list of traditional tropically grown flowers that scream tropical, beach, or destination wedding. 
You can use tropical flowers at a beach wedding as they will be on point for the theme. Since they are grown in tropical climates, these flowers will also do well in looking fresh and beautiful, regardless of the heat and humidity of the day.
So how will you use these flowers? Here are some ideas:
Traditionally – in short, or tall vases depending upon the flower size.
Singularly – place single blooms in small vases for a minimalist effect. Want more abstract – place single blooms in wine bottles instead of vases.
Embrace Geometric Shapes – There are many geometric vases that are interesting and modern. Embrace this trend.
Modern and Fun Vases – Use vases of different colors and sizes or modern flower holders such as fish bowls and mason jars.
No Vase Needed – Use flowers around the base of other centerpiece items, like the base of a lantern. Or you can just use the petals and scatter them throughout the table or near the focal point of your beach wedding centerpieces.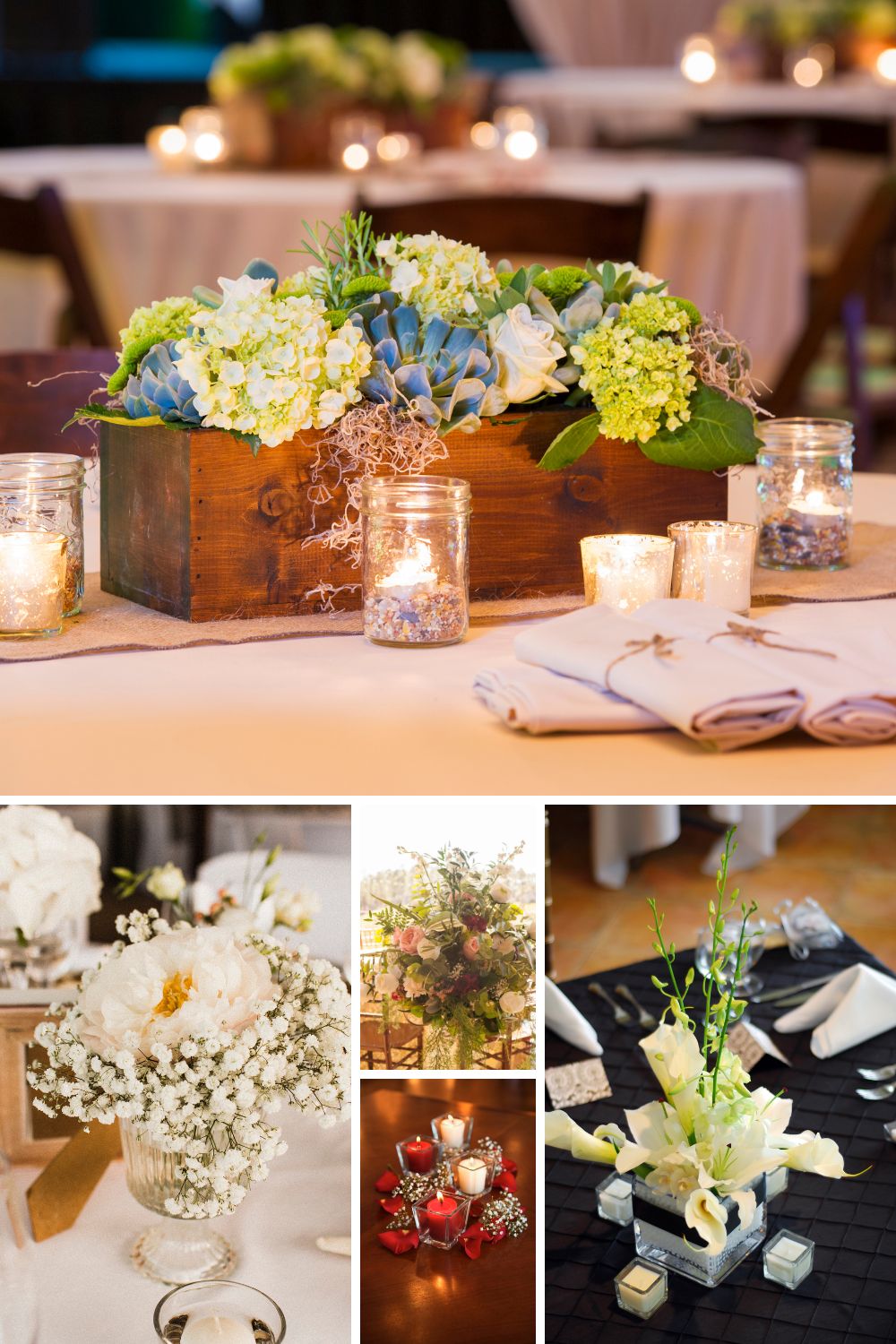 Seashell Beach Themed Wedding Centerpieces

If you want to bring in the look and feel of the ocean or the beach, you can not go wrong with seashells. You can go and find seashells on the beach in the months leading to your wedding, to have a more authentic look for your centerpieces.
Of course, you can also order seashells in packs based on the amount in the package or even based on the colors of the seashells you are looking for. Finally, suppose you are not into DIY wedding centerpieces. In that case, there are plenty of premade seashell Beach Themed Wedding Centerpieces you can buy.
Here are some ideas for DIY and premade centerpieces you might want to use if you have a seashell wedding theme or if you just like the aesthetic:
Use seashells as a secondary part of the centerpiece. For instance, if your primary centerpieces are candles or flowers, the seashells can be artistically placed around or near the centerpieces. This allows them to be present without being the star of the show.
Seashell Candles – There are a lot of candles that use this theme. You can get seashell-themed candle holders or look for gel candles with seashells inside them.
Vases – Many couples like to fill their floral vases with seashells to add a little something extra to the overall theme.
DIY – Use a unique container like a rectangle tray or a glass bowl and fill them with seashells and other beach-themed items to make rustic and fun wedding centerpieces.
Scattered – If you have rectangle tables (even if the only one you use is the head table), you can scatter seashells on the runner to make a statement.
Fishbowls – You can buy some affordable fishbowls. Add a few inches of sand to the bottom, then top with seashells.
**NOTE** you can also add other elements like starfish, conch shells, and sand dollars to complete this look.
Here are some DIY Ideas for seashell wedding centerpieces!
Candles and Mirrors Beach-Themed Wedding Centerpieces

Candles and mirrors are always an excellent theme for any wedding. These two items can be used without other elements to make pretty beach wedding centerpieces. To create unique beach-themed wedding centerpieces, add additional items like flowers, flower petals, marbles, pebbles, lanterns, seashells, sand, conch shells, sand dollars, and starfish.
You can buy packs of mirrors (typically in 10 or 12 packs each). Think about how much room each centerpiece will take up and the shape or design you plan to use. The mirror is usually the base, so you will need as much room as the mirror to place each table's centerpiece. You can find mirror packs for different shapes, including round, square, and rectangle.
For candles, you can also usually just go online and find different candle packs for tealights, votives, tapers, and pillars. You can also buy candleholders in bulk or decorative candles – candles that are either designed in a specific way (like to make you think of the beach, the summer, or tropical environments) or to have particular scents.
Once you have the mirrors and candles, you can design how you want these centerpieces to look. You may stop with these elements, or you can add other things to them, depending on the look and feel you are going for.
Not sold on the mirrors? You can do all the same things without using mirrors if that is your preference.
Here are some cute wedding candles you can buy to make beach wedding centerpieces!
Lanterns – Fun Centerpiece Ideas

Over the past several years, lanterns have become a trendy item for wedding decorations and centerpieces. There are so many fun ways to use lanterns. 
You can buy lanterns and use them naturally, the way they are intended. This is an excellent idea for an outdoor wedding reception that will go past sundown.
Many lanterns can hold candles, which will allow you to create mood lighting after dark. You may want to use them only as a backdrop and not light the candles, and add other elements to the inside of the lantern, such as sand dollars or starfish.
Here are a couple ideas of lanterns to use in your beach themed wedding centerpieces.
Nautical Centerpieces – Keeping Your Options Open

When most people think of the beach, they think of sand, seashells, and sandcastles. Although all those elements can be present, nautical themes are also there. 
You can add some of these elements if you are looking for a more rustic or nautical wedding reception. Some good examples would be lighthouses, ships, and anchors.
Need Some ideas of nautical centerpieces? Check these out!
Other Centerpieces to Consider

Typically, when people think of beach centerpieces for the wedding, they only think about individual guest tables. Normally, they will all have the same or similar wedding centerpieces. However, you may want to do different (sometimes larger or more elaborate) centerpieces for specific tables.
There are many different types of tables at a wedding reception, and mainly, this article focused on guest tables. However, most weddings also have tables like food tables, gift tables, music tables, cake tables, head tables, and a guestbook table.
Some weddings have additional tables for specific design elements or certain types of entertaining. For instance, you may have a sweetheart table for the bride and groom to spend time alone together. You may also have bar tables, bistro tables, a kids activity table, or a memory/photo table to celebrate the bride and groom's relationship or act as an in-memory table, honoring loved ones who are no longer with us.
Do not forget about these tables. You can decide to do beach wedding centerpieces and different beach wedding decorations here, or you may want a more minimalist feel for different tables. The choice is yours.
However, we will show you a few beautiful beach wedding decorations and centerpieces you can get for these tables, just in case you are still looking for ideas!
Looking for some fun centerpieces and decorations to use throughout your reception site? Check these out!
---
---
Leave Beach Themed Wedding Centerpieces and Go Back To Wedding Centerpieces
Go Back To Wedding Ideas