Who Gets Invited to the Bridal Shower
Who Gets Invited to the Bridal Shower?
Your bridal shower questions answered!
Are you wondering who gets invited to the bridal shower? When planning a bridal shower, you want to ensure you are inviting the right people. Whether you are the bride-to-be and want to follow proper etiquette, or you are throwing the shower for the bride, you might be looking for this answer!
_______________________________________________________________________________
Advertising Disclaimer:
Pamela Kazmierczak (owner of wedding-planning-101.com) is a participant in the Amazon Services LLC Associates Program, an affiliate advertising program designed to provide a means for sites to earn advertising fees through advertising and linking to amazon.com.
On my pages you will find text links and photo links to amazon products as well as other programs I am an affiliate of. I also use other forms of advertising such as google adsense. 
If you click to add or purchase an item through a link, I might earn a commission.
_____________________________________________________________________________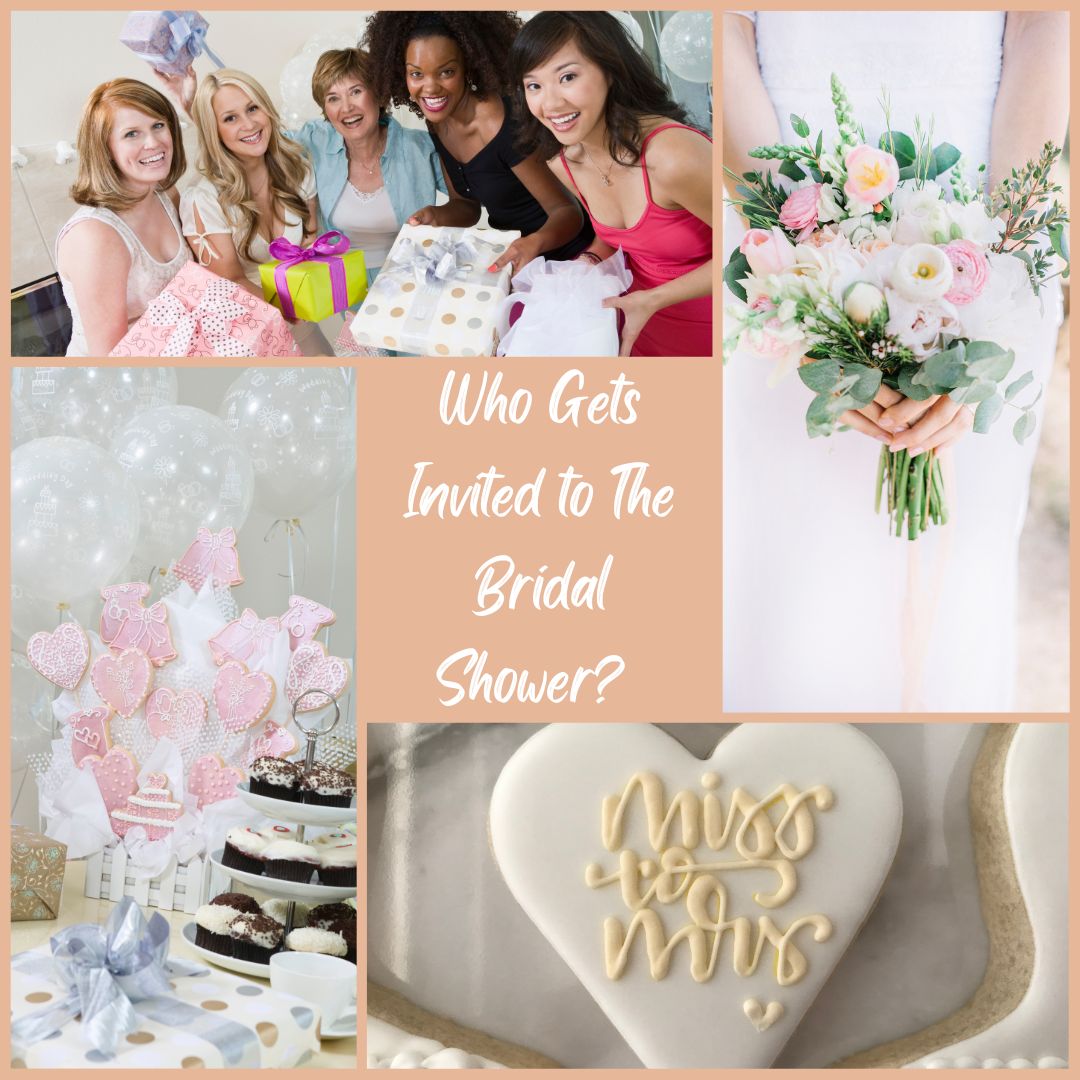 Who Gets Invited to the Bridal Shower?
This question can vary depending on factors like the shower venue, who is throwing the shower, and what type of shower it is. Here are some ideas to consider.
The One Etiquette Rule
During planning, you may wonder who gets invited to the bridal shower. This article will cover traditional etiquette, although many weddings no longer follow traditional rules! You will want to keep this in mind during the planning process.
When answering the question of who gets invited to the bridal shower, you will want to follow at least one traditional rule. That rule is Only Invite People to the Bridal Shower who will be invited to The Wedding. If you follow no other advice than this rule, you will be good.
Take a minute to think about this one rule. You might feel slighted if you are invited to a bridal shower but not the wedding. This may make you wonder if the relationship became fractured in some way. Also, another problem could be that the bridal shower guest may feel like they were only invited as a money grab or for a lovely gift, not because they were truly wanted there.
So, before finalizing the shower guest list, be sure to compare it to the wedding guest list.
How Intimate is the Bridal Shower?
There are typically two types of bridal showers. One is where all the female guests invited to the wedding are invited to the shower (minus guests who will be at the wedding as plus ones). The shower can become a huge affair depending on how big the wedding is. This is fine for some people, but it can cause an issue for some.
Typically, the bride's mother, a sister, or the maid of honor throws the bridal shower. Ultimately, it is up to them to depend on how many guests they will invite. So, it is possible a shower of 75 women is not a possibility.
The other type of shower is an intimate bridal shower for your closest family and friends. This type of shower will allow everyone in attendance to know each other and have a very meaningful relationship with the bride. Remember, the shower is a celebration of the bride's upcoming life. This is why it is important to many people that only those closest to the bride are in attendance.
Also, bridal showers tend to have fun and sometimes silly games about how well you know the bride-to-be. Someone who is only a casual acquaintance may not have a good time in that type of situation.
A Short List of Who Gets Invited To The Bridal Shower
So who makes the list? This depends on the shower, but here is a traditional list of attendees:
 The Bridal Party.
The Bride's Immediate Family.
The Groom's Immediate Family.
Close Female Relatives on Both Sides.
Close Female Friends.
Who Might You Not Invite to the Bridal Shower?
If you are designing a bridal party to be an intimate celebration, there may be many people who do not make the list. Here are some people who might not make the final cut.
Neighbors
Friends of family members
Co-workers
Bosses
Business Associates
Plus-Ones
Other Bridal Shower Questions Answered
Still have some other questions? Here are a few other questions about throwing a bridal shower!
Does the Bride-to-be Only Have One Bridal Shower?
Not necessarily. Because of the intimate nature of most showers, sometimes women have multiple showers. Part of the reason for this is that different people can throw them. For instance, a co-worker may throw a work-related bridal shower, one of the bridesmaids may have a friends-only shower, and an aunt may throw one for family only.
Should the Groom-to-be Attend?
It depends if you are having a traditional shower or a couples shower. Obviously, if it is a couple's shower, he should be in attendance from start to finish. At a traditional shower, he may not attend at all or pop in at the very end to thank everyone and help with gift transportation.
Do All Bridal Showers Have Themes?
No. Many showers do not, but themed wedding showers and parties are popular these days. If you decide to incorporate a theme, keep the bride's interests in mind. If you have an intimate-themed party, you can even be a little creative, like having a pool party, a cooking class, a boozy brunch, or a dessert party.
Bridal Shower Games and Activities
Most parties will have games and activities to fill the time. This will include easy printable games, activities, door prizes, and more. A well-planned party will understand how long the party is and how to fill that time.
What Type of Invitations Should be Sent?
This depends on the type of shower and the attendees. You can get simple fill-in-the-blank invitations or traditional invitations. You do not have to overspend in this area unless you have budgeted for it! Here are some super cute bridal shower invitations we love!
Bridal Shower Video Inspiration
Need more ideas and inspiration? Check out these videos! We have included YouTube videos and some TikTok videos (we know you do not always have time for a super-long video).
---
---