How to Research Wedding Vendors
How to Research Wedding Vendors
10 Tricks and Ideas to find Wedding vendors and one important pre-step you should follow.
When starting the wedding planning process, you should know how to research wedding vendors. If you have decided to plan the wedding yourself without the help of a wedding planner, it will be up to you to find the right vendors and research the team you ultimately end up hiring. At first, this task might seem a little overwhelming. Take a deep breath and relax. The easiest way to get through anything overwhelming is to break it up into more manageable steps!
_______________________________________________________________________________
Advertising Disclaimer:
Pamela Kazmierczak (owner of wedding-planning-101.com) is a participant in the Amazon Services LLC Associates Program, an affiliate advertising program designed to provide a means for sites to earn advertising fees through advertising and linking to amazon.com.
On my pages you will find text links and photo links to amazon products as well as other programs I am an affiliate of. I also use other forms of advertising such as google adsense. 
If you click to add or purchase an item through a link, I might earn a commission.
_____________________________________________________________________________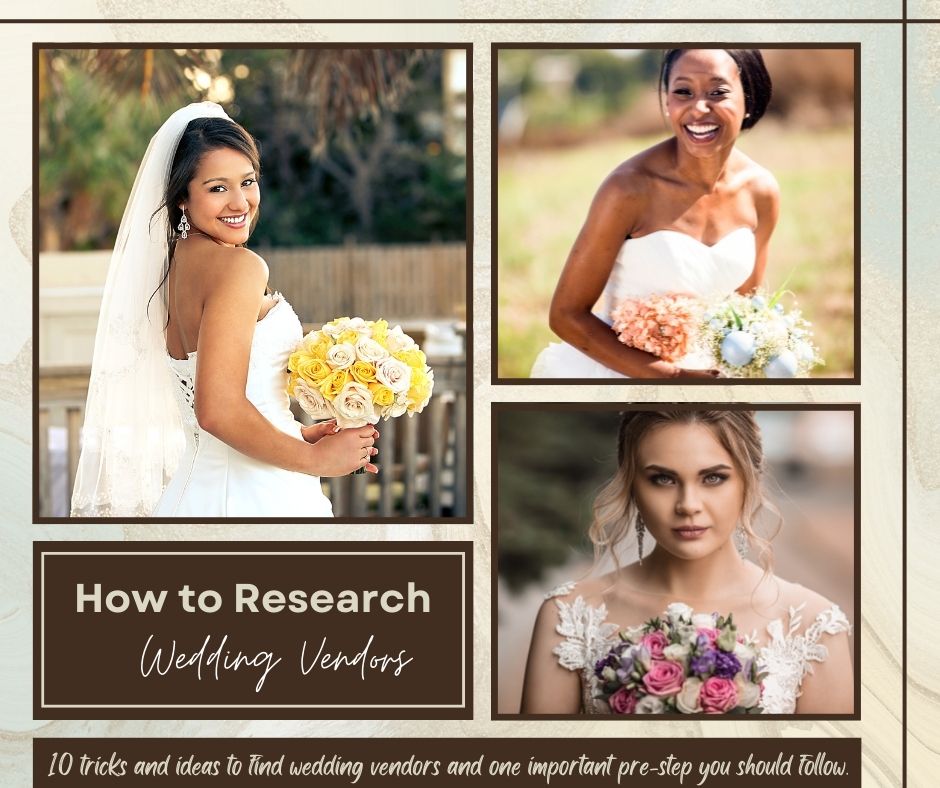 The Important Pre-step – Understanding What You Want
Before you start doing any work, you must understand what you want from your wedding. You should already have a specific wedding vision to get the perfect vendors. Some couples also choose to select their vendors based on their values. If your vendors must have the same values as you, know this going in. Take the time to think about what you want from each vendor. Only once this important pre-step has been done should you start researching vendors.
10 Tricks and Ideas on How to Research Wedding Vendors
There are many ways to research and choose the right wedding vendors for your wedding. Here are some tricks and ideas on how to research wedding vendors!
1. Hire a Wedding Planner
If you are totally against this, keep reading. This is only one idea, and there will be many more for people who are wholly opposed to hiring a wedding planner or cannot spend that type of money on their wedding. However, it is essential to understand that this is the number one trick to finding the perfect vendors.
Why?
Wedding planners work in the industry and have tons of contacts. Even if you want to hire a wedding planner for the entire day, understand that some wedding planners and consultants offer smaller packages. Many wedding professionals can help with the vendor process. This is something to consider.
2. Talk to Your Venues
You can always start your inquiry there if you have already picked the venue for the reception or the ceremony. Traditional wedding venues have seen hundreds to thousands of weddings. Each of those weddings has come with traditional wedding vendors. This means the venue will have specific insights into different wedding vendors, and they should be able to steer you in the right direction.
3. Talk to Your Married Friends
If you know anyone – friends, family, co-workers, or acquaintances, who have been married in your area in the last 3 – 5 years, reach out to them. Find out which vendors they liked, which ones to avoid, and what working with each vendor was like. By finding out this information, you can start to make a list of possibilities.
4. Use Social Media
The internet, including social media, can provide a wealth of information about wedding vendors in your area. Look for wedding groups on different social media outlets, especially local ones. You will be able to find vendors and reviews. You can also search for different vendors' social media platforms, where they will post reviews, photos, and videos of their work.
When you have exhausted everything you can do on social media, use the rest of the internet. This includes forums, websites, vendor marketplaces, wedding directories, and the search engines themselves.
5. Go to Wedding Fairs and Bridal Shows
Bridal shows and wedding fairs are great places to do research! A bridal show will allow you to meet many available vendors in your area and learn basic information about each. This will include pricing, packages, availability, and contact information.
With that information, you can do even more research on each vendor, inching you toward your final choices.
6. Read Online Reviews
Now that you have done a significant amount of research on multiple vendors, it is time to start digging into your final selections further. Go online and search for each of your possible vendors. When reading reviews, make sure you read as many as you can, as well as reviews from their websites and social media accounts and those posted in other places. Do not make decisions based on one glowing review or one bad one.
A bad review or two could come from people who are disingenuous or even paid for by competitors. A good review or two could come from the vendor themselves! Use a body of information to make your decisions.
7. Reach Out to Your Possible Vendors
If you are looking for how to research wedding vendors, it is a good idea to reach out to the actual vendor you are interested in! Now that you have your final list of possibilities, it is time to reach out to them. You should be able to find contact information on their personal websites or social media pages, including contact forms and email addresses. It is time to send a message!
You will want to send a short email like the following:
Dear (Vendor Name),
My name is (your name), and I am getting married on (your wedding date) at (your wedding venue). I heard about your services (however – word of mouth, the internet, wedding expo) and would love to learn more about your services. I wanted to know if you are available on my wedding date, and I am requesting information on packages and services.
Thank You!
(Your name and contact details)
Typically, you will hear back within 1 – 2 business days. If this vendor still has availability for your wedding date, you can set up an in-person meeting with them to discuss everything further once you have had time to go over whatever information they have sent to you.
8. Ask Questions During Meetings
Now that you have narrowed your list considerably, it is time to have in-person meetings with each vendor. For some people, hiring a vendor can seem overwhelming. The first thing you should keep in mind is that you are the potential customer, and the vendor will be a contractor to you. Do not be afraid to ask questions. Make sure you ask as many questions as possible to ensure they are the correct vendor for you.
Before your meeting, you should come prepared with a list of questions you want to ask. Think about what you want to know beforehand. This can include a breakdown of their services, pricing, and expectations. Think about this like a job interview because it is.
Ask if they will personally be involved with your wedding and to what extent. If they have employees or assistants who will be involved or in charge, ask them to meet them and see their portfolios. Find out more money on the financial aspects of their packages. For instance, is the cost all-inclusive, or will it cost more than the listed packages?
9. Consider Everyone's Personality
One aspect that gets overlooked often is personality. Sometimes it is not just the vendor's personality but how they will mesh with the couple or other vendors, they will be in contact with. For instance, if you have a laid-back and casual attitude toward the wedding, you may feel uncomfortable working with someone who is demanding or high-strung. Please pay attention to how they make you feel during your meetings and conversations. If you are uncomfortable, this might not be the vendor for you.
10. Get Recommendations from the Vendors You Book
The final way to find the right vendors is to ask other vendors. We have already discussed asking your venues but understand that you will also have several vendors to ask as well. Many couples choose one or two vendors right away. You might already have a baker or a florist in mind. If you choose one or two vendors well before the rest, they can be a wealth of information.
Any wedding professional who has been in the business for a while has had experiences with other vendors. They will be able to tell you who is the most talented, who has the best pricing, and who is the easiest to work with. Be sure to ask your vendors for assistance.
Video Inspiration on How to Research Wedding Vendors
Now that you have read our tips, maybe you want to get some ideas from some great video content creators! Check out these Youtube and TikTok videos on how to research wedding vendors and related topics!
---
---