Cheap Wedding Decorations
Cheap Wedding Decorations – 19+ Ideas To Find Affordable Wedding Decor

Get ideas for the best wedding for your budget.
Many brides and grooms are looking for cheap wedding decorations. Decorating for your wedding does not have to be expensive. In fact, being thoughtful, creative, and collaborative can make decorating both fun and cheap. Keep on reading for ideas for wedding decorations on a budget.
_______________________________________________________________________________
Advertising Disclaimer:
Pamela Kazmierczak (owner of wedding-planning-101.com) is a participant in the Amazon Services LLC Associates Program, an affiliate advertising program designed to provide a means for sites to earn advertising fees through advertising and linking to amazon.com.
On my pages you will find text links and photo links to amazon products as well as other programs I am an affiliate of. I also use other forms of advertising such as google adsense. 
If you click to add or purchase an item through a link, I might earn a commission.
_____________________________________________________________________________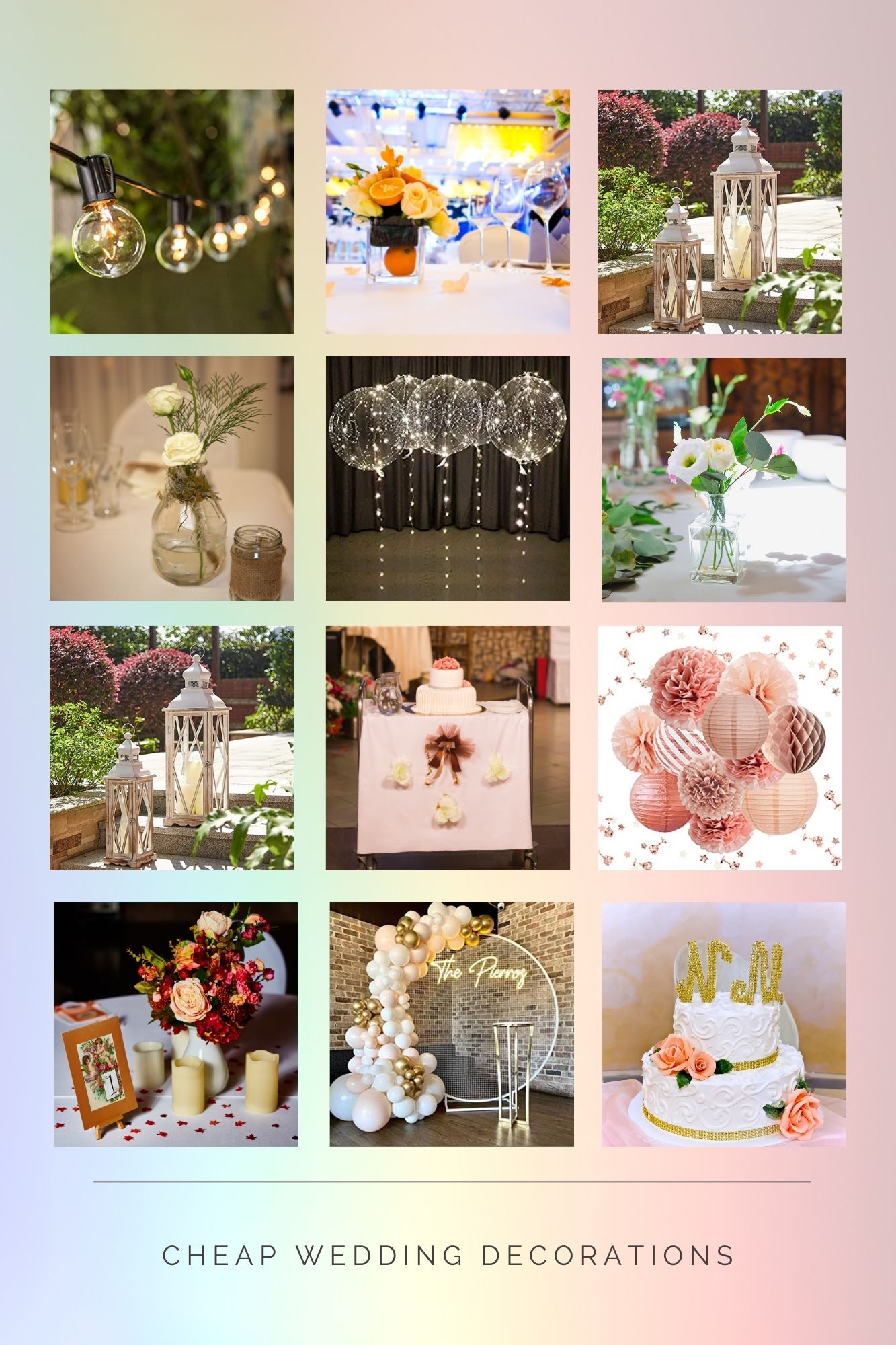 Be Thoughtful
Here are some tips for cheap wedding decorations. You need to be thoughtful when looking for wedding decorations on a budget. One way to reduce expenses is to plan colors and themes well, and another is to plan ahead. Choose colors and themes that are popular and are readily found together, perhaps for other occasions. Consider items that might be bought in bulk or items that might display incredibly easily and well - such as umbrellas, for example.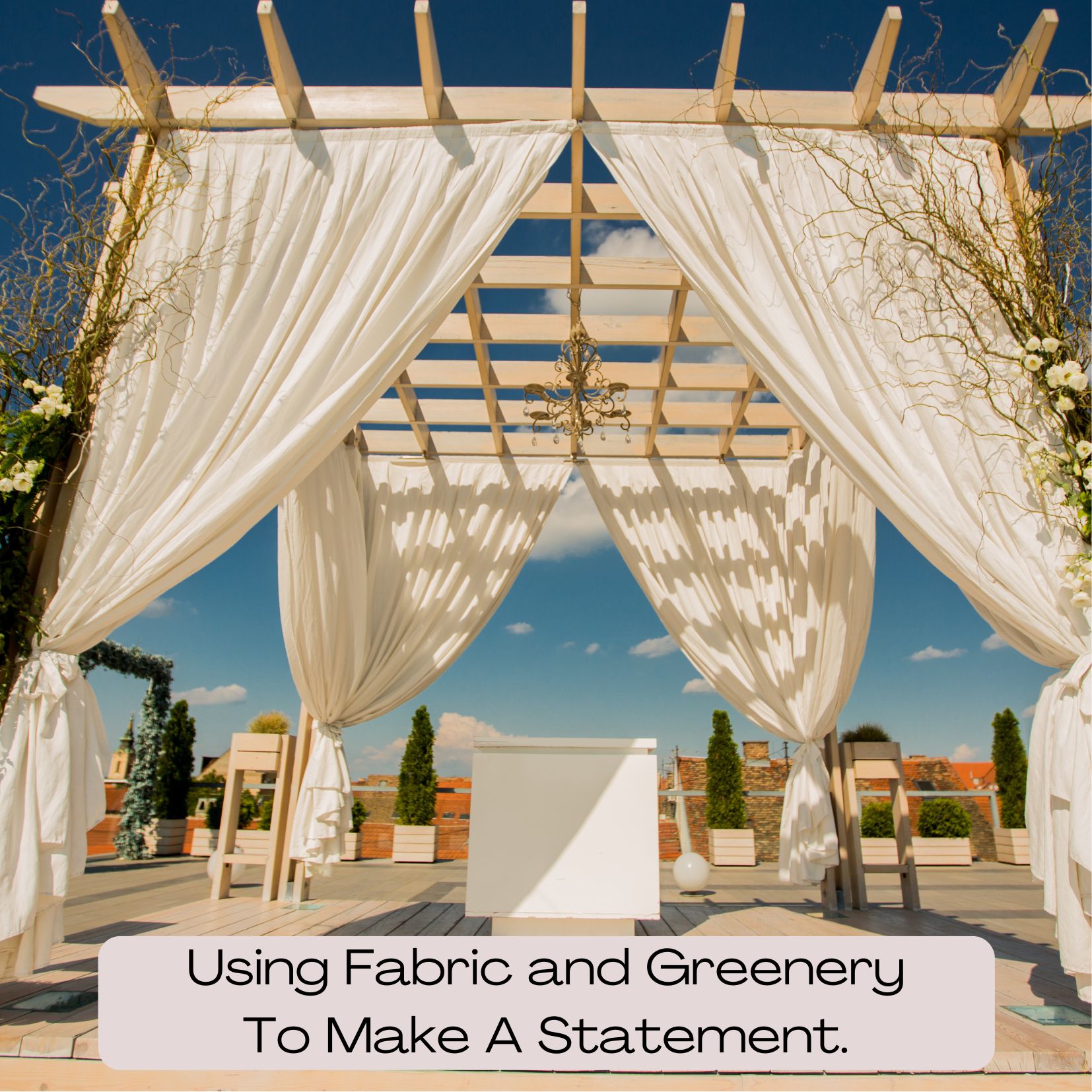 When looking for wedding decorations on a budget, you should pay attention to the time of year when you are shopping for your cheap wedding decorations. Think about holidays, and watch for the huge markdowns when they are over. For instance, glass Christmas balls look beautiful in a large glass bowl and can often be found in all sorts of colors. Pastels abound at Easter time, and at Halloween, there are both orange and black decorations that are not too ghoulish.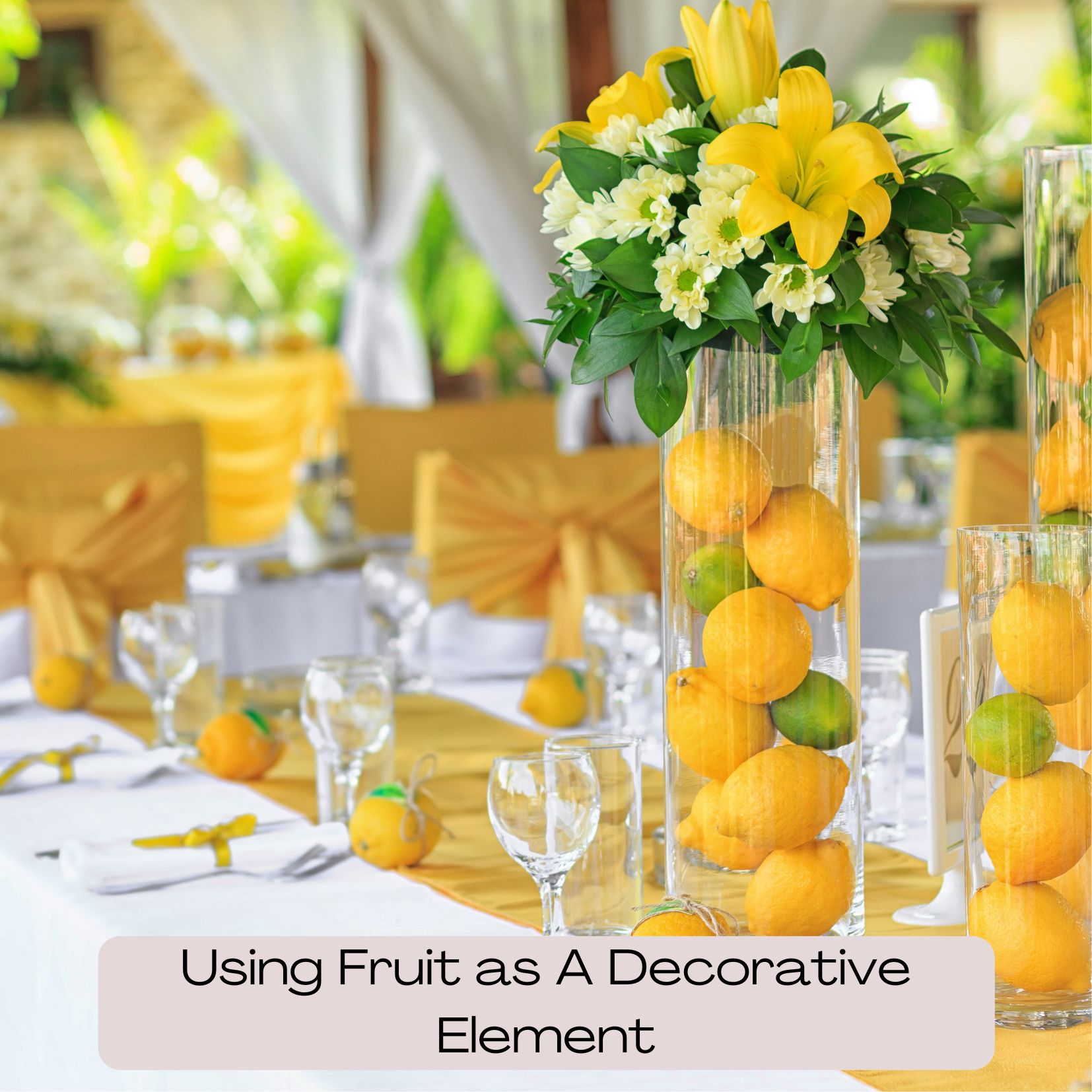 Look for lots of green, rainbows, and shamrocks after St. Patrick's Day. Hanukkah decorations are typically blue and white or blue and silver. Even candies, such as M and M's, wrapped in Hershey's Kisses, jelly beans, and mints, can be beautifully displayed. All can be found marked way down after various holidays.
Be Creative
When looking for wedding decorations on a budget, you should be creative. Looking for more ideas for cheap wedding decorations? What can be meaningful, sweet, colorful, or celebratory without being expensive? Some "raw materials" are photos, balloons, yards of fabric, ribbons, seashells, and paper of all sizes and shapes. Photos can be framed, made into collages or posters, displayed in wire clips, or copied onto place cards. Balloons can be wired into an arch, filled with helium and tied to chairs, or tied in clusters at the corners of the dance floor. Or use a few large Mylar balloons to suit a theme.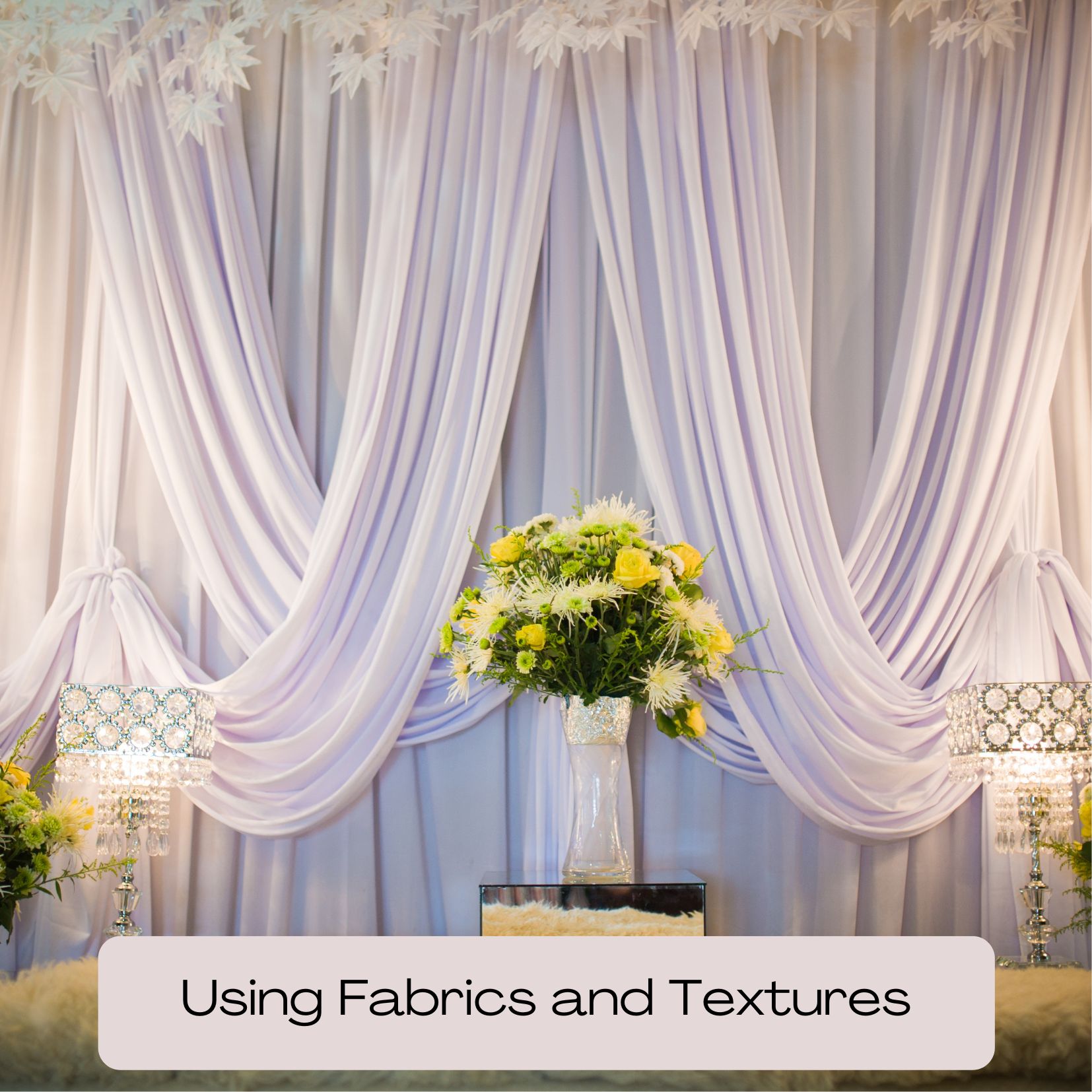 There are many different ways you can use your own creativity to create a great atmosphere while looking for wedding decorations on a budget. Lightweight toile or nylon mesh can be fashioned into big ribbons or drapes, while heavier fabrics can be used for large banners; these may also be made by using paint on rip-stop nylon. Look for a great-designed tapestry and simply hem both ends with room to run a dowel through for hanging. Make grand bows from ribbon, and use seashells or other natural items in clear containers for centerpieces. As for paper, there is no end to possibilities, from making banners with wedding wrapping paper to folding Origami peace cranes to making hanging mobiles. Third, be collaborative. In other words, get your friends and family to help you.
Get an assembly line together if you want a few hundred small bottles of wine or candy bars wrapped with your home-printed label. Don't do it yourself if you want dozens of paper flowers or jars filled with jelly beans. Are you going to wrap loads of medium-sized boxes in wedding paper and hot glue them together for centerpieces? You need help! Look for help with various craft projects: Try colored string dipped in glue and water, wrapped around balloons that are popped when the string dries. Try old-fashioned paper chains, or use fabric paint to personalize small children's tee shirts worn by teddy bears with the couple's names and the wedding date. Don't even rely on yourself alone for ideas and shopping: create idea and price challenges, and make teamwork part of the joy of preparing for the wedding.
19 Other Cheap Wedding Decorations Ideas

Still, looking for more specific ideas on how to create cheap wedding decorations that look great? Keep reading for 19 more ideas.
Reuse wedding ceremony decorations in the reception. Look at all of the décor you are using at the ceremony and think about how it can be reused. These decorations can be used on different tables (cake tables, guest book tables, etc.) or as backdrops.
Use inexpensive lighting. String lights, spotlights, and candelabras can be affordable, but they can really change the whole look and feel of the event.
Use balloons and paper lanterns. These are both large decoration elements that can be purchased for a low amount of money. These types of decorations can either be used as focal points or small but budget-friendly details.
Backdrops. You can purchase backdrops or fabrics to hang on the walls, behind the head table, or on other tables that will add texture and dimension to the room.
Find out what the venue provides in the package. You may be able to save money on linens and additional decorations that the venue freely provides.
Wedding Favors. Take the time to really choose your wedding favors. Many wedding favors are themed or elaborate, allowing you to use them as table decorations.
Consider the Food. If you have appetizers, food tables can also serve as decorations. Especially using a dessert table or fruit bowls.
Use The Location. Choose your locations wisely. Many locations have natural beauty, and you will not need a lot of extra decorations.
Greenery is beautiful. Want to use flowers, but concerned about how much they cost. Use greenery to create incredible centerpieces and decorations. Even using mostly greenery, which is much more affordable, the flowers will pop, and the decorations will look expensive.
Splurge on a Few Details. Buy a couple things that will show out as a highly decorated reception or ceremony. Some ideas are wedding signs, head table decorations, and a few small table decorations.
Table Numbers. When shopping for items you think are necessary, such as wedding table numbers, choose items that can be used to push the wedding theme or pull the whole wedding or reception aesthetic together.
Candles and Mirrors. Candles and mirrors are inexpensive items that can be bought bulk and used to create decorations and centerpieces.
Cupcakes and Desserts. Use the dessert table as decorations. Highly decorated cupcakes or other desserts can be used as décor. Try to stick with a theme (country, rustic) or your wedding colors.
A Photo Table. Make a photo table to celebrate – anything. It can be solely focused on the couple's relationship. Or you can have it focus on each member of the couple from birth to now. You can have photos of all the guests or create a table in memory of loved ones who are no longer with you.
Comparison Shop. One of the best ways to save money is to have concrete ideas about what you want your wedding to look like and make a plan. Once you know what supplies you need, you can compare shop. If your wedding is a ways off, shop after each holiday and at any outlets.
DIY. The more do-it-yourself you do for your wedding, the more money you can save. This can include baking desserts, making centerpieces, designing bouquets, and so much more. Be creative!
Shop Online. The internet is a great place for deals. You can shop at stores and shops you have never heard of before; of course, you can shop at well-known stores with significant discounts but have a bigger selection. Some ideas include Amazon, Walmart, Big Lots, The Dollar Tree, and Etsy.
Minimalist Decorated Side Tables. Use a few small tables with a few big elements to stand out. You can make themed decorations such as beach, country, or Paris wedding centerpieces. Use large but fun décor items like lanterns, large floral vases, or glass bowls full of seasonal décor like Christmas ornaments, pumpkins, gourds, or easter eggs.
DIY Items To Consider For Your Decorations
Are you thinking about using some DIY items to make cheap wedding decorations? Get some ideas for things to buy right now!
---
---
Cheap Wedding Decorations and Go Back To Wedding Decorations
Go Back To Wedding Ideas