Cutting Wedding Costs – 29 Ways To Save Money on Your Wedding
Get actionable ideas to cut your wedding budget today.
Cutting wedding costs is a priority for many brides! How can it not be in this economy and the simple fact that you could spend thousands and thousands of dollars planning your wedding?
_______________________________________________________________________________
Advertising Disclaimer:
Pamela Kazmierczak (owner of wedding-planning-101.com) is a participant in the Amazon Services LLC Associates Program, an affiliate advertising program designed to provide a means for sites to earn advertising fees through advertising and linking to amazon.com.
On my pages you will find text links and photo links to amazon products as well as other programs I am an affiliate of. I also use other forms of advertising such as google adsense. 
If you click to add or purchase an item through a link, I might earn a commission.
_____________________________________________________________________________
Cutting wedding costs is entirely possible, and there are so many different ways to accomplish this. That is good because different wedding portions are essential to different couples. Some brides can not imagine spending less on a dress, some couples can not imagine having an intimate wedding, and for some people, food is one of the most essential parts of the day.
29 Ideas on Cutting Wedding Costs
Since everyone's wedding is different, we wanted to let you know as many cost-cutting ideas as possible. Read this list and adopt the ideas that will work best for you as a couple!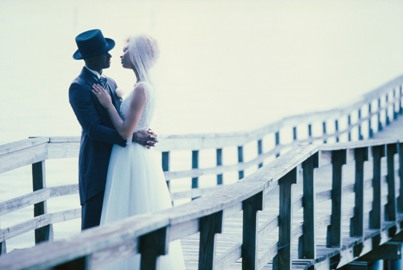 Consider getting married on an "Off" Day. Saturdays are for weddings, right? Well, they do not have to be! Some venues charge the same regardless of the day of the week. However, many venues give steep discounts for using their services on "Off" days.
Look For All-Inclusive Packages. Some venues have both the wedding and the reception in one location. Usually, this package will allow you to save money on the location. The ceremony and reception site can be anywhere from 20 – 35% of your wedding budget. Savings in this area can make a real impact.
Change Your Wedding Time. Sometimes having a morning wedding and a brunch instead of a dinner can save money. There are two main reasons. First, if your brunch ends at 3 or 4, the site can still make money from a different party or engagement for the evening. Secondly, brunch food tends to be more inexpensive than dinner food.
Cut Down Invitation Costs. If looking for cutting wedding costs ideas, the wedding invitation and stationary are a great place to focus on. Most people are not going to skip stationery totally, mainly because they make a great keepsake, but you can certainly save some money. Think of all the stationery you could buy and decide which ones you do not need or can use cheaper alternatives. Do you really need professionally designed engagement party invitations, engagement announcements, bridal shower invitations, rehearsal dinner invitations, wedding programs, or wedding menus? What about the wedding invitation? You can get an all-in-one invitation instead of paying for an entire wedding invitation suite.
Use a Wedding Website. Make a simple invitation, and save the date, direct guests to your wedding website. You can keep everyone up to date on wedding planning, changes, and things you anticipate. You will also be able to list information on the wedding, the bridal shower, and the rehearsal dinner on the website.
Shop For Wedding Gowns Early. Sometimes the best way to save money is to be prepared. If you buy your wedding gown too close to the ceremony, you may need to wait for special orders and pay for rush shipping or expedited designs. Also, you may need to pay extra for alterations that need to be done quickly.
Shop Sales or Find a Cheaper Dress. Another cutting wedding costs idea involves spending less money on the wedding gown. I know everyone is not willing to save money on their wedding gown. However, there are two good options for saving money on the dress. The first one is to keep an open mind to cheaper alternatives than what you may have initially had in mind. You never know; you might actually find a gown you like better! The second option is to start shopping early and pay attention to sales. Sales on dresses can come in the form of word of mouth, information at a bridal expo, or even on social media. Sometimes you can get an end-of-season sale on a dress you would still love wearing for your wedding.
Find a Cheaper Photographer or Videographer. You should never sacrifice quality to save a few dollars, not on your wedding photos or video. However, highly established photographers and videographers are not only charging for their service. You are paying for their reputation and experience as well. It is possible to find highly talented wedding professionals that are new to the industry and have not made a name for themselves. Ask around. Use the internet, social media, friends, bridal expos, and every professional in the business to find out who is up and coming.
Use In-Season Flowers Only. Most weddings are flower heavy. People use flowers in bouquets, centerpieces, and decorations. They are basically everywhere. One way to save money is to ensure you only use flowers available all year round or flowers in season during your wedding.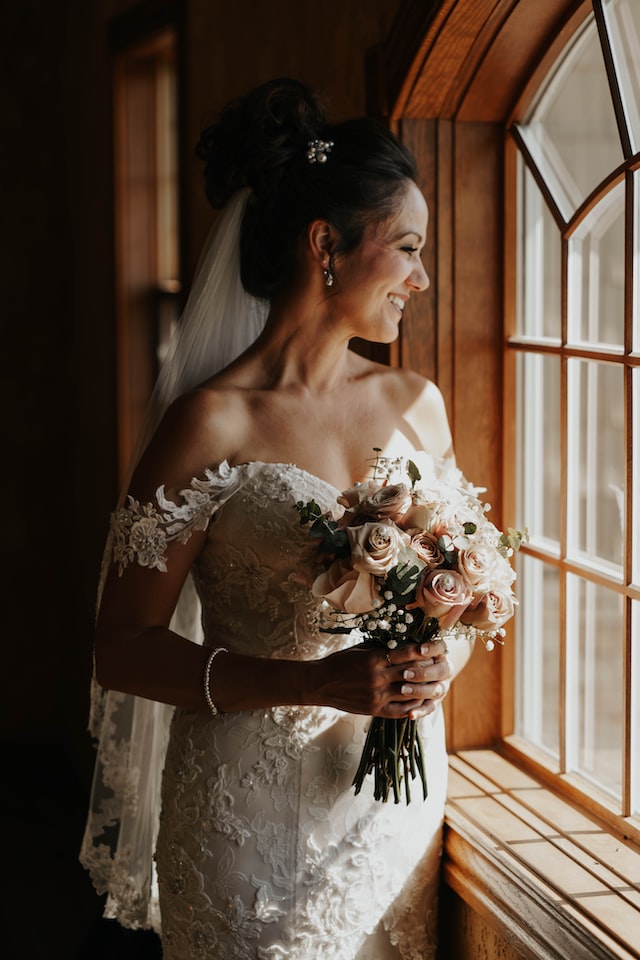 Buy Flowers In Bulk. If you have your heart set on one or two flowers, even if they are out of season, you can purchase them in bulk. One of the reasons the florist bill costs so much for so many couples is because they use a wide variety of blooms. If you only use 4 – 5 different flowers, those flowers can be bought in bulk, saving you money.
Consider Silk or Other Artificial Flowers. Many couples choose to use artificial flowers in their wedding. Some couples go completely artificial, whereas others just sprinkle them in. Technology has come a long way for fake flowers. Many of them look natural but can be bought at a steep discount.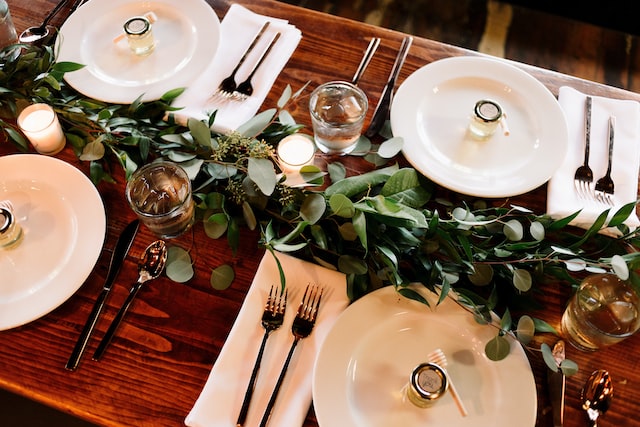 Use More Greenery. Did you hear? Greenery is in! If you want to save money on your flowers but want to have a lush and beautiful appearance, use greenery. You can add more greenery to bouquets and decorations, of course. However, you can also use it on its own. Greenery would make great table runners and aisle runners. Be creative, and save money along the way.
Use Non-Floral Centerpieces. Flowers are expensive. Either consider making your centerpieces non-floral or make them smaller.
DIY Centerpieces. Design your own centerpieces with DIY materials that you can buy in bulk. For instance, you can purchase bulk circular mirrors, white candles, and bulk seashells to make beautiful beach-themed wedding centerpieces. This is a way to figure out how cutting wedding costs can still result in a beautiful and perfect wedding. DIY is a great way to be completely immersed in your wedding planning.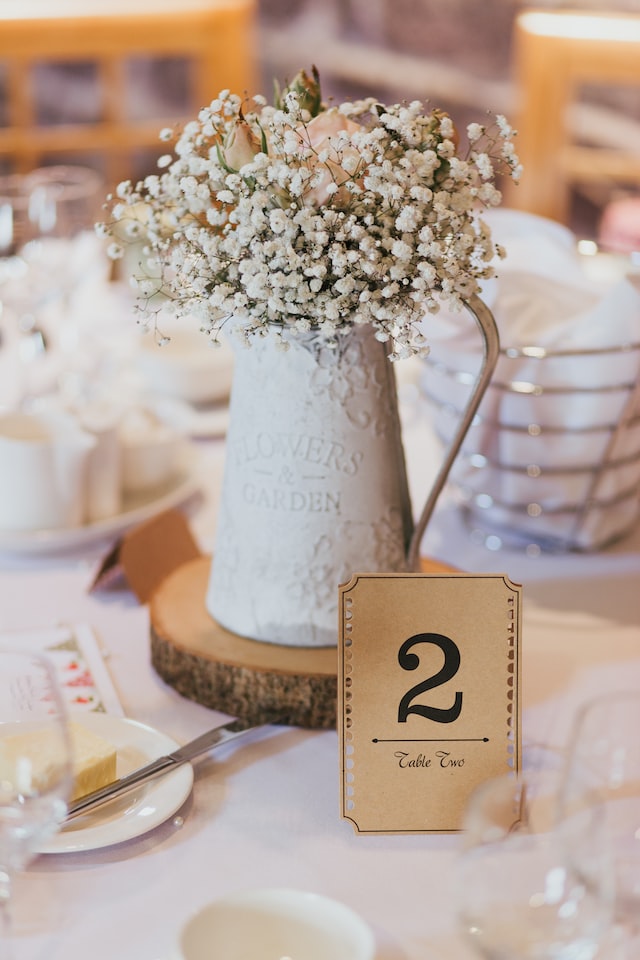 Consider Wedding Décor as Home Décor Investments. Buy things you want to reuse in your own home. If you see something you know would look great in your home or office AND can be used for your wedding, invest in it. Want something because you know it will be sentimental later? Get it. Think you will never use it again. Consider how much you really want this item at your ceremony or reception.
Used is Fine. Something old, something new, something borrowed, something blue. Sound familiar? Many forget that old items (family heirlooms) and borrowed items (rented jewelry and accessories) can save you a ton of money! Look into rentals or borrowing beautiful pieces from family and friends.
Embrace Minimalism. Minimalism is certainly not for everyone. However, a minimalist ceremony or reception design can be quite beautiful. Look at your wedding plans and see where you can save money while creating a stunning look.
Downsize The Cake. If a wedding cake is a must, order a smaller one. The wedding cake is a beautiful decorative element and looks fabulous in photos. Many traditions surround the wedding cake, so we understand if you do not want to give it up. However, you can still get a beautiful cake, but a smaller one to save money. You can have a sheet cake (in the back where guests do not see it) to serve the number of guests you have.
Serve Wedding Cupcakes. If you do not feel emotionally attached to a wedding cake, you can always serve wedding cupcakes instead. They are usually much cheaper, but they can be just as beautiful! Who doesn't love a cupcake?
Consider The Wedding Favors. Wedding favors are a nice sentiment and something that most couples give to their guests. However, how many guests use these favors after the wedding? Consider what you are buying and only give useful or practical favors. Shop around or make them yourself.
Skip the Live Music. Wedding bands are nice, but they come with extra costs. A typical band will have 5 or 6 people that need to be paid. They will typically also have a meal and beverages in their contract. These prices can add up quickly.
Consider Wants Vs. Needs. I know this is not a fun one. When you are looking for ways to cut down the budget, it is a must, though. When planning your wedding, consider what you want and what you actually need. Look at those wants and see if you can get rid of any items on the list.
Do Your Own Hair and Makeup. You can save a lot of money by doing your own hair and makeup. No problem if you, your mother, and your bridal party are not currently skilled with this. This is what social media and the internet are for. You can watch tutorials and practice before the big day.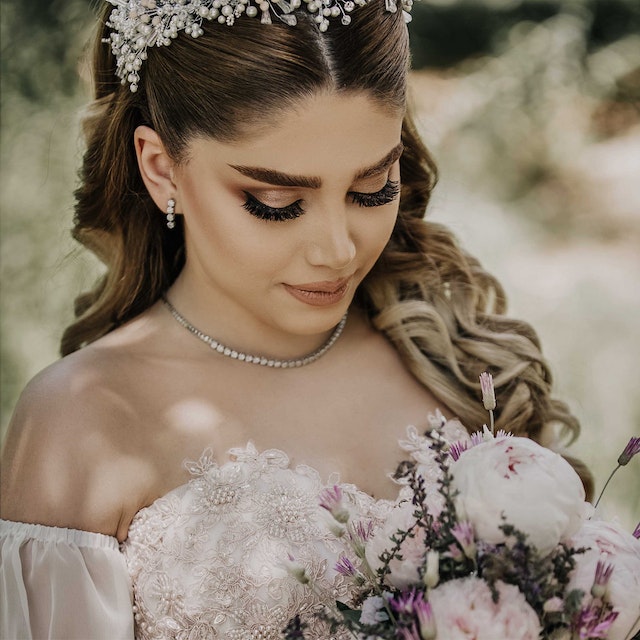 Have Fewer Parties. There can be so many wedding parties. Cutting out just a few – such as an engagement party and a wedding brunch can save a lot of money.
Compare Prices. Compare prices on everything. You may be able to save significant money on wedding vendors, sites, clothing, and accessories just by comparing prices. Sometimes, you will need to take a few extra steps to save money. For instance, want to save on the reception? Start by comparing traditional sites that include everything, including catering, and get a bill breakdown. Now, you can contact nontraditional places like restaurants, galleries, campgrounds, ski lodges, wineries, castles, aquariums, or gardens and find out how much it would cost to host your reception. You will then have to find out what you need to provide (decorations, food, chairs, alcohol, etc.). Next, you need to contact individual vendors like chair rentals and caterers to get their pricing. Add them up to see your savings.
The Wedding Party. Some wedding parties are set in stone, but if you do not need 8 bridesmaids and groomsmen, besides how they would look in photographs, pare it down. The fewer wedding party members, the cheaper your event will be. You will save on party presents, flowers and more!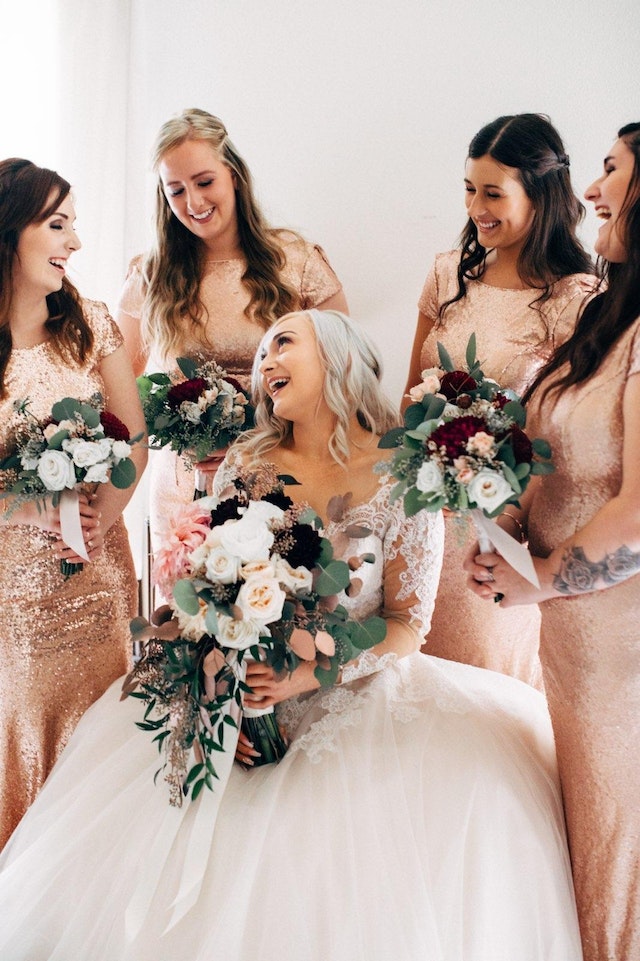 The Guest List. The guest list is one of the places the brides and grooms can save a lot of money, but it can be the hardest one to commit to. Remember, you will pay for places based on headcount; the fewer attendees, the cheaper the overall price will be.
Use The Internet. The internet can be used for multiple things for your wedding. Some ideas include saving on stationery, just keeping in touch online, comparison shopping, and getting ideas for DIY items.
Visit Bridal Fairs and Events. Bridal fairs and events can introduce you to various vendors and locations. Up-and-coming vendors will often be there with skills to help plan or serve your wedding, but at a much lower price point.
---
---