Wedding Ideas For Flowers
Choosing Your Wedding Flowers

Many brides are looking for wedding ideas for flowers. There are many reasons that brides are spending more time and energy into picking the perfect arrangements. Sometimes it is just because they want the perfect wedding – who doesn't want a perfect wedding.



<!********** SPLIT TESTING ADSENSE CODE *****************> <!********** SPLIT TESTING ADSENSE CODE *****************>



Creating the perfect wedding includes picking out the best flowers! Some brides are looking to be more modern or unique and so they are taking another look at what type of flowers they can incorporate into their big day. Here are some wedding ideas for flowers.



Have an idea for the perfect wedding flowers? We want to hear from you! Tell us what your wedding bouquets, centerpieces and arrangements will look like, or did look like if you already ordered them or had your wedding! Have a Photo? Great – We would love to see that too! Share your ideas and thoughts with us!




Be Glamorous
Everyone wants to glamorous at one time or another. What better reason is there to go glam then your wedding day? Looking for glamorous wedding ideas for flowers? Well these flowers would be dramatic, long stemmed arrangements. They would look lush and beautiful, glamorous all on their own. They would tower over whatever container the centerpiece was held in. Good examples of these types of flowers include calla lilies, tulips, orchids and hyacinths. The color could be whatever you like, however pure whites and ivories work well mixed with deep browns and purples.




Show Your Romantic Side
For many people getting married is the most romantic and special occasion that they will ever be a part of. Walking down the aisle to the man we will spend the rest of our lives with is the fairy tale that many little girls live with and alter until they get to adulthood. It is a very romantic notion, and there is no reason not to incorporate romance into the wedding.

Ultra romantic or feminine woman will appreciate using the colors of white, red and different shades of pink throughout the wedding and the flower arrangements. If you are looking for wedding ideas for flowers which are romantic you might want to consider using roses, pansies, peonies or some irises. Using these colors and types of flowers in your bouquets, flower arrangements and centerpieces will certainly allow you to feel like the princess that you ought to be on your wedding day.




The Outdoor Wedding
Many brides and grooms are choosing to be wed in nature, whether it is at a park, the beach or as part of a destination wedding. If you are choosing an outdoor venue for your wedding you might want to incorporate the colors of nature into your wedding ideas for flowers. Outdoor weddings tend to have more colorful flowers.

When brainstorming on wedding ideas for flowers for an outdoor wedding you might consider using different shades of yellow, orange, blue, green, red and white. Some appropriate outdoor flowers to use in your bouquets and arrangements include roses, orchids, lily of the valley, daisies and gardenias.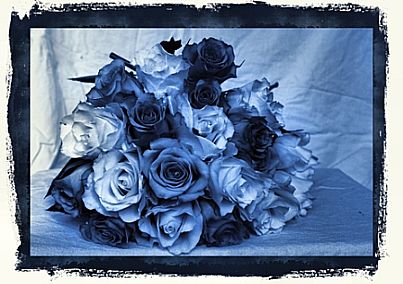 Be a Modern Bride
Many brides are looking to create a more modern look at their weddings. You can do this in many ways including the flowers you use, the colors you choose to represent your wedding, the type of arrangements you have as well as many non flower related things like the wedding dress, the rest of the wedding apparel as well venue and themes.

If you are looking for wedding ideas for flowers that scream modern you may want to choose less feminine flower colors such as green and blue. The arrangements you use can be made to look more like freshly picked flowers, then overly designed arrangements. Perhaps you could put different arrangements at every table instead of using the same design throughout you reception area. Some nice flowers to create a modern wedding include cosmos, tulips, calla lilies, daisies, roses and orchids.




Go Traditional
Even though modern weddings are becoming very popular there are still many brides who want everything about their wedding to scream traditional and elegant. It is not difficult to come up with wedding ideas for flowers when you are trying to create a traditional wedding. First of all the colors will tend to be white, ivory or blush. If your bouquet is all white, it is very popular to make the bouquet contain different shades of whites and ivories.

There are many flowers that come in these light colors such as roses, French tulips, calla lilies, peonies, hydrangea, lilacs, gardenias, and white violets. If you are really going for the traditional look and feel you could opt to add some ivy as a symbol of fidelity.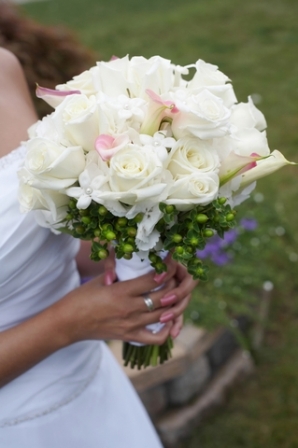 Shopping Online For Wedding Flowers
Most people still opt to shop locally for their wedding day flowers, but if you want to see what the internet has to offer in terms of wedding ideas for flowers, flower availabilty and possible money saving deals here are a few places you might want to check out.

Bridesign
Bridesign offers many different packages for your wedding day. They offer packages for the whole day - which would include the bouquets, flower girl petals, centerpieces, corsages and boutonnieres or you could buy what you wanted or needed seperately. These flowers are gorgeous!

Pick a Petal
Pick a Petal offers fresh, freeze-dried and silk rose petals for the flower girl and the guests. When you are looking for wedding ideas for flowers this is a great idea, the perfect alternative to bird seed, rice or bubbles!








Have Great Wedding Ideas For Flowers?
Have A Great Idea About Wedding Flowers?
Do you have some great wedding flower ideas, photos or stories? Share Them Here!
Ideas and Stories From Other Visitors
Click below to see ideas and stories from other visitors to this page...

Leave Wedding Ideas For Flowers and Go Back To Wedding Flowers
Go Back To Wedding Ideas
Looking For Wedding Ideas? Search This Site For What You Are Looking For!


Custom Search