Wedding Table Flowers
Have you thought about wedding table flowers yet?



<!********** SPLIT TESTING ADSENSE CODE *****************> <!********** SPLIT TESTING ADSENSE CODE *****************>



Flowers are a big part of the wedding day. You carry them down the aisle. The flower girl throws petals and more and more guests toss petals at you these days, as bird seed, rice and bubbles each have their own problems. You also decorate with them – A LOT.


You decorate the ceremony site. You decorate the reception site. You might even decorate your cake, your hair, the limo or just about anything that has anything remotely to do with the wedding can be decorated with flowers.


So what will your centerpieces look like? Wedding table flowers can be quite stunning; they can really change a reception site into a place of beauty. Wedding table flowers have the potential to bring together a wedding color scheme or a wedding theme almost all on their own. So where are you going to decorate with flowers? Here are some ideas.



The Head Table
The head table, where the bride, groom and wedding party sit, usually has some extra special decorations. The decorations and centerpieces are usually more elaborate in this part of the reception site – and with good reason. The guests will look up at that table, and at the guests at the table as well as their surroundings, more than they will look anywhere else. Because of this more time, energy, effort and money usually goes into planning and decorating this table as well as making sure everything looks perfect.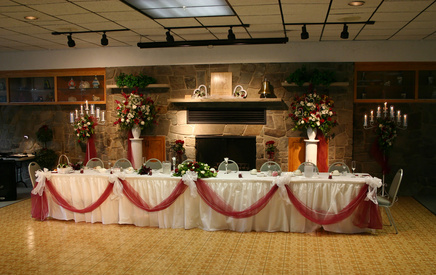 So what kind of wedding table flowers will the guests be seeing every time they glance your way? Many brides opt for a cascading flower arrangement, one which is longer the taller and can be draped across the front of the table. The flowers in this arrangement can be matched to your wedding theme or color scheme so that they match the rest of the centerpieces and decorations.


If you like the idea of wedding table flowers draping the table, but instead of it being centralized in one area you would like it to drape the entire table you might consider using flowered garland on the table. Using flowered garland allows you to cover a greater distance but is still festive and beautiful.



Individual Centerpieces
Individual tables usually each have a centerpiece, a focal point in the decorations. First you will need to decide if they will each have the same (exact or very similar) centerpiece or if different tables will have different centerpieces. It is important to know this information to make you shopping easier.


Now on to the wedding table flowers! What are you options? Of course when incorporating flowers into your centerpieces you have many options, including the type of flowers, the colors and how they are displayed. Here are some wedding table flowers ideas:



Flowers and Floating Candles
Consider using a glass or crystal bowl as the main centerpiece. To complete the look add water, floating candles and surround the bowl with flowers.


The Hurricane Centerpiece
To make a hurricane centerpiece you would have the hurricane as the main focal point, add a candle and anything else you wanted to the hurricane and decorate the outside with a small amount of flowers so everything inside the hurricane is still visible.


Simple Flower Arrangements
Wedding table flowers can come in many shapes, colors and sizes. If you are looking for a basic flower arrangement you can choose flowers which are short, medium length or tall. Whatever you decide to choose will change how the arrangement looks. You flowers can go into basic vases, pedestal vases, pots, glass bowls or anything else which will accommodate their needs. These arrangements can stand alone or you can accent them by placing them on a mirror, surrounding them with rose petals, candles, fruit or leaves.



Other Wedding Table Flowers
The Head table and the guest tables are the two major spots where you would want to decorate with flowers. However, that does not mean they are the only spots that you can do so. You can certainly decorate the entry table, the gift table, the buffet table, the bar or the cake table with flowers as well. Because these other tables will not have people sitting around them you could even use very large or very tall centerpieces on these tables as these wedding table flowers would not get in the way of anyone, they would only add to the decoration and beauty of your reception.
Where To Shop Online For Wedding Table Flowers
Bridesign
Bridesign is a great online shop which sell wedding centerpieces as well as all the flowers you will need on your wedding day. The three pictures of the wedding centerpieces on this page (everything but the head table shot) are their products. You should consider ordering online. At least check them out, what do you have to lose?
Leave Wedding Table Flowers and Go Back To Wedding Flowers
Go Back To Wedding Ideas
Looking For Wedding Ideas? Search This Site For What You Are Looking For!


Custom Search