Unique Wedding Ceremony Decor
Do you need help on your wedding ceremony decor? Do you know that during weddings you can unleash that creative talent in you? Are you tired of seeing almost the same Wedding Ceremony Decor? There are times when your schoolmates are being married at the same year and the same visitors are expected. Would you like to be different from what they usually see in weddings? If your answer is yes… then unleash that artist in you. Creating a beautiful wedding allows you to create not only a great day, but beautiful wedding photos and a beautiful wedding video.





Aside from the fun you have in creating your own Wedding Ceremony Decor, it can also be a bonding time for couples, away from the pressure of the wedding preparations. Creating your own Wedding Ceremony Decor unleashes that artistic talents hidden in you and showcase your talent in the wedding. The wedding day is after all, your day, so why not showcase your creative talents.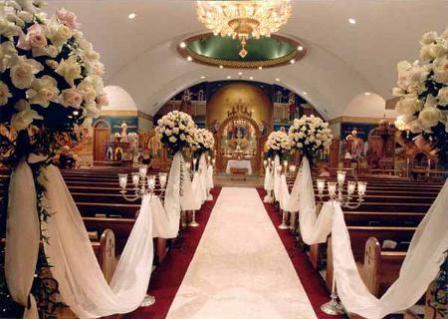 Usually, designers in the Church are different from the designers in the reception. You can see different variations of designs and sometimes, the shades of colors are not the same. Creating your own Wedding Ceremony Decor brings unity of designs in the church and reception.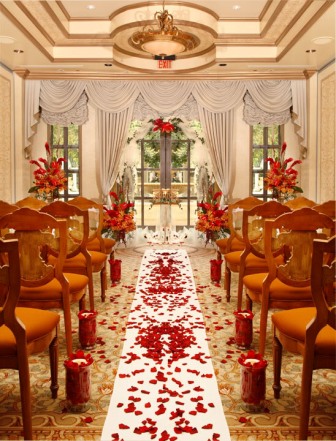 You can choose from a variety of designs for your church and add personal touches from the flowers, the boughs and the ribbons and create the visual effects you want in the church. Choosing from the traditional style wedding, classical or modern styles to the most elegantly styled church you ever dreamt of. It will surely make your wedding day memorable and be proud of what you and your mate created for the occasion.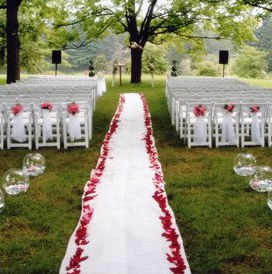 Hire not a wedding gown designer, choose a design that you are comfortable to wear. A piece of advice, wedding gowns should be easily altered as more often than not, brides go for a diet before they do the measurements and forget to stay on their diet regimen when the wedding is near. The flower girls are usually the most noticeable among the entourage aside from the bride and the groom. Why not create something unique for these little dolls to add flavor for the wedding.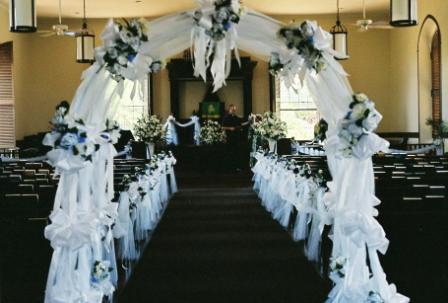 The same design can be used in the reception area. Creating a distinct design that leads your guests to the area is a good idea. Your guests will surely not miss that guide and can easily go to the venue.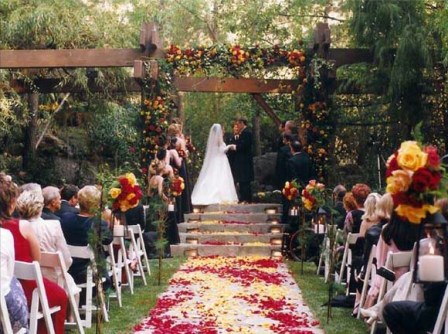 One of the best things I like in creating your own Wedding Ceremony decor, is the great savings you can have. Start creating one and experience the fun in creating the unique wedding you ever dreamed of.





If you enjoyed wedding ceremony decor you should Subscribe to our free monthly newsletter today! All subscribers get access to a free wedding planning ebook.
Wedding Ideas Newsletter
Do you have your own wedding ceremony decor ideas? We would love to hear from you! Share your wedding stories today! Share wedding planning stories and your ideas today. Share what you know and ask our readers for their advice and thoughts on your questions and ideas! Do you have ideas for your wedding ceremony decor, wedding photography and your wedding video? Share them with us - we want to hear your ideas!
Wedding Stories and Advice
Leave Wedding Ceremony Decor and Go Back To Wedding Ceremony
Go Back To Wedding Ideas
If you did not find what you were looking for in wedding ceremony decor - why not search our site for more ideas? Looking For Wedding Ideas? Search This Site For What You Are Looking For!


Custom Search
Wedding Ceremony Decor Ideas
Personalized Aisle Runner
Exclusive to Beau-coup, these personalized aisle runners can be customized with a monogram or the couple's names. They're elegant yet affordable and will certainly add a personal touch to the wedding ceremony.
Free Shipping when you Spend $99
Available from Beau Coup
Use coupon code FREESHIP
Offer expires 2010-10-31
Buy Now
Sand Pouring Ceremony Kit
Blending two lives into one becomes visible in a symbolic sand ceremony, as you pour the sands that represent your lives together into one large glass cylinder you keep as a representation of your commitment.
Save 25% on orders of $250 or More
Available from Exclusively Weddings
Use coupon code TBL25
Offer expires 2010-06-30
Buy Now
Military Wedding Accessory Set
This white satin set is a beautiful way to accessorize your military themed wedding. Set includes a ring bearer pillow, flower girl basket, unity candle, garter set, guest book and pen set. Each piece is embellished in your choice of blue or tan digital camouflage. Choose your emblem Air Force, Navy, Marine Corps or Army to represent your branch of the military.
This item is available from our shopping partner, My Spiritual Wedding.
Enjoy This Site?
Then why not use the button below, to add us to your favorite bookmarking service?


More Wedding Ceremony Decor Ideas
Bridal Centerpieces Pure and Simple White Flowers
$169.99 for 7 arrangements
Bridal Centerpieces Pure and Simple White Flowers displays a very special blend of hand tied pure white flowers set against lush greens. At prices 20% less than making them yourself, these centerpieces are great for baby showers, receptions, parties and weddings! Fresh from our farm to your doorstep. Shipping included. Vases not included.
This item is available from our shopping partner, Fifty Flowers.