Unique Wedding Ceremony Decor
Do you need help on your wedding ceremony decor? Do you know that during weddings you can unleash that creative talent in you? Are you tired of seeing almost the same Wedding Ceremony Decor? There are times when your schoolmates are being married at the same year and the same visitors are expected. Would you like to be different from what they usually see in weddings? If your answer is yes… then unleash that artist in you. Creating a beautiful wedding allows you to create not only a great day, but beautiful wedding photos and a beautiful wedding video.

_____________________________________________________________________________
Advertising Disclaimer:
Pamela Kazmierczak (owner of wedding-planning-101.com) is a participant in the Amazon Services LLC Associates Program, an affiliate advertising program designed to provide a means for sites to earn advertising fees by advertising and linking to amazon.com.
On my pages you will find text links and photo links to amazon products as well as other programs I am an affiliate of. I also use other forms of advertising such as google adsense. 
If you click an add or purchase an item through a link, I might earn a commission.
_____________________________________________________________________________
Aside from the fun you have in creating your own Wedding Ceremony Decor, it can also be a bonding time for couples, away from the pressure of the wedding preparations. Creating your own Wedding Ceremony Decor unleashes that artistic talents hidden in you and showcase your talent in the wedding. The wedding day is after all, your day, so why not showcase your creative talents.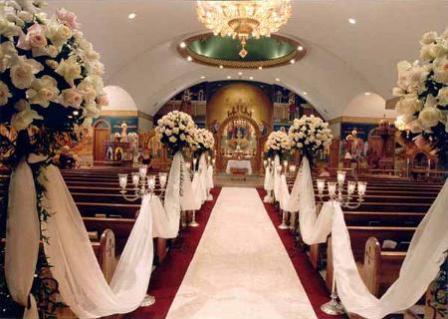 Usually, designers in the Church are different from the designers in the reception. You can see different variations of designs and sometimes, the shades of colors are not the same. Creating your own Wedding CeremonyDecor brings unity of designs in the church and reception.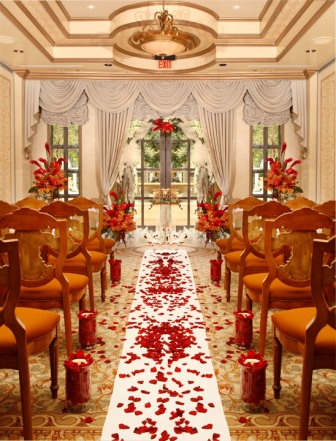 You can choose from a variety of designs for your church and add personal touches from the flowers, the boughs and the ribbons and create the visual effects you want in the church. Choosing from the traditional style wedding, classical or modern styles to the most elegantly styled church you ever dreamt of. It will surely make your wedding day memorable and be proud of what you and your mate created for the occasion.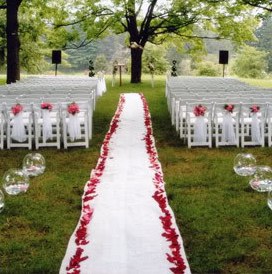 Hire not a wedding gown designer, choose a design that you are comfortable to wear. A piece of advice, wedding gowns should be easily altered as more often than not, brides go for a diet before they do the measurements and forget to stay on their diet regimen when the wedding is near. The flower girls are usually the most noticeable among the entourage aside from the bride and the groom. Why not create something unique for these little dolls to add flavor for the wedding.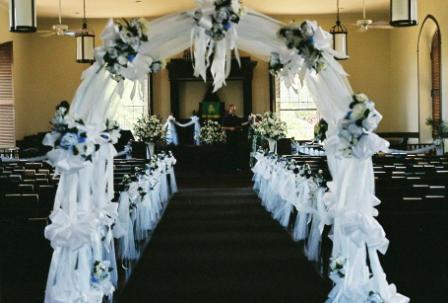 The same design can be used in the reception area. Creating a distinct design that leads your guests to the area is a good idea. Your guests will surely not miss that guide and can easily go to the venue.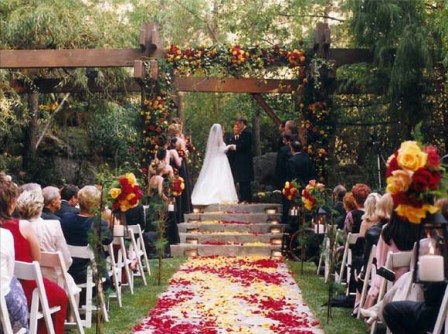 One of the best things I like in creating your own Wedding Ceremony decor, is the great savings you can have. Start creating one and experience the fun in creating the unique wedding you ever dreamed of. 

Leave Wedding Ceremony Decor and go back to Wedding Ceremony
Go Back To Wedding Ideas