Beach Theme Wedding Cakes
Getting married on the beach? Have you considered beach theme wedding cakes? Whether you are getting married at the beach, having an outdoor summer wedding or just have a beach themed wedding, this type of wedding cake might be just what you are looking for. 

_____________________________________________________________________________
Advertising Disclaimer:
Pamela Kazmierczak (owner of wedding-planning-101.com) is a participant in the Amazon Services LLC Associates Program, an affiliate advertising program designed to provide a means for sites to earn advertising fees by advertising and linking to amazon.com.
On my pages you will find text links and photo links to amazon products as well as other programs I am an affiliate of. I also use other forms of advertising such as google adsense. 
If you click an add or purchase an item through a link, I might earn a commission.
_____________________________________________________________________________
Seashells and Starfish
One way to incorporate the beach theme into your wedding is to have a seashell wedding cake. A seashellwedding cake is not that hard to design. Usually the cake colors are beige (to look like sand) or blues and greens (to look like water). The seashells and starfish can be real, or you can ask your baker to use plastic models that look real or to create the seashells using frosting. You can also use cinnamon and brown sugar to look like sand.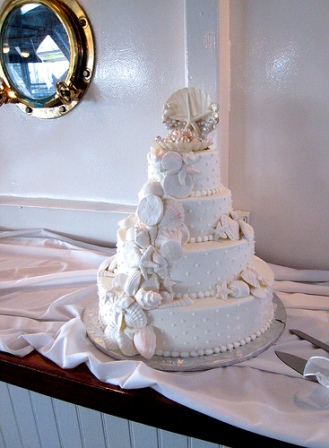 https://www.flickr.com/photos/46232261@N00/
/
BY-NC-SA/2.0
Beach Theme Wedding Cake - Sand Castles
A great beach theme wedding cake would be one that has sand castles. With sandcastles you can pair other things like pails and shovels to complete the look. If you do not want your cake decorated in sand castles you could either just have a sand castle cake topper or you could choose to decorate the cake table with sand castle, sand pails and shovels. 

Beach Theme Wedding Cake - Nautical Themes
If you are looking for beach theme wedding cakes with a nautical theme you can certainly choose the most popular choice - a sailboat. However, there are many things you can choose which are about the beach. If you have any water sport interests, you can highlight them with your cake. Some ideas would include snorkeling, scuba diving, water skiing, or surfing. 

Beach Theme Wedding Cake - Tropical Flowers
Most brides having a beach themed wedding are familiar with tropical flowers. They are usually used in the bouquets and centerpieces – why not use them in the cake as well? Wedding cakes with fresh flowers can be quite beautiful. When decorating a wedding cake with flowers you can cascade the flowers down the cake in aspiral pattern, place flowers in between layers, use a flower wedding cake topper or scatter flower petals on the cake table. You can also use the same type of flowers in a centerpiece or bouquet on the cake table to completethis beautiful look. Adding tropical flowers can change ordainary wedding cakes into beach theme wedding cakes. 

Leave Beach Theme Wedding Cakes and go back to Wedding Cake
Go Back To Wedding Ideas