Wedding Cakes With Fresh Flowers
Although wedding cakes with fresh flowers are absolutely beautiful, creating this look is not as easy as it seems. If you do want to use flowers with your wedding cake you will need to talk to your florist about issues which may arise such as safety, contamination and presentation. Many flowers
are toxic and should be avoided.



<!********** SPLIT TESTING ADSENSE CODE *****************> <!********** SPLIT TESTING ADSENSE CODE *****************>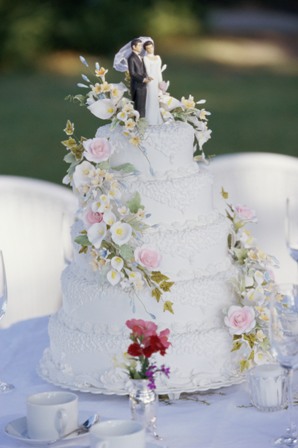 Wedding Cakes With Fresh Flowers - Safety
Although wedding cakes with fresh flowers are wonderful to look at, you need to think about safety. To insure that you and all your guests are safe you must first ensure that the flowers you are choosing do not have any toxins in them. Many flowers are toxic for human consumption and therefore you absolutely cannot use them on your wedding cake.


Unfortunately, when designing wedding cakes with fresh flowers, it is not only the toxic flowers you must worry about. Even if a flower is non toxic you will need to make sure that they are not grown in an area with heavy use of pesticide, as this could also make people sick. You do not want your guest's memory of your wedding to be of one which made them ill, do you?




If you are set on using wedding cakes with fresh flowers you should keep that in mind when shopping for your bakery, or even your florist. Some bakeries and florists who work heavily in the wedding industry may grow flowers themselves for the sole purpose of being decorations on wedding cakes. These would be non toxic flowers which are grown without the aid of pesticides or other poisons.






So, don't forget to ask your wedding professionals what safeguards they use and what services they offer. One more question you should address is to make sure that they are using clear plastic flower picks to insert the flowers in the cake, make sure they are not sticking the stem directly in the cake without any barrier.


Wedding Cakes With Fresh Flowers - Presentation
Many brides choose wedding cakes with fresh flowers because of the fantastic presentation at the reception. Now that you know how to use safety and avoid contamination when creating wedding cakes with fresh flowers, the next thing to tackle is presentation. Using flowers on cakes is wonderful, but these flowers should have meaning and they should closely reflect your wedding theme or colors.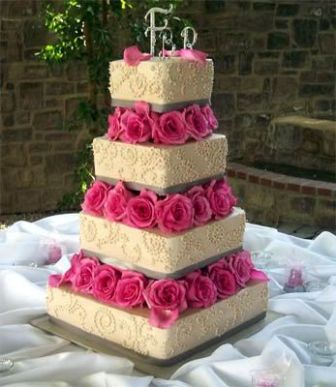 If you are looking to just closely match everything, picking flowers of the same color as your bridesmaid dresses or other decorations will do, however, if you want it to match completely you may want to have the flowers on the wedding cake match the bouquets or centerpieces. To keep the flowers looking the best for the longest you want to keep both the flowers and the wedding cake chilled or refrigerated for as long as possible in separate containers prior to decorating.


The wedding cakes with fresh flowers look does the best when you can also use flower picks with a water reservoir attached to the flowers. Between keeping everything cold for as long as possible and having fresh water available through the stem of the flower the flowers are less likely to wilt, which would certainly ruin the effect you are trying to create.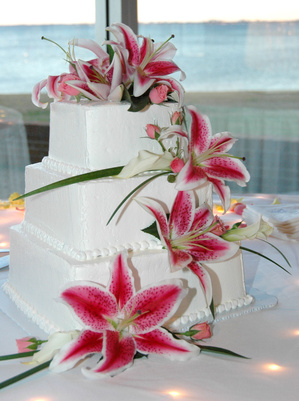 Wedding Cakes With Fresh Flowers - Decorating Tips
Your florist or baker should be able to help you in this area, but it is always best knowing exactly what you want going in. Wedding Cakes with fresh flowers are beautiful and wonderful, but there are so many variations to choose from.


The most popular way to use flowers on a wedding cake is by cascading the flowers, this looks like a spiral of flowers going around the cake. This looks best with larger cakes, though, so if your cake is on the smaller side this may not be the right look. Another popular way to decorate with flowers is to put the flowers on each tier, circling each one completely. If you have a smaller cake you might want to consider having smaller flowers scattered throughout the cake, this will still bring the same effect of having fresh flowers, but it will not be as overpowering.


Finally, many people want flowers incorporated into the look but they really do not want them on the layers of the cake. If you are one of these people who want wedding cakes with fresh flowers without them everywhere, you should consider using a floral cake topper.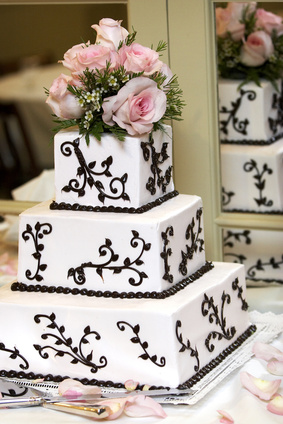 Online Flower Shopping for Wedding Cakes With Fresh Flowers
Most brides choose to purchase flowers locally for their weddings, but there is a trend for brides and grooms to shop online instead of locally. Shopping online allows you to purchase from other locations based on the exact flowers and arrangements that you want and need. Of course when shopping for flowers to be used in wedding cakes with fresh flowers, you should consult your baker first.


Buying your wedding flowers online is not for everyone, but if you are interested in creating wedding cakes with fresh flowers and you are interested in purchasing the flowers online, here are a few places you might want to check out:


Bridesign
Bridesign allows you to order beautiful flower arrangements for your special day. Why not see what they have before designing wedding cakes with fresh flowers.


The enchanted florist
The Enchanted Florist has a nice selection of wedding flowers, even though wedding flowers is only one type of occasion that they cater to.


Pick a Petal
If you are looking for less than bouquets and centerpieces online, how about real or silk rose petals? Pick a petal can provide rose petals to fill the flower girl's basket or to be scattered on the cake table.





If you enjoyed wedding cakes with fresh flowers you should Subscribe to our free monthly newsletter today! All subscribers get access to a free wedding planning ebook.
Wedding Ideas Newsletter
Do you have your own ideas for wedding cakes with fresh flowers? We would love to hear from you! Share your wedding stories today! Share wedding planning stories and your ideas today. Share what you know and ask our readers for their advice and thoughts on your questions and ideas!
Wedding Stories and Advice
Leave Wedding Cakes With Fresh Flowers and Go Back To Wedding Cake
Go Back To Wedding Ideas
If you did not find what you were looking for in wedding cakes with fresh flowers, you should search our site. Looking For Wedding Ideas? Search This Site For What You Are Looking For!


Custom Search
Find the Perfect Cake Topper for Wedding Cakes With Fresh Flowers
Monogram Cake Topper
Tired of the traditional bride and groom topper? Our letter topper is a trendy way to update the look of your cake and add a real personal touch. Use one letter to represent your shared last name or two to spell out your initials. The letters can even be used to create toppers that say "love", "joy" or "I Do". Each letter is coated in a silver or gold finish and is made of lightweight plastic so it's appropriate for even the most delicate cake tops. Large letter measures 4.5 tall, small is 2.5" tall. Each piece is anchored into the cake with a 1.5" spike.
This item is available from our shopping partner, Someday Treasures.
Enjoy This Site?
Then why not use the button below, to add us to your favorite bookmarking service?



Find the Perfect Cake Topper for Wedding Cakes With Fresh Flowers
Just the Two of Us Cake Topper Set
Give your cake a look that's fresh and trendy with this bejeweled topper bearing your initials and symbolizing that you are now together as one.
Each silver metal and Swarovski crystal set comes in three pieces - the linked hearts are one piece, and the initials are two separate pieces. Once grouped together, your cake topper will measure approximately 4" tall and 7.25" wide at widest point. Pieces are easily set into the cake with the attached 5" spikes.
This item is available from our shopping partner, That's My Topper.