Daisy Wedding Cakes
Daisy Wedding Cakes are a very popular choice for any wedding, especially a wedding occurring in the summertime. Daisies can be used throughout your wedding, from the cake to the centerpieces and everything in between. This is one of the reasons why having a daisy wedding cake is so popular – it is easy to create a daisy wedding theme that is simple, yet beautiful. 

Decorating The Cake
You can choose to decorate the cake with daisies in a number of ways. One of the most popular would be to use the frosting to create the daisies, that way the cake would be 100% edible yet it will still be decorated according to your theme of choice.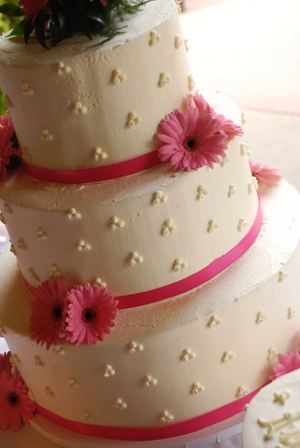 Of course you can also choose to use real daisies with your cake. You can do this is a number of ways. One way to create daisy wedding cakes is to have daisies cascading down the tiers of your cake. If you like the ideas of wedding cakes with fresh flowers, but you would prefer for them to not be touching the layers of the cake you could use a daisy (real or imitation) cake topper. You could even just artfully sprinkle the cake table with daisy petals. 

Make Daisies Your Wedding Theme
If you are getting married in the summer it might not be that difficult using daisies as a complete wedding theme, not just for the cake! Here are some ideas to fit in with the rest of your wedding. 

The Flowers
The most obvious place to insert the daisy theme into your wedding would be with the flowers. You can use daisies in as many places as you want to. You can use them in the bouquets, corsages, boutonnieres. And flower girl petals. You can either use just daisies, daisies as the main flower or only as an accent flower. 

The Stationery
There are many different styles of stationery that incorporate daisies. You can look for daisies on all your stationery such as engagement announcements, bridal shower invitations, wedding invitations, and on thank you notes. 

The Reception
Decorating the reception with the daisy theme should not be that hard at all. You can decorate in many ways including the napkins you use, the linens, the cake knife and serving utensils as well as the centerpieces and favors you give out. You might want to give out tea light candles shaped like daisies or mints in a daisy decorated tin or daisy cutout cookies. 

With this theme there are many possibilities to decorate, outside of daisy wedding cakes. 

Leave Daisy Wedding Cakes and go back to Wedding Cake
Go Back To Wedding Ideas