Castle Wedding Cakes
Castle wedding cakes are popular in Europe and are becoming popular all over the globe. Inspired by the castles of Europe and fairy tales, brides chose to become the princess of the day. 

_____________________________________________________________________________
Advertising Disclaimer:
Pamela Kazmierczak (owner of wedding-planning-101.com) is a participant in the Amazon Services LLC Associates Program, an affiliate advertising program designed to provide a means for sites to earn advertising fees by advertising and linking to amazon.com.
On my pages you will find text links and photo links to amazon products as well as other programs I am an affiliate of. I also use other forms of advertising such as google adsense. 
If you click an add or purchase an item through a link, I might earn a commission.
_____________________________________________________________________________
Many of us are fond of listening and reading stories about princesses and how they were rescued by their prince or how they found true love and conquered the world. It is indeed inspiring for little girls and a dream come true for ladies who had found their true love. Complete your great day with Castle wedding cakes to make sure you got the best themed fairy tale wedding. 

Cakes nowadays may differ in flavors and decorations but the castle wedding cakes are contemporary and symbolize dreams that came true. Little girls would always dreams of fairy tales not because of magic spells and enchantment. Most of these little girls are being taught by these stories a great lesson that real love conquers all and the towering castle wedding cakes inspire brides to put it on pedestal to let everyone knew that they conquered the world through love. 

Wedding is one of the most awaited celebrations that need a long preparation. Themed wedding is the trend in modern weddings. Choosing castle wedding cakes are good in photos too. There may be lots of designed themed cakes but a castle wedding cake can be the center of attraction and simple and inexpensive bridal centerpieces will be great. 

There may be other types of wedding themes but a classic fairy tale never goes out of style. Even your kids in the future can appreciate the beauty of wedding. Your wedding gown can be patterned to any of the great classic princesses. Many brides are investing much on their bridal gowns that are designed according to trend. One of the great advantages of making your wedding themed like those of the classic princesses is you can invest on the gown and can be worn by friends as their bridal gowns or costumes. Do you know that classic bridal gowns that never go out of style can be auctioned for better prices?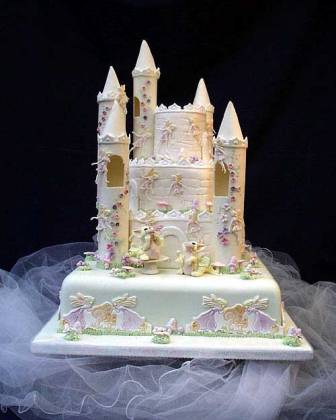 Every girl dreamt of being a princess and now is your time to make those dreams come true. A great castlewedding cake and a prince that will love you and cherish you is great. Just like a tale, your story starts with once upon a time and through the tests of time you make dreams come true and ends up living happily ever after. 

Leave Castle Wedding Cakes and go back to Wedding Cake
Go Back To Wedding Ideas