Pagan Wedding Dresses
Are You Shopping For Wiccan Wedding Dresses?
"Thank You for this info – it is hard to 
Find any info on pagan wedding dresses."

_______________________________________________________________________________
Advertising Disclaimer:
Pamela Kazmierczak (owner of wedding-planning-101.com) is a participant in the Amazon Services LLC Associates Program, an affiliate advertising program designed to provide a means for sites to earn advertising fees through advertising and linking to amazon.com.
On my pages you will find text links and photo links to amazon products as well as other programs I am an affiliate of. I also use other forms of advertising such as google adsense. 
If you click to add or purchase an item through a link, I might earn a commission.
_____________________________________________________________________________
Are you looking for pagan wedding gowns? When you are looking for a pagan or Wiccan wedding dresses to wear to your ceremony there is really no rules set in stone. You could wear just about anything from a typical wedding gown to ritual robes. What you wear is up to you, as is whether you have a handfasting, a traditional wedding or something in between. 

Traditional Wedding Gowns
As the years go by it seems that the lines have been blurred between different types of weddings. As the traditions blur, so does the clothing. If you see a designer wedding gown you absolutely love, there is no reason you cannot wear it just because you are having a pagan wedding. A pagan or Wiccan bride can wear white or whatever color she loves, whatever looks best on you is what you should wear. 

Gothic Wedding Dress
If white just isn't for you, you may consider going a little more Gothic.  Some nice choices in color are hunter green, deep purple and blood red. These dresses would certainly make a statement while allowing you to be stunning on your wedding day. Besides just wearing a color appropriate dress many gothic wedding dresses cross over into other styles such as Celtic, renaissance and medieval. Many pagan wedding dresses are a little bit Gothic in nature.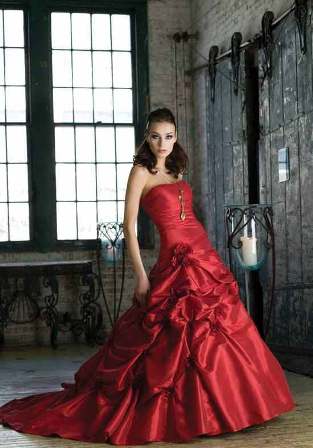 Medieval or Celtic Wedding Dress
Medieval or Celtic wedding dresses have a style all of their own. These types of dresses add a certain amount of flair or romance to your day. When shopping for pagan wedding dresses you may want to wear this style especially if you are getting married in some sort of outdoor location or even a castle type of environment. The style includes long flowing white gowns with long draped sleeves, boning and lots and lots of detail. Just because you are looking for wiccan wedding dresses, that does not mean you cannot borrow from other styles! 

Other Ideas
Need other ideas for pagan wedding dresses? How about getting married in new ceremonial robes? You can purchase robes for the special day and add designs or details that mean something to you and your spouse. If that is not special enough you can always wear clothes that are not typical wedding attire, again it is your wedding. Picture your wedding day as what you want to look like; wearing what you want, not what others expect you to wear. There are many different dresses you can wear that would be considered to be wiccan wedding dresses or wiccan wedding gowns.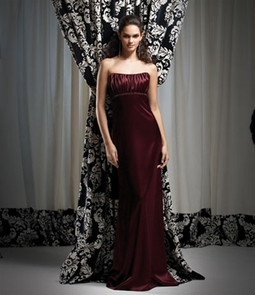 ---
---
Leave Pagan Wedding Dresses and Go Back To Wedding Dresses
Go Back To Wedding Ideas