Backyard Wedding Decorations
20+ Backyard Wedding Decorations Ideas
Get ideas and inspiration for the perfect backyard wedding.
Are you looking for backyard wedding decorations ideas? Planning a backyard wedding can be a lot of fun but can also be challenging. It is fun because having the wedding in a nontraditional setting can bring a lot of charm to the day. However, decorating for an indoor wedding is often easier, with flat floors and surfaces and no possible weather concerns.
_______________________________________________________________________________
Advertising Disclaimer:
Pamela Kazmierczak (owner of wedding-planning-101.com) is a participant in the Amazon Services LLC Associates Program, an affiliate advertising program designed to provide a means for sites to earn advertising fees through advertising and linking to amazon.com.
On my pages you will find text links and photo links to amazon products as well as other programs I am an affiliate of. I also use other forms of advertising such as google adsense. 
If you click to add or purchase an item through a link, I might earn a commission.
_____________________________________________________________________________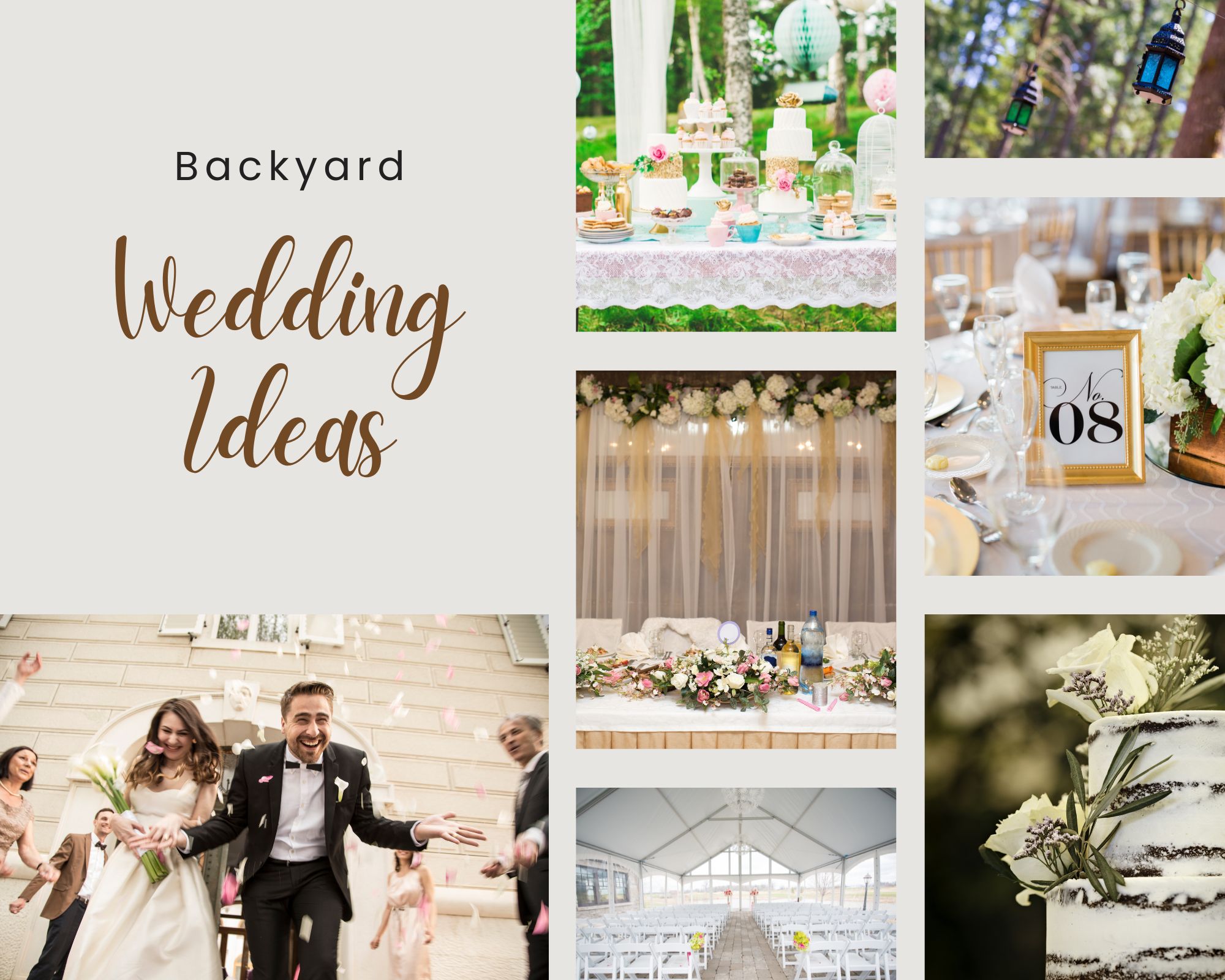 When you are coming up with backyard wedding decorations, the first thing you should do is work with what you already have. If you know the location of the wedding months in advance, you should easily be able to plan your decorations out. Here are some backyard wedding decorations tips for the wedding ceremony and the reception.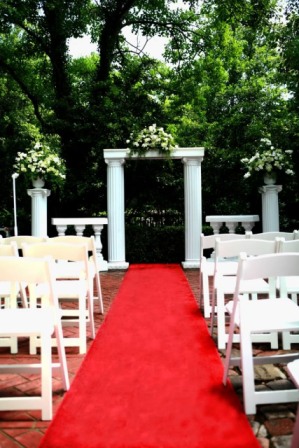 Prepare The Location
You should try to think this out as far in advance as possible. For instance, if you know for months or years in advance, you can plan the wedding when the trees and flowers already present will be in bloom. Starting with a blank canvas? Decide what plants and flowers you would like at your wedding and plant them in time to bloom for your day.
Separate The Two Events
If you are having both the ceremony and the reception in the same outdoor location, make the two events as separate as possible. A common idea would be to set up an altar and chairs on one side and a rented tent on the other side for the reception.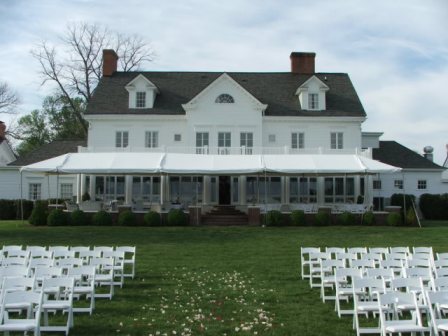 The Ceremony Site
The front of the ceremony site should be an altar. This can be decorated with a number of items, such as tulle, candles, flowers, and greenery. A wedding arch adds a nice touch. You can decorate this with tulle or choose to use flowers of the same color in the bouquets and flower arrangements. You could also match the rest of the flowers and plants in the outdoor space in which you are being married.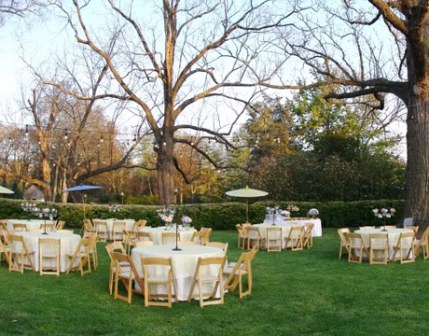 Guest Seating
Now you need to come up with backyard wedding decorations for the rest of the wedding ceremony area. Typically, outdoor weddings use white chairs. You can use chairs that are painted white or use white chair covers. Chair covers are lovely because they usually have other decorative touches like lace or bows.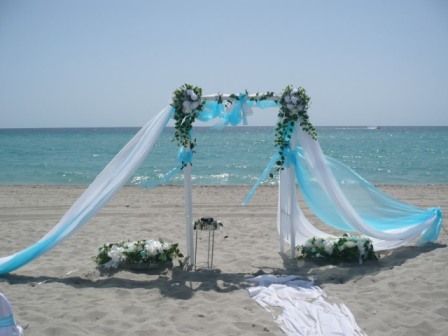 Besides the seat covers, you can use bows at the end of the aisles or flower arrangements. For a more down-home look, you might want to place potted plants or flower urns at the end of each aisle. Of course, you should be utilizing a nice aisle runner as well. If you do not want to use an aisle runner, consider scattering flower petals where the aisle runner would go.
The Reception Site
Consider renting a large tent to cover the reception area. You may also want to use something decorated to separate the two. For instance, if you erect a temporary fence for the occasion, hang garland, twinkle lights, or flowers on the fence.
Ideas For The Reception
Since this is a backyard wedding, not a traditional one, you should not feel pressured to serve traditional wedding food. Backyard barbeques and finger food are popular for these types of weddings. Let the season give you ideas.
20 More Backyard Wedding Ideas
Still do not have enough ideas? The more ideas, the better, right? Well, here are 20 more ideas for the perfect backyard wedding!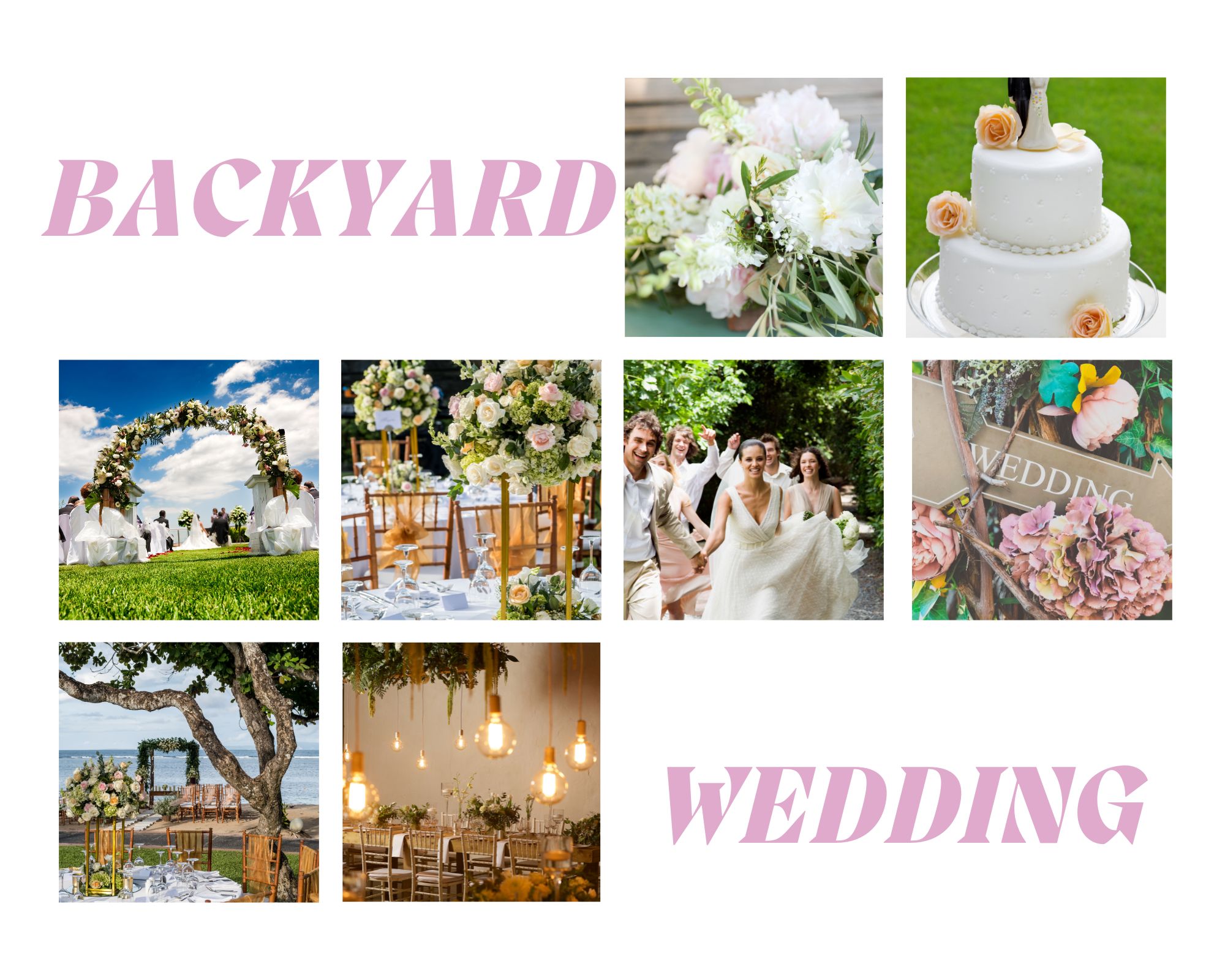 String Lights:  String lights can make the backyard festive and romantic at night.
S'Mores Station: You can have fun food options with a backyard wedding. A S'Mores station would be perfect!
Unique Light Fixtures: Use them if the backyard has trees or other features that lights can be hung from. This would be perfect for some beautiful hanging lanterns.
Lawn Games: Turn the reception into a family party by setting up fun lawn games for people to enjoy.
Wedding Signs: Backyard weddings are perfect for beautiful and fun wedding signs and wedding signage displays. You can order pretty signs or make one with a chalkboard and some colored chalk.
Summer Drink Station: Set up a drink station of popular summer drinks like iced tea, sweet tea, iced coffee, lemonade, and ice-cold water.
The Buffet: Buffets are popular at outdoor weddings. At a backyard wedding, you can have some fun. Make a build-your-own buffet station (or series of them) for traditional BBQ foods like burgers, hot dogs, and ice cream sundaes.
The Dessert Table: Outdoor weddings can feature dessert tables beside a traditional cake. Make sure to decorate with a bit of BBQ or country fun. Some ideas are using wood bark slices as the platters or having a cute red and white checkered tablecloth.
Photo Board: Crete a cute photo board of the couple with moments of their relationship. You can do this with many things, using single photos or putting them in matching photo frames.
Origami Cones: Planning on offering snacks or candy? Make cute origami cones (use vibrant patterns and colors to make them really pop). Fill them with popcorn, nuts, or candy for people to enjoy throughout the evening.
Outdoor Furniture: If you already have a tent for people to take shelter from the weather, add some outdoor furniture for those who love nature. Use bold colors and plush fabrics. Design it like a living room so people can sit around and talk.
Letter Statement: Order oversized letters to use as decorations. These letters can spell out the names, last names, initials, or essential words like wedding, marriage, love, or forever.
Hire a Food Truck: A backyard wedding is perfect for a food truck. You can do this for dinner, lunch after the ceremony, or late-night snacks.
Lemonade Stand: A lemonade stand would also look right at home at this type of wedding. Go Wild!
Other Outdoor Stands: If you love the lemonade stand, consider using a Hot Dog Stand, A Cotton Candy Stand, and A Popcorn Stand.
Sparklers: Do not forget sparklers. People can use these to celebrate or light up their first dance!
Use Pampas as Decorations: Pampas are large and beautiful. This makes them the perfect decoration, getting a bold look for little effort.
Set up a Gazebo: A gazebo can be used for people to get alone time. OR you can set up a unique gazebo for the wedding couple to sit in and be home base all evening.
Polaroid Guestbook Station: Use a couple polaroid styled cameras to allow your guests to take photos and help you make a visual guestbook to remember the day by!
Flowers and Centerpieces: Do not forget to design floral arrangements and centerpieces. You can be traditional or creative here! Use fish bowls, mason jars, mirrors, candles, flower petals, pebbles, and rocks to create a unique look.
---
---
Backyard Wedding Decorations and Go Back To Wedding Decorations
Go Back To Wedding Ideas