Winter Wonderland Wedding Ideas
Are you looking for winter wonderland wedding ideas? Getting married during the wintertime can be romantic and beautiful. As most people relate wintertime to Christmastime it can be a very magical and special time to get married and have a wedding reception. But the questions remains - how do you come up with great ideas to turn your own ceremony or reception into a winter wonderland of your own?



<!********** SPLIT TESTING ADSENSE CODE *****************> <!********** SPLIT TESTING ADSENSE CODE *****************>




Winter Wonderland Wedding Ideas - Determining Your Budget
I know the wedding budget is not exactly how you want to start coming up with any wedding ideas, the wedding budget is in fact what most people wish to ignore and avoid the most. However when coming up with winter wonderland wedding ideas it is imperative to know how much you have to spend before undertaking this project. How you decide to decorate will certainly be decided by if you are going for a DIY wedding or if you have the bankroll to pay for a staff of designers and lighting techs to design and put in place your wonderful winter theme.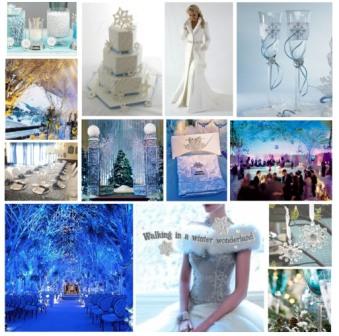 Coming up with winter wonderland wedding ideas can certainly be fun and actually not so hard, but implementing these ideas could become costly rather quickly. For some brides, this is of no consequence at all, but not everyone has an unlimited budget. So take the time to decide if you have thousands to spend or only a few extra hundred to spare.



Winter Wonderland Wedding Ideas - The Colors
Typically, winter wedding colors are white (and all shades of white) and ice blue. You may also add in jewel tones (dark colors like emerald, hunter green, burgundy and ruby work the best - especially as backdrops) and metallic colors - such as silver, gold and bronze.






When coming up with winter wonderland wedding ideas you should choose your colors wisely. Remember the colors you use will be used widely throughout your wedding day from the clothing, to the flowers and everything in between such as wedding decorations, centerpieces, favors, tablecloths and the cake colors.



Winter Wonderland Wedding Ideas - Wedding Apparel
Speaking of the clothes, it is time to choose yours. Coming up with fabulous winter wonderland wedding ideas includes what you are wearing (the perfect wedding gown of course), as well as the bridesmaids, flower girl and groom and rest of the men involved. This is where your wedding colors will really start to come into play. Whether you stuck with traditional winter colors like crèmes and ice blue or went a little more modern into hunter green and burgundy, it is time to use those in dresses, vests, jewelry, hair clips and the flowers everyone will be wearing or carrying. So if you have not come up with the perfect wedding color scheme yet, now is certainly the time to do so!






What about your dress? As we mentioned, it will be fabulous, of course - but how will you make it fit in with the rest of the day - what winter wedding wonderland ideas do we have for your dress? Remember we are coming up with winter wonderland wedding ideas, so there is no problem with extravagant outfits, including your gown. There is no need to shy away from any of the extras such as full, lush ball gowns, sparkling tiaras, long white gloves or fur capes and coats to keep your warm on this wintery day. Do not forget to accessorize your jewelry, if you are looking to add something whimsical to the rest of this outfit why not wear snowman earrings or an ornament broach? Of course this is unnecessary, but it can be fun to add these elements to your wedding!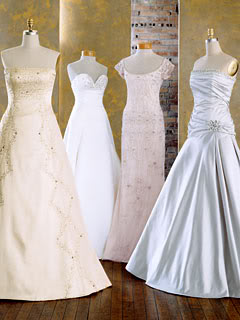 Winter Wonderland Wedding Ideas - Decorating Ideas
Now that you have come up with the perfect colors and clothing, how will you decorate? There are so many ways to bring out the winter season in your special day; some are quite costly whereas others are as simple as they are beautiful.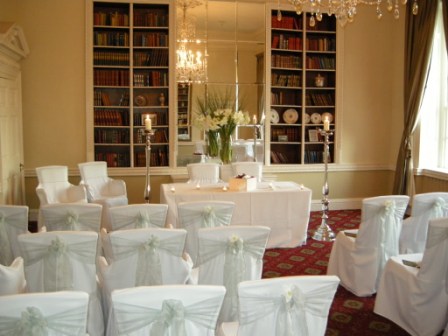 Centerpieces - For centerpieces and scattered decorations consider using crystal or silver when available. Put flowers in crystal vases, use crystal angels and silver ornaments
. Hang icicle lights
or silver garland to bring some of the winter sparkle into your reception.


Ice Sculptures - If you can afford it, nothing screams winter wonderland like artful ice sculptures. You can do large or small or just about anything. Make sure they are properly lighted in order to gain the right amount of flair and attention they deserve.


Draping - Drape walls and ceilings with tulle, organza or silk to really bring out the season. Add twinkle lights and the mood will be set. However, this is something best done by the professionals and this is where your real money will be spent. If you can afford to hire people to do this for you, do it, you will not be disappointed. Besides walls and ceilings drape other areas such as the cake table, gift table and anything else appropriate at your wedding.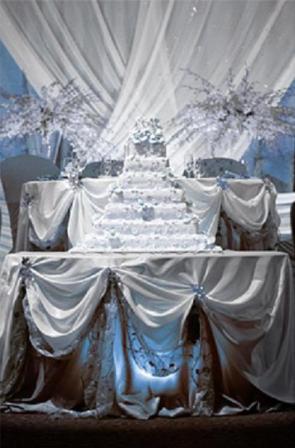 If you enjoyed winter wonderland wedding ideas you should Subscribe to our free monthly newsletter today! All subscribers get access to a free wedding planning ebook.
Wedding Ideas Newsletter
Do you have winter wonderland wedding ideas of your own? We would love to hear them! Share your wedding stories today! Share wedding planning stories and your ideas today. Share what you know and ask our readers for their advice and thoughts on your questions and ideas!
Wedding Stories and Advice
Leave Winter Wonderland Wedding Ideas and Go Back To Wedding Ceremony
Go Back To Wedding Ideas
If you did not find what you were looking for in winter wedding wonderland ideas you should search our site! Looking For Wedding Ideas? Search This Site For What You Are Looking For!


Custom Search
More Winter Wonderland Wedding Ideas
Winter Wonderland Wedding Ideas - Silver Snowflake Ornament
Give your guests a favor that marks your winter wedding perfectly with these self-standing cards adorned with classic metal snowflake ornaments. Everyone will be able to cherish and remember the splendor of your event year after year when they make these snowflakes part of their holiday ornament collections. Plus, for a thoughtful place card and favor in one, these make for a win-win selection. Each card is imprinted with a matching snowflake background design and ready to be customized with names, dates or a special note using our personalized labels.
This item is available from our shopping partner, Blue Rainbow Design.
Enjoy This Site?
Then why not use the button below, to add us to your favorite bookmarking service?



Snowflake Iced Cookie Favor
These delicious butter cookies are gracefully falling from the sky. They look almost too good to eat! At 4.5", they make a lovely winter wedding favor or party treat. Ideal favor for this season of winter balls. With only the finest ingredients, these snowflake cookies are baked fresh daily by the bakery that also provides cookies for Williams-Sonoma and other fine retailers. Certified kosher, and 0 trans fats, they can be enjoyed without guilt by almost everyone.Individually wrapped in cellophane. Ships in 5-7 business days excluding transit time.$3.50 each, minimum 72 cookies
Take 10% Off your Purchase
Available from Gracious Bridal
Use coupon code BLSP10
Offer expires 2011-03-25
Buy Now