Wedding Ceremony Site
Choosing a wedding ceremony site is a big decision. The site of the ceremony is where your marital status changes. You will go from being single (or engaged) to blissfully married. You want to make sure you choose a ceremony location which you will be happy with and which meets all of your needs.



<!********** SPLIT TESTING ADSENSE CODE *****************> <!********** SPLIT TESTING ADSENSE CODE *****************>



You may be one of those lucky people who know exactly where you are going to be wed; you may have even known the locale even before becoming engaged. Many people choose a wedding ceremony site based on where they attend services or where their family and friends had tied the knot. But if you do not have a location picked out you will need to choose one.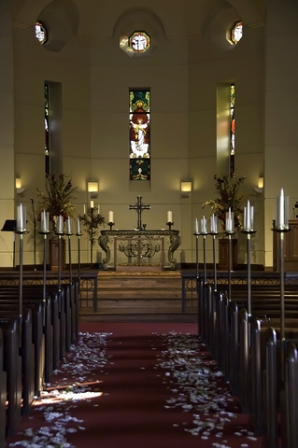 Choosing your ceremony site should not be a snap decision. Even if you think you know where you want to be married you should make sure that the location can meet all your needs, it is better to find out now than later, right? Choosing the site is just like any other choice you make regarding your wedding, you need to be careful and take your time. You should really look at several places and be sure to ask any questions that address the needs of your ceremony, your guests and of course the needs of your fiancé and yourself. Even if you think you know exactly where you want to get married you still might consider interviewing different places. Think of them as backup places to your original plan.

Don't know what questions to ask? Don't really know where to start? That is perfectly understandable. Here is a list of questions and concerns to get you started.


Wedding Ceremony Site
What is the wedding ceremony site Capacity?


How many people can this site hold?


Is that number seated only?


If not how many people can be seated, how many additional standing?
Parking
Is parking available at the location?


What is the capacity?


Will any other events be going on at the same time or on the same day which will limit parking availability?


If so, by how much?
Wedding Music
Is a piano or an organ available?


Does the facility employ or provide a piano or organ player?


If so, is the cost of his/her services included in the cost of the wedding ceremony site user fee or is it separate?


If it is separate how much is it?


Can a different piano or organ player be brought in?


Can other musicians be brought in?
Wedding Photography
Are photographers/videographers permitted during the service?


What about before and afterwards?


Are there any special rules or restrictions?


Is there a place on the grounds suitable for posed shots?
Wedding Party Prep
Are there rooms on the grounds available for the wedding party to get ready in?


If so, how many?


Can we tour these rooms?
Wedding Ceremony Decorations
What decorations are or are not permitted?


How long before the ceremony can they be dropped off or stored?


When can they be setup?
Additional Staff
Is there anyone on staff available to help setup on the wedding day?


If we employ a wedding planner will there be someone specific on staff that he/she should coordinate with?
My Wedding Day
Will my wedding be the only event held that day?


If no, will others be at the same time or different times?


If they are at different times is there any overlap when different wedding parties or events may be in the building?


How many hours do I have the wedding ceremony site for?
The Cost
How much is the site fee?


Does this include counseling?


If not, how much is the counseling fee?


Does this include the officiates service?


If not how much will that be?


Are there any other separate fees?


Is a deposit required?


If so, how much?


When is the remaining bill due?


Is there a cancellation fee/policy?
Leave Wedding Ceremony Site and Go Back To Wedding Ceremony
Go Back To Wedding Ideas
Looking For Wedding Ideas? Search This Site For What You Are Looking For!


Custom Search