Unique Outdoor Wedding Ideas
Great Tips for Outdoor Weddings
Are you looking for unique outdoor wedding ideas? Your outdoor wedding can become an interesting and fun event if you plan it well. Outdoor weddings allow for more freedom when it comes to the meal, beverages and the wedding reception activities. Besides, it also allows the bride and groom to fully enjoy nature on the most important day of their lives.






Unique Outdoor Wedding Ideas: Beach Wedding
The idea of holding your wedding at the beach is not new. However, if both the bride and groom show up in scuba diving gear or wearing swimsuits or even dressed as Hawaiians, things can get interesting. If both of you are fans of scuba diving and snorkeling, then you might consider having your ceremony at sea and then jump into the water and swim off into the sunset. Or, you might even decide to have the ceremony underwater for an experience you'll never forget.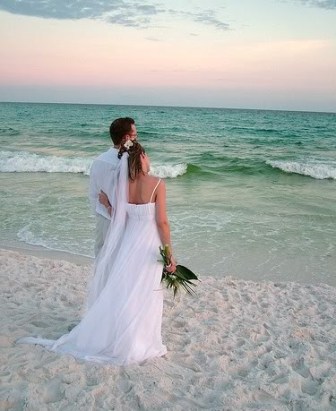 Unique Outdoor Wedding Ideas: Sports and Games
Another great way to make your outdoor wedding different than any other wedding you or your guests will ever attend is to include sports and games as part of your wedding reception activities. For beach weddings, a great idea is to play some beach volleyball to get your guests to participate. The winning team can be offered a prize or other reward. Other games can include three-legged races, potato sack races and similar competitions to keep your guests laughing and having fun.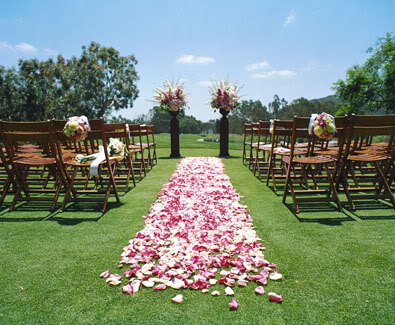 Unique Outdoor Wedding Ideas: Decoration and Food
Decorating for your outdoor wedding is also a great way to make it unique. If you are having a backyard wedding or a garden wedding, you can use long pieces of silky fabric to decorate surrounding trees and tall plants. Arches can be made and decorated with fresh flowers to add a romantic touch to the wedding ceremony. You can also use landscaping lights to your advantage and give the garden a magic feel to it, especially if your reception is at night.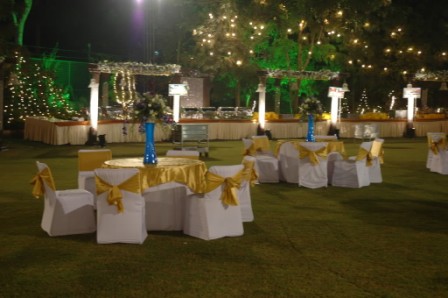 Outdoor weddings also allow for exotic menus. You can have a tropical buffet if you have a beach wedding. Or, a more casual menu for a backyard wedding can include a good old-fashioned barbecue or even some hot dogs. The wedding cake can be exchanged for wedding muffins to make dessert easier and more original. Plus, beverages can be a wide assortment of juices made from the season's fruits.





If you enjoyed learning unique outdoor wedding ideas, why don't you Subscribe to our free monthly newsletter today! All subscribers get access to a free wedding planning ebook.
Wedding Ideas Newsletter
Do you have your own unique outdoor wedding ideas? If so - we would love to hear them! Share your wedding stories today! Share wedding planning stories and your ideas today. Share what you know and ask our readers for their advice and thoughts on your questions and ideas!
Wedding Stories and Advice
Leave Unique Outdoor Wedding Ideas and Go Back To The Ceremony
Go Back To Wedding Ideas
We hoped you enjoyed unique outdoor wedding ideas - but if you still need info to plan your wedding, why not search our site? Looking For Wedding Ideas? Search This Site For What You Are Looking For!


Custom Search
Assorted Color Mini Button Bulk Poms
Bulk Mini Button Poms are popular spray flowers in the Pompom family. Each stem has an average of 4-7 flowers that are typically less than 1 º' in diameter. Comprised entirely of mini ray petals, the Button flower head is usually round or slightly crested in shape. This package of assorted Mini Buttons would make a colorful addition to in any table centerpiece, wedding bouquet or flower arrangement. Mini Button Poms ship fresh directly from our Ecuadorian or Colombian farms to your doorstep. Order online and pay wholesale prices, plus receive free shipping!
This item is available from our shopping partner, Fifty Flowers.