Marquise Engagement Rings
The simplicity but elegance cut of marquise engagement rings offer a unique and smooth shape to every bride-to-be's hand. It gives an illusion to the wearer that her fingers are slimmer than before. This cut also gives an effect that it was larger than its real size. It is perfect for someone who's on a budget to take full advantage of the facade of what they bought.





Marquise, in Europe, means noblewoman. Its shape is believed to come from the image by King Louis XIV of 18th century France. It is said that the king had a mistress and gave a jeweler the task of capturing a smile of Madam de Pompadour, his mistress, into jewelry.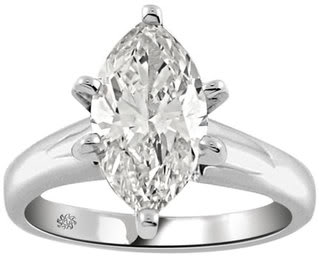 Madam de Pompadour was known for her love for different forms of art. She has a narrow oval shaped lip that is quite extraordinary every time she smiles. The design derived from her stifling smile is now widely used all over the world due to its bare sophistication. And for some couple who want a ring with an unusual design rather than the typical round-shaped stones, marquise engagement rings are the perfect choice.


Shop For Diamond Engagement and Wedding Rings
Save 10% of your engagement ring setting with coupon code RING10

The marquise design is now widely used in jewelry making. Its stylishness is perfect paired with bridal sets. Its design is oval shaped, comprising either of a single stone or a group of small gems. This is a classic design yet still possesses the elegance because of its elongated and stylish gemstone. The jeweler will emphasize with the concentration of the stone at the top surface of the facet, this will accentuate the stone.






2:1 length to width ratio is the ideal size of the diamond to be set on marquise engagement rings, but other jewelers propose a 1.72:1 and 2.25:1 length to width ratio; they say that these will give the stone proportions a 'bow-tie' effect in its interior. The bow-tie effect is the result of a faulty cut. This effect causes the light not to be reflected or refracted because the facets have not been properly positioned. This occurrence is common in marquise stones and almost negligible, but it will only affect the brilliance of the stone when it is large to be seen.


Aside from diamond, you can also use semi-precious stones for your marquise engagement rings. They can add color and shine to your engagement ring without spending too much. Any color and design can go with your marquise engagement rings. Marquise engagement rings can be the style you're looking for. With its distinctive shape, it can go with traditional or modern fashion. And if you're planning to buy a ring with this kind of cut, check it thoroughly and make sure that it's free from flaws and uneven markings.





Subscribe to our free monthly newsletter today! All subscribers get access to a free wedding planning ebook.
Wedding Ideas Newsletter
Share your wedding stories today! Share wedding planning stories and your ideas today. Share what you know and ask our readers for their advice and thoughts on your questions and ideas!
Wedding Stories and Advice
Ready To Shop? Check James Allen's Impressive Diamond Ring, Wedding Ring, Wedding Band and Fine Jewelry Collection Today! You Will Not Be Disappointed!
Save 10% of your engagement ring setting with coupon code RING10
Leave Marquise Engagement Rings and Go Back Engagement Ring Styles
Go Back To Wedding Ideas
Looking For Wedding Ideas? Search This Site For What You Are Looking For!


Custom Search
14K White Gold Marquise Diamond Bridal Engagement Ring
$2,807.88 $1,169.95
This 14k white gold diamond ring makes a great addition to any jewelry collection and can be worn... [Read more]
Brand: DivaDiamonds.net
14K White Gold Marquise Cut & Round Diamond Engagement Ring Set (0.96 ctw, G-H, SI)
$3,876.95 $1,762.25
This 14k white gold diamond ring is prong set with 15 round diamonds. The total carat weight is 0... [Read more]
Brand: DivaDiamonds.net
14K White Gold Marquise & Princess Cut Diamond Engagement Ring (1.00, G-H, SI)
$2,637.80 $1,199.00
This 14k white gold diamond ring is prong set with 17 Multi Shapes diamonds. The total carat weig... [Read more]
Brand: DivaDiamonds.net
14K White Gold Marquise Cut, Baguette & Round Diamond Engagement Ring Set (0.50 ctw, G-H, SI)
$1,647.80 $749.00
This 14k white gold diamond ring is prong set with 7 Multi Shapes diamonds. The total carat weigh... [Read more]
Brand: DivaDiamonds.net
14K White Gold Marquise, Round & Baguette Diamond Engagement Ring Set (1.00 ctw, G-H, SI)
$3,366.83 $1,530.38
This 14k white gold diamond ring is prong set with 15 Multi Shapes diamonds. The total carat weig... [Read more]
Brand: DivaDiamonds.net