Hawaiian Wedding Ideas for Tropical Themed Wedding
Are you looking for Hawaiian wedding ideas for your wedding? Thematic wedding is becoming popular nowadays, depending on ethnicity, race and location, themed wedding are sometimes mixed with different customs.





Creative Hawaiian wedding ideas makes the celebration unique. The tropical island of Hawaii is famous for its popular bodies of waters and dazzling flowers (Don't forget to pick a Hawaiian wedding flower to focus your bouquets or arrangements around) with exotic colors inspired by the sun. Red, Orange, Yellow and the likes are the colors of the Hawaiian Weddings. Elvis Presley himself was fascinated in this romantic island and wrote a song about the Hawaiian wedding.






Hawaii has attracted thousands of couple to celebrate their matrimonial vows. Flying from all points of the world to tie a knot in Hawaii, perhaps for those who can afford to provide air fares for their visitors can actually celebrate it in Hawaii. Marrying in Hawaii has never been that hard, no waiting period, no blood tests and all the documents needed for the ceremony can easily be acquired.


Although Hawaiian weddings are not really formal weddings, the binding of the hands by the Kahuna or the Hawaiian Sharman is the symbol of union. If you want the Ministers and priests to do the ceremony, they are not hard to find in Hawaii, in fact, there are a lot of them waiting to be called.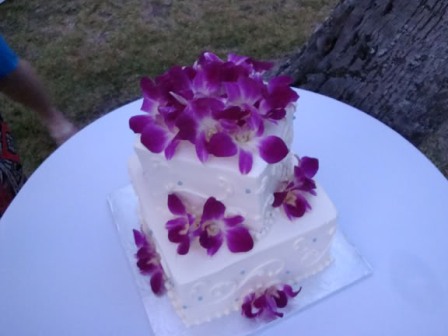 What does it take to have a Hawaiian theme wedding? Honestly, you don't have to go to Hawaii to feel the ambiance. Consider spotting a good venue by visiting the beaches in the area. Gardens and Swimming Pools will do as long as you mixed it with numerous Hawaiian wedding ideas. Choosing the right season for this type of wedding is important. Grace the occasion with a little sunshine and decorate the venue with tropical colored flowers. You can create shell necklace or cut crepe papers tied in strings. Garland of flowers can also grace the occasion and grass skirts are always in. Sometimes your Hawaiian wedding ideas can unleash that hidden creativeness in you.


It is also good to have some research on Hawaiian wedding ideas on the internet or magazines to give you more ideas on how it is being done. It is important to list down all the ideas as detailed as possible so you can visualize what would it be in the actual ceremony. Sometimes, the formal wedding is celebrated in the church and the transformation from formal to the Hawaiian theme takes place in the reception. You can mix it with different customs and traditions but the most important thing is to always plan ahead. Choosing the right Hawaiian ideas from a number of different styles is always best.






If you enjoyed Hawaiian Wedding Ideas you should Subscribe to our free monthly newsletter today! All subscribers get access to a free wedding planning ebook.
Wedding Ideas Newsletter
Do you have any ideas on Hawaiian Wedding Ideas? We would love to hear from you! Share your wedding stories today! Share wedding planning stories and your ideas today. Share what you know and ask our readers for their advice and thoughts on your questions and ideas!
Wedding Stories and Advice
Leave Hawaiian Wedding Ideas and Go Back To Wedding Ceremony
Go Back To Wedding Ideas
Looking For Wedding Ideas? Search This Site For What You Are Looking For!


Custom Search
Spring Orchid Wedding Invitation
Sweet lattice and orchids set the stage for a special day filled with joy. This wedding collection quietly conveys the love that has bloomed between the happy couple.
Save $10 on Orders of $99 or More
Available from Wedding Paper Divas
Use coupon code AFL10
Offer expires 2010-10-22
Buy Now
Hawaii Mahalo Mint Tin Favor
A Beaucoup exclusive product our Hawaii Mahalo design mint tins will add a unique touch to your destination wedding or Bon Voyage party. All tins can be customized with two lines of text and tasty mints are included.
Free Shipping when you Spend $99
Available from Beau Coup
Use coupon code FREESHIP
Offer expires 2010-10-31
Buy Now
Orchid Cookie Favor
If you love orchids, this cookie in pink is the perfect favor to serve at your wedding or bridal shower. Each cookie is packaged in a clear cellophane bag with matching color ribbons and can be also be placed at each place setting. Made by a famous baker in Illinois. Also available in yellow. Each measures 3.5 x 4.5 inches. Minimum 12 pieces.
Save 20% on Bridal Party Gifts
Available from American Bridal
Use coupon code cart20
Offer expires 2010-05-29
Buy Now
DIY Flower Pack of 50 Mokara Orchids and 40 Mini Callas
This Wedding Flower Package features 50 stems of Mokara Orchids, 40 stems of Mini Calla Lilies, and 5 grower's bunches of Hearty Greens. A perfect combination for creating DIY wedding flowers. Save over 15% if you bought the flowers separately with this special package. Price includes shipping!
This item is available from our shopping partner, Fifty Flowers.
Enjoy This Site?
Then why not use the button below, to add us to your favorite bookmarking service?


Cymbidium Bulk Orchids Watermelon Pink
Cymbidium Orchids for your wedding or special event! This flower features a pink bloom with light pink undertones and a bicolor pink yellow lip. Grown in New Zealand, these orchids have 6 to 12 blooms per stem and have always been thought of as an aphrodisiac. A symbolic flower for wedding bouquets, table centerpieces, and floral decor. Wholesale prices and free shipping!
This item is available from our shopping partner, Fifty Flowers.