Crochet Wedding Dresses
Finding a Crochet Wedding Dress
What do you think of when I say crochet wedding dresses? When many people think about the style of crochet they think about something their grandmother would have given them in their childhood. In other words, something they would rather not wear. So it is only natural that when someone starts talking about a crochet wedding dress that you get a less than desirable image in your mind. However, rest assured, that image is incorrect.

_____________________________________________________________________________
Advertising Disclaimer:
Pamela Kazmierczak (owner of wedding-planning-101.com) is a participant in the Amazon Services LLC Associates Program, an affiliate advertising program designed to provide a means for sites to earn advertising fees by advertising and linking to amazon.com.
On my pages you will find text links and photo links to amazon products as well as other programs I am an affiliate of. I also use other forms of advertising such as google adsense. 
If you click an add or purchase an item through a link, I might earn a commission.
_____________________________________________________________________________
So if the image is not undesirable what would it be? Crochet wedding dresses can be quite beautiful. They are simple, yet the design can be elaborate or intricate. They can be much more comfortable than a more traditional dress, yet it can still be the brightest of whites and stunning.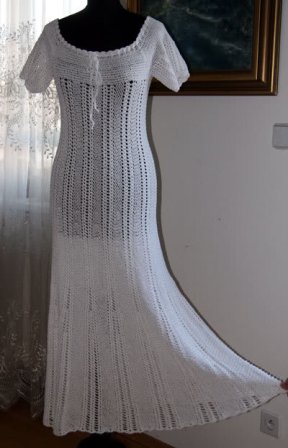 Crochet wedding dresses is just yet another style to keep in mind when choosing your gown. If you are designing your own wedding dress or paying someone to do it, instead of purchasing a pre maid one, you might want to consider having a crocheted dress. Of course it is only one of the many choices available today for brides. There are so many choices, but I try to bring a little bit of everything to wedding planning, even ideas like this that may have never occurred to you!
Leave Crochet Wedding Dresses and Go Back To Wedding Dresses
Go Back To Wedding Ideas