Ways to Save With Cheap Wedding Tips
Are you looking for Cheap Wedding Tips? We all know that wedding are expensive occasions. Aside from the fact that planning takes a bit longer compared to any party, weddings are the climax of one's life and should be worth remembering. Modern brides find it practical not to spend their life saving for the celebration. You may be about to begin a family or just a life with the one you love and it is best to start it with some savings and free from loans. Here are some cheap wedding tips to save more and spend less. 

_____________________________________________________________________________
Advertising Disclaimer:
Pamela Kazmierczak (owner of wedding-planning-101.com) is a participant in the Amazon Services LLC Associates Program, an affiliate advertising program designed to provide a means for sites to earn advertising fees by advertising and linking to amazon.com.
On my pages you will find text links and photo links to amazon products as well as other programs I am an affiliate of. I also use other forms of advertising such as google adsense. 
If you click an add or purchase an item through a link, I might earn a commission.
_____________________________________________________________________________
It is important to plan ahead of time. If you and your mate decided to get married, it is important to have an ample time for the preparation. If you avoid the rush, you will sure have great bargains. One of the most important cheap wedding tips is to limit the number of your guests. Do you know that more than half of the budget goes to the reception? Avoid exceeding to your budget so make sure you limit your guest. The larger the reception, the more expensive it will be. If you can limit your guest list you can save money.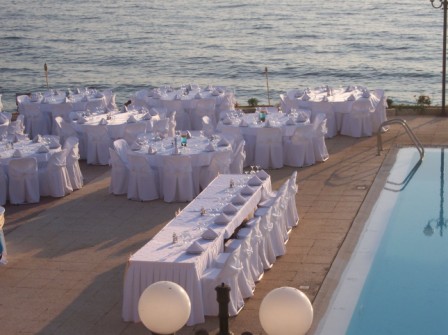 Look for the venue early. Your venue should accommodate all your visitors. A venue that is too spacious or to small for your target number of guest is not good, so plan ahead and avoid the rush. The perfect venue will hold a little more than your planned guest list so it feels comfortable and cozy, you do not want it to feel to large or too small. 

You will surely maximize your money if you will follow these cheap wedding tips when choosing the flowers. Some are particular with flowers but remember to choose the flowers in season to save more. Choosing in season flowers will save you money. Of course many couples are also using silk flowers. You can make silk flower arrangements and add real flowers as well to create a beautiful arrangement or centerpiece which is unique to your wedding. There are many cheap wedding tips online, whether you are looking for info or just the tip to use the internet to your advantage. 

Your decorations should complement to the theme and it is important to choose a theme that is easy to design. Looking for Cheap Wedding Tips does not mean that you can not have a unique theme, it will just take a little more thought and time preparation. When you are looking to save money, time is not on your side. You will want to have time to hit sales, plan out what you want and look for the most financially appealing solution to every planning detail you have. 

If you some cheap wedding tips for your invitations, just simply look for some designs in the internet and have it printed in special papers. It is definitely economical and because it is personalized, you already have something unique for the ceremony. You can also complement your wedding invitations and wedding favors by attaching personalized tags in the favors or doing some crafty art work accented by computer printed graphics. 

Of course you can always choose to buy favors and invitations onlineinstead of making them yourself. There are plenty of moderate priced options on the internet, you do not have to spend a fortune for something beautiful for your wedding. 

Looking for more cheap wedding tips - why not shop online? The internet also has great options for buying wedding apparel online. You can find discounted prices on wedding gowns, bridesmaid dresses, jewelry, accessories and just about everything you are looking for. Using the internet for wedding planning is a great idea because you can get so many free ideas, view photos and find great items for your wedding, at reasonable prices. Shopping online also allows you to shop in your free time, many times when you can not get to bridal shops. 

It is important to save for the future and there are numerous cheap wedding tips to help you save more and spend less. 

Leave Cheap Wedding Tips and go back to Wedding Ceremony
Go Back To Wedding Ideas