Wearing a Camo Wedding Dress on your Big Day
Some brides-to-be are choosing to wear a camo wedding dress to have a different look and style. Some choose this style because she or her family has served in the military. Others just like the look and unique style this dress offers. This style looks especially nice for an outdoor wedding, but that does not mean you can not make it work for a more traditional wedding. 
_____________________________________________________________________________
Advertising Disclaimer:
Pamela Kazmierczak (owner of wedding-planning-101.com) is a participant in the Amazon Services LLC Associates Program, an affiliate advertising program designed to provide a means for sites to earn advertising fees by advertising and linking to amazon.com.
On my pages you will find text links and photo links to amazon products as well as other programs I am an affiliate of. I also use other forms of advertising such as google adsense. 
If you click an add or purchase an item through a link, I might earn a commission.
_____________________________________________________________________________
Camo Wedding Dress - Being Creative
Some people are looking for a creative and different styles than the every day wedding dresses on the market. You might consider a camo bridal gown if you want to wear a gown that is different and unique.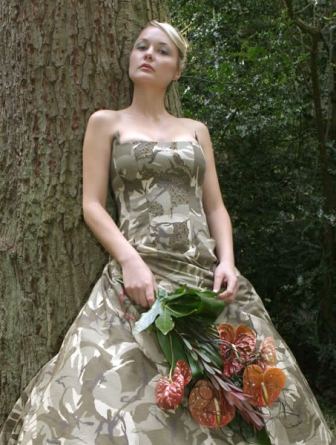 There is no reason that you cannot insert your own personal style into the wedding, the gown is no exception. If you love the look of camouflage or you want to use it to celebrate your patriotic spirit or your love of hunting, there are different selections available for you to choose from.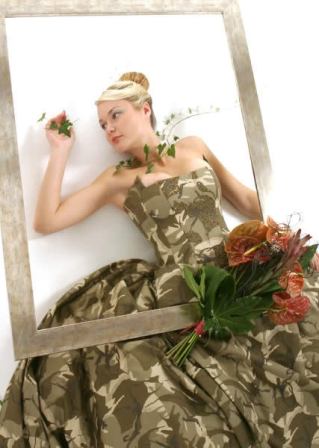 Camo Wedding Dress - Different Styles Available
There are several great styles you can consider for your camo wedding gown; you can have a formal strapless gown using camouflage fabric, a halter style gown if you want to accentuate some parts of your body, a simple camo wrap dress is also a good choice. The following styles are also tasteful and elegant: a camisole style camo dress, a camo tunic dress, colored camouflage dresses.
There are many different styles available. If there is a specific wedding dress style you are interested in such as A-Line, sheath, mermaid or ball gown, chances are you will be able to find some way to use the style of the gown with the fashion of camouflage.
Camo Wedding Dress - Using Only Camo Accents
If you want a camo wedding gown and but you do not think you want to wear an all camouflage dress you can still do so by altering the design and not the color of the fabric. It can still be white, ivory or beige gown with a subtle camo touch, you can try these accents: a band of camo at the bottom or a camo trim at the edge of the skirt, a band of camo fabric at the top of the bodice, or a camouflage underlay. 
Camo Wedding Dress and Your Wedding Dress
Wearing a camo wedding gown doesn't mean that the ceremony is informal; the dress can be styled in an elegant and formal style with femininity intact. All you need is to pick the suitable gown for your personal style and the season (temperature and climate). Color coordination is also important if you're planning to have a camo style wedding. 
There are other ways you can also insert camouflage into your wedding. You can use camo accents in your wedding stationery, your bridesmaid gowns, wedding favors or wedding decorations. How little or how much you want to include this in your theme is up to you!
As far as the camo wedding gowns go - More styles of camo wedding gown are out in the market, you have lots of tons to choose from. But you have to bear it your mind that your wedding is a formal event in your life and all the things should be well coordinated. So choose the most suitable style that matches your wedding theme.
A camo wedding gown can really make a statement. It is one way of personalizing your wedding. It's your wedding after all so what you want is the most important. 
Other Camo Wedding Dresses We Love