Asscher Engagement Rings
Are you interested in asscher engagement rings? If you are looking for an extraordinary and exclusive design of a diamond engagement ring, Asscher engagement rings are worth to check out. A lot of people are choosing this kind of cut because of its distinctive design and stylish look.





Asscher cut diamond engagement rings are like an emerald cut, the only difference is the shape; an emerald cut is rectangular while the Asscher cut is square. Other people refer to the Asscher cut as a square emerald cut because of this resemblance.







Shop For Designer Engagement Rings!
Save 10% of your engagement ring setting with coupon code RING10

The elaborate designs of Asscher diamond rings are characterized by the following: the top section of the stone or crown is lofty, the flat facet across the top or table is small, and the tapered band of facets underneath the crown or girdle has cut corners.


Founded in 1854 by the Asscher family in Amsterdam, the Royal Asscher Diamond Company fashioned this kind of diamond cut. This cut was designed in 1902 by Joseph Isaac Asscher, who in fact was the one who cut the world's largest diamond, the 3,015 carat Cullinan diamond. The Asscher Cut
was the first signature cut to be patented.







Shop For Diamond Rings and Fine Jewelry - Get 10% off engagement ring settings with coupon code RING10

In 2001, through the use of advanced technology, the cut was developed with new conditions and extra facets that give an additional brilliance to the stone. The Asscher cut are now in demand just like most popular cut of diamonds and most celebrities are looking forward on wearing Asscher engagement rings.


You need to pay close attention to the quality of the stone if you're buying Asscher Engagement Rings
. Because of its large dimension, it's easy to see any imperfections with the naked eye. You must be keen in observing the color, too. You should pick a stone that is near to colorless as possible.


Check if that diamond is registered with the High Council for Diamonds or the Gemological Institute of America, you can be sure that the Asscher engagement rings that you are buying has been cut properly and in accordance with the patent associated with the Asscher cut if it is registered.







After picking the perfect stone, you should now pay attention to the setting. There are several settings good for an Asscher wedding rings; one of the most popular is the four-prong setting. This setting is popular because it allows more light to get to the stone with its increased height, giving it more radiance. You can also consider the vintage style of setting on which you can have your Asscher Cut
center stone accentuated by other gemstones. Vintage asscher engagement rings and asscher antique engagement rings are popular as well as new asscher cut engagement rings.


For a bride-to-be, Asscher engagement rings are a timeless cut that will have its uniqueness and elegance remains through the years.





If you enjoyed asscher engagement rings, you should Subscribe to our free monthly newsletter today! All subscribers get access to a free wedding planning ebook.
Wedding Ideas Newsletter
Share your wedding stories today! Share wedding planning stories and your ideas today. Share what you know and ask our readers for their advice and thoughts on your questions and ideas including on the best asscher cut diamond engagement rings!
Wedding Stories and Advice
Ready To Shop? Check James Allen's Impressive Diamond Ring, Wedding Ring, Wedding Band and Fine Jewelry Collection Today! You Will Not Be Disappointed!
Save 10% of your engagement ring setting with coupon code RING10
Leave Asscher Engagement Rings and Go Back Engagement Ring Styles
Go Back To Wedding Ideas
Looking For Wedding Ideas? Search This Site For What You Are Looking For!


Custom Search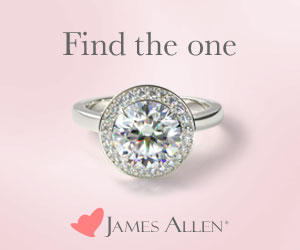 Are you looking to compare diamond engagement rings? Here are some asscher engagement ring settings you will love!
Enjoy This Site?
Then why not use the button below, to add us to your favorite bookmarking service?


Platinum ME2 by Danhov Designer Engagement Ring



A single row of pave set diamonds, wrapping the center diamond and around your finger, total up to 0.35 carat in total weight. Shown with two carat asscher style. All diamond weights are approximate and will vary with finger and diamond size.



Learn More




Platinum Tubetto Four by Danhov Designer Engagement Ring



This handcrafted Tubetto Engagement ring is a statement on its own. Brilliant cut round diamonds are encased in yellow gold symmetrical tubes. Ring also available in various combinations of platinum and 22kt gold. Side stones come in white, yellow and pink. The engagement ring is shown with a two and a half carat fancy yellow asscher for this photograph.



Learn More