Antique Design Engagement Rings
Are you looking for antique design engagement rings? There are several designs you can choose from. Some of the examples are the 1920's and 1930's Art Deco design, Edwardian design from the 1900's, and Victorian design of the 1870's. Learn more about Antique Engagement Rings.






Antique Design Engagement Rings - Art Deco Design
The Art deco movement swept the nation with bold colors and geometric shapes during the 1920's and 30's. It points out to a life of pleasure, leisure and glamour.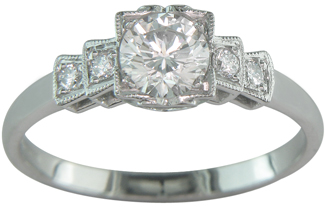 Art deco designs of engagement rings are characterized by numerical designs, diverse combinations of color and abstract patterns. Diamonds are the most popular gemstones of this design. The ring may have a lone diamond or accented; often with rubies, emeralds, jade, sapphires, coral ivory, mother-of-pearl, black onyx and quartz crystal.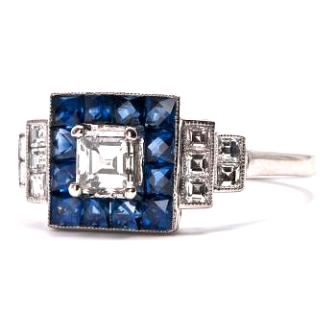 Start Shopping Today!

The gem cuts have a very geometric feature; its shape can be emerald-cut, baguette, shield and triangle. The preferred metal for an Art Deco design engagement ring was platinum, although white gold or silver is also prominent.



Antique Design Engagement Rings - Edwardian Design
Edwardian
period is the era of immense fashion and luxury. The designs were deeply influenced by romance and glamour. Usually, a prong was used as the engagement ring settings but sometimes the bezel setting was also applied.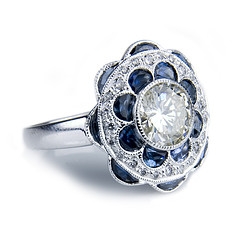 See What Beautiful Rings are Available online!

The typical Edwardian designs are the ones with rose cut diamonds or sapphires in platinum. But it has a very distinct appearance that is so different from any other antique design engagement rings. Romantic symbols such as vines and hearts were integrated with flowers, birds and bows. The band was surrounded by different stones in a complex pattern that gives an exquisite look of the ring.



Antique Design Engagement Rings - Victorian Design
The name Victorian
design of engagement ring is a symbol of true love. These are usually made using rose gold or yellow gold. Jewelers made this kind of rings with designs that are very diverse, from the most simple to the most intricate, with the diamonds set in rows, often with a mine cut or one extra bottom facet. Smaller stones are set around or encircle the central gemstone. One example of this is the antique diamond solitaire ring of six prongs which came out in 1886.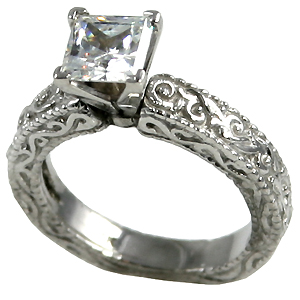 This kind of design is named after Queen Victoria, who has the longest leadership in English heritage. They say that the Victorian design engagement ring have a very distinctive charm, they help their wearer feel stylish and even queen-like.





If you enjoyed antique design engagement rings you should Subscribe to our free monthly newsletter today! All subscribers get access to a free wedding planning ebook.
Wedding Ideas Newsletter
Share your wedding stories today! Share wedding planning stories and your ideas today. Share what you know and ask our readers for their advice and thoughts on your questions and ideas!Do you have ideas, photos or comments on antique engagement rings or antique design engagement rings? We would love to hear from you!
Wedding Stories and Advice
Ready To Shop? Check James Allen's Impressive Diamond Ring, Wedding Ring, Wedding Band and Fine Jewelry Collection Today! You Will Not Be Disappointed!
Leave Antique Design Engagement Rings and Go Back Engagement Ring Styles
Go Back To Wedding Ideas
If you did not find what you were looking for in antique design engagement rings, why not search our site? Looking For Wedding Ideas? Search This Site For What You Are Looking For!


Custom Search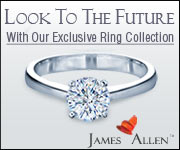 Start Shopping For Antique Design Engagement Rings
18k White Gold Antique Bezel & Pave Set Engagement Ring



This vintage-inspired ring showcases multiple round brilliant-cut sidestones diamonds in a stunning display of both bezel and pave settings. This elegant, antique design will accentuate the center diamond of your choice.



Learn More






1/2 Carat Diamond Engagement Ring

Help ensure that she'll be yours forever with this dashing 1 karat white gold engagement ring. A single brilliant round diamonds rests as the primary showcase but is further highlighted by an additional collection of forty-eight sizzling stones, making total diamond weight here 1/2 carat (ctw).

This item is available from our shopping partner, My Jewelry Box.
Enjoy This Site?
Then why not use the button below, to add us to your favorite bookmarking service?


More Antique Design Engagement Rings
1 Carat Diamond Princess Engagement Ring
A lone .63 carat princess cut diamond lies supremely atop an additional arrangement of sparkling brilliant round diamonds in this 14 karat white gold engagement ring that promises the perfect response. Total diamond weight equals one full carat (ctw).
This item is available from our shopping partner, My Jewelry Box.