Wedding Reception Pictures
There are many wedding reception pictures ideas that you may come up with. There are always basics that you will find on any good photography shot list, like the entrance of the bride and groom, the first dance and the tossing of the bouquet. However, is that enough for you? 

_______________________________________________________________________________
Advertising Disclaimer:
Pamela Kazmierczak (owner of wedding-planning-101.com) is a participant in the Amazon Services LLC Associates Program, an affiliate advertising program designed to provide a means for sites to earn advertising fees through advertising and linking to amazon.com.
On my pages you will find text links and photo links to amazon products as well as other programs I am an affiliate of. I also use other forms of advertising such as google adsense. 
If you click to add or purchase an item through a link, I might earn a commission.
_____________________________________________________________________________
It is for most people, you want to capture the biggest moments of the day, the ones you will treasure forever. Now I am not against using the standard pictures, you should. Years from now you will want to look at your album and see your first dance or cutting the cake, but maybe you should also take or have your photographer takepictures which are of the smaller moments. 

The Setting. As brides, we spend a good amount of time agonizing over all of the details. We pick out the reception location, we order the food choices, we choose centerpieces, and the cake, the band or DJ and those are just the large decisions. Let us not forget the time it took to personalize the napkins, or how we feel in love with one cake topper over another, and why we choose certain glasses or cake cutting knifes. We spent time choosing favors, linens, fountains and other decorations. Make sure we show all of these things and locations in your wedding reception pictures. 

Make sure when planning your wedding reception pictures you get a picture of the entire room. Do not forget to add other shots to the list such as the cake before it is cut, the cake topper itself if it has special meaning to you,centerpieces, flower arrangements, the band, or anything else that you put a lot of time and effort into, which you are really proud of. 

The People. If all of your guests are important to you let your photographer know that you want table shots of all the guests as well as candids as part of the wedding reception pictures. If you are planning anything special or out of the ordinary for your wedding to celebrate your individual families, culture or even the wedding theme make sure the photographer knows ahead of time so they can plan to include shots of these special plans as well. Many photographers are focused on the bride and groom, which is of course a good thing, but don't let your photographer forget things like getting a shot of the best man toasting the bride and groom.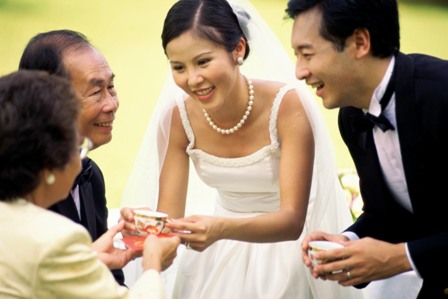 When your are deciding what your wedding reception pictures will be do not be afraid to think outside of the box. The ultimate goal is to create an album that you can look back at and remember the whole day, including what the reception was like, who was there, who danced with you, what your wedding cake looked like, showing group shots of family and friends enjoying the occasion and more. The final list is really up to you, of course a photographer will have a shot list, but you should make sure that any shots that you really want or expect are added. 

---
---
Leave Wedding Reception Pictures and go back to Wedding Photography
Go Back To Wedding Ideas