Wedding Reception Centerpiece Ideas
Are you looking for  wedding reception centerpiece ideas ? Creating the perfect centerpiece is a priority to many brides, as centerpieces can help set the tone and create beauty at the reception. Have you come up with any ideas for your reception? Do you need help? Keep reading for more ideas.

_______________________________________________________________________________
Advertising Disclaimer:
Pamela Kazmierczak (owner of wedding-planning-101.com) is a participant in the Amazon Services LLC Associates Program, an affiliate advertising program designed to provide a means for sites to earn advertising fees through advertising and linking to amazon.com.
On my pages you will find text links and photo links to amazon products as well as other programs I am an affiliate of. I also use other forms of advertising such as google adsense. 
If you click to add or purchase an item through a link, I might earn a commission.
_____________________________________________________________________________
Wedding Reception Centerpiece Ideas - Centerpiece Types
There are many different types of centerpieces that you can use. When looking for wedding reception centerpiece ideas the first question you should answer is whether you are looking for traditional wedding centerpieces which can fit in at any wedding or if you need to be more specific, matching a theme or color scheme for your wedding. Basic centerpieces will work for any wedding, but if you have an elaborate theme you might want to match your centerpieces to carry the theme into every aspect of your wedding.
The other question that you may want to ask yourself is if you are looking for classic, time tested centerpieces or if you are going for a more modern look. Usually classic centerpieces are more accepted by all your guests, they are looked at as traditional, elegant and beautiful. Of course modern centerpieces can be just as beautiful, but they may use elements that the traditionalist would never think of using in their wedding.
Wedding Reception Centerpiece Ideas - Traditional Centerpieces
What kind of wedding reception centerpiece ideas are you looking for? There are many that are considered traditional. If you are going for the elegant and traditional look you are probably looking something utilizing flowers or candles, maybe even both. At a traditional wedding you might see centerpieces with bouquets of flowers in crystal vases or candelabras on the head table, possibly throughout the entire reception area. Flower bouquets and arrangements can be surrounded by tea light candles or the flowers can be surrounding tapers and other large candles.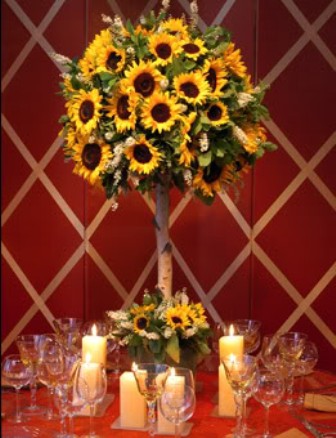 If you are looking to scatter something artistically around the centerpieces but you still want to remain traditional in your wedding centerpieces you can use rose petals. You can also use basic vase gems, inside the vase, or scattered outside to create a more dramatic effect.
Wedding Reception Centerpiece Ideas - Modern Centerpieces
Are you looking for modern wedding reception centerpiece ideas? If you are looking for wedding reception centerpiece ideas but you want a more modern look and feel to your wedding you may want to broaden your horizons. There is certainly nothing wrong with using flowers and candles in modern centerpieces. There are many ways to make these centerpieces more modern.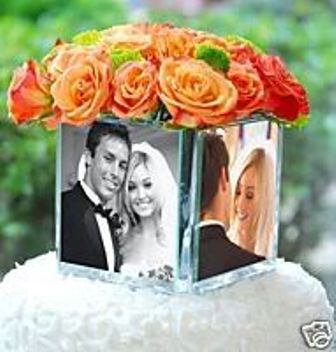 Look at the table below to find wedding reception centerpiece ideas. Some ways to make your centerpieces more modern include the container in which you place your centerpieces, what you put in the container, other décor to add to the container or to be placed near or around the container as well as things to wrap your centerpiece in the bring more attention to the beauty of the centerpiece itself.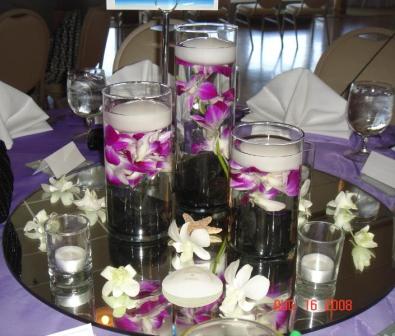 More Wedding reception centerpiece ideas

| | | | |
| --- | --- | --- | --- |
| Container | Placed Inside | Other Décor | Wrapped With |
| Plant Pot | Flowers | Beads | Tulle |
| Mason Jar | Candy Bouquet | Candy Hearts | Satin |
| Fish Bowl | Fruits or Vegetables | Seashells | Silk |
| Hat Box | Vase Gems/Gel Beads | Candles | Leaves or Vines |
| Wine Glass | Floating Candles | Confetti | Lace |
| Photo Cube | Flower Petals/Leaves | Truffles | A Wreath |
---
---
Leave Wedding Reception Centerpiece Ideas and Go Back To Wedding Centerpieces
Go Back To Wedding Ideas