Mother of the Bride Wedding Responsibilities
This is a helpful article about the mother of the bride and her responsibilities when it comes to the wedding. Of course, each family is different and what is expected from each individual will vary but here are some helpful guidelines to consider. 

_______________________________________________________________________________
Advertising Disclaimer:
Pamela Kazmierczak (owner of wedding-planning-101.com) is a participant in the Amazon Services LLC Associates Program, an affiliate advertising program designed to provide a means for sites to earn advertising fees through advertising and linking to amazon.com.
On my pages you will find text links and photo links to amazon products as well as other programs I am an affiliate of. I also use other forms of advertising such as google adsense. 
If you click to add or purchase an item through a link, I might earn a commission.
_____________________________________________________________________________
When helping out with the planning of the wedding it is important to remember that it is up to you to make planning choices and decisions based upon what your daughter would like or what she wants, not what you think would make the day better. You should keep in mind her vision, preferences, the wedding color and the flowers she would choose while you are helping. The most important thing to remember is that it is her dream wedding, not yours.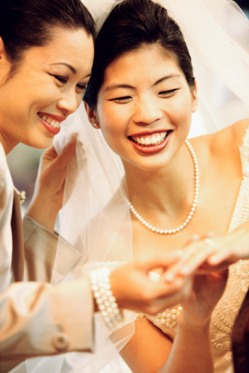 Whereas you can start helping with anything that requires attention, and that your daughter really wants your help with, there are a few things that the mother of the bride traditionally does. 

The Wedding Dress
The Mother of the bride usually goes wedding dress shopping with her daughter and does what she can to help her pick out a dress. You are there to give an opinion and to help sort through the endless amount of dresses. You are also there to support her decision, so if she absolutely falls in love with a dress that is not your taste or that you disapprove of you need to support her decision, unless there is a really good reason why she should not wear that dress. 

The Wedding Budget
The mother of the bride should sit with her daughter as soon as possible after the engagement to start discussing the wedding budget. Traditionally weddings are paid for by the parents of the bride and groom, each having their own specific financial responsibility. However, we do not live in a traditional world anymore, each wedding is paid for in a different manor these days, and the choices are made by individuals, not dictated by society. It needs to be decided who is paying for what and if the brides parents are paying for some or all a budget for the entire wedding and then broken down into each category is needed. The budget needs to be clear and set early so there is no confusion later and so the wedding doesnt run out of money before everything is paid for. Discussing the wedding budget can be difficult but it is a task that needs to be done. 

Contact The Mother of the Groom
Now is the time to contact the mother of the groom if it has not already been done. The wedding is so centered on the bride the mother of the groom may feel a little left out. Dont let this happen. Now that your children are getting married and planning to spend their lives together your families will be connected as well. You can reach out to her for any reason or in any way you find appropriate. You could call just to introduce yourself, invite her and any of her family over for a meal or ask for input on wedding planning. Really, it is all up to you! 

The Guest List
The Guest list needs to be created and organized as early as possible. This will help with knowing how much money you will need to feed your guests as well as how many invitations or other pieces of wedding stationery need to be ordered. Do not forget to get a guest list from the groom and or his parents. 

Making Hotel Reservations
Once the guest list is ready the mother of the bride is responsible for making hotel reservations for all of the out of town guests that will be attending. You are only responsible for the guests you or your daughter has invited, however, if you have already made contact with the mother of the groom you can work together on this project. Even though the invitations will not go out for months you will want to personal contact all out of town guests and find out if they are coming in and let them know you are arranging the hotel reservations for guests. When you contact the hotel or a list of hotels to determine where your guests will stay you can inform them that you are making reservations for multiple rooms in advance for a wedding and inquire if you can get a discount. 

Completing the five responsibilities of the mother of the bride listed above early will help you out later. The earlier you complete these tasks the less likely it will be that these items cause any last minute stress during the wedding planning. 

---
---