Affordable Wedding Centerpieces
Choosing Affordable Wedding Centerpieces
Get ideas on how to find or make affordable and beautiful centerpieces for your wedding reception.
Are you searching for affordable wedding centerpieces? Your wedding reception is a huge part of your wedding day and takes up much of your wedding budget. If you are struggling to find a way to pay for wedding centerpieces, you are not alone! If you can not afford to spend thousands of dollars on wedding reception centerpieces, you need to get creative! There are ways to find or make reception decorations and centerpieces that will still look beautiful!
_______________________________________________________________________________
Advertising Disclaimer:
Pamela Kazmierczak (owner of wedding-planning-101.com) is a participant in the Amazon Services LLC Associates Program, an affiliate advertising program designed to provide a means for sites to earn advertising fees through advertising and linking to amazon.com.
On my pages you will find text links and photo links to amazon products as well as other programs I am an affiliate of. I also use other forms of advertising such as google adsense. 
If you click to add or purchase an item through a link, I might earn a commission.
_____________________________________________________________________________
A wedding centerpiece is an integral part of your overall décor. It can help focus on different things, such as your wedding theme, your wedding colors, or the couple's personality. You can also choose them or design them in a specific style. These styles can include elegant, traditional, modern, and rustic.
There are so many styles of affordable wedding centerpieces that you can choose from; it can be feisty and grand or simple and minimalist. It's really up to you and the motif that you prefer. No matter what style you have in mind, always be sure that you choose affordable wedding centerpieces that will last until the end of the celebration and will look good in photographs.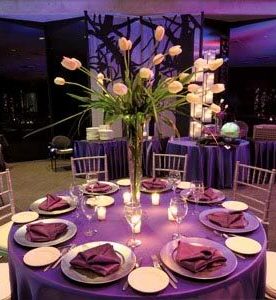 Two of the most affordable wedding centerpieces are flowers and candles. You just have to use your imagination and creativity.
For affordable wedding floral centerpieces, you can reuse flowers at the wedding ceremony. Sometimes, you will be able to use it as is. Other times, you may need to split large bouquets into smaller ones. To make them different and stand out for the ceremony, you can be creative in what you put them in. For instance, small stems can go in picture boxes or fishbowls. Medium stems can be placed in mason jars. If you are having a fall wedding, you can place mini or large pumpkins on the tables and use those as organic vases.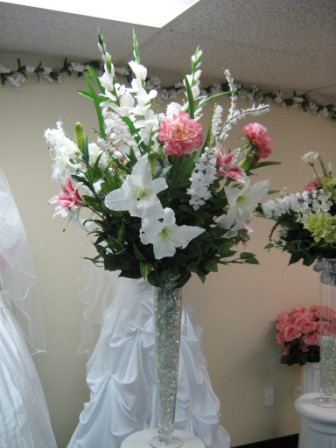 When looking for affordable wedding centerpieces, You can certainly consider different styles of flower arrangements; there are lots of varieties depending on the ethnicity and composition you like. It could be a 2 to a 3-piece minimal arrangement or more intricate with several different flowers in one vase. The Japanese ikebana is known for its simplicity of line and form. In contrast, others like the English garden style use great seasonal flowers and foliage. The color of the flowers and the season in which the wedding date is scheduled also comes to play when choosing affordable wedding centerpieces.
Candles are also inexpensive yet stylish. You can pick a candle holder or candelabra in any color or size and even order them custom-made. You can also combine candles with flowers for more refinement and diversity. There are even candles that float in a bowl or glass, which can give a perfect atmosphere for the occasion.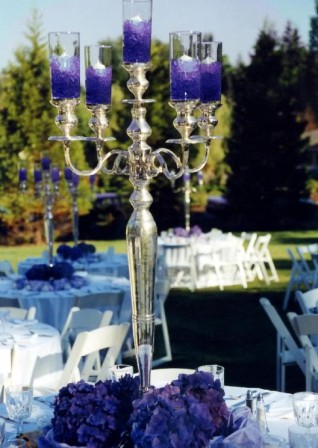 Remember that choosing affordable wedding centerpieces like candles and flowers will save you a good amount of money, which you can now use in other places at your wedding! You don't have to pay more to have wonderful wedding centerpieces. You just have to be innovative and creative; after all, it's your wedding, and everything should be perfect. Just remember, the best does not always mean the most expensive!
The simplest things can be beautiful. One idea could be to buy something simple like milk bottles or mason jars and fill them with jelly beans or chocolate candies. You can choose the color of the candy to match the colors of your wedding.
Don't want to enter something edible into the jars? What about colored beads, battery-operated lights, and pearl garland? These items would make some stunning but affordable wedding centerpieces.
What other ideas can you come up with? You can have mini dessert platters as centerpieces. You (or your friends and family) can make elaborate wedding-themed cut-out cookies, beautiful brownies or cupcakes, or other small bite-sized desserts to share.
One visual idea I love for centerpieces is combining small mirrors with either candles or flowers. You get a rectangle or square-shaped flat mirror, and you put it face up in the center of the table; you add lit candles or floral centerpieces, perhaps with some extra petals artfully left on the mirror. It is visually stunning but easy enough to create.
19 More Affordable Wedding Centerpieces to Consider
There are so many great ways to create beautiful centerpieces that can help you save money! Still do not have enough ideas? Here are more to think about!

Use a Glass Bowl. You can fill it with floral petals, candy, or fruit.
Flameless Lanterns. This will make such a pretty but simple centerpiece.
Votive Candles and Candle holders. Be creative. Buy the candles or holders in your wedding colors, or set them in a creative placement.
Geometric Ornaments. Geometric shapes are super popular right now. Get ornaments or flower holders in various shapes.
Birdcages. The birdcage is always a lovely wedding decoration. You can use one stand-alone that you fill with flowers (silk flowers will save you money), or you can get mini ones for a wedding centerpiece design.
Use dried flowers in centerpieces. This creates a beautiful but rustic look.
Mason Jars with a twist. Mason jars have been a popular wedding decoration for years. You can use them as is. Or you can be creative. Paint them your wedding colors or a different color for each table. Cover them in something fun like wallpaper or craft paper. Or you can dip the lip in colored glitter.
Candelabras. A candelabra can make a statement. You can use this on individual or main tables like the head table, gift table, or cake table.
Potted Plants. Flowers are lovely, but why not go green and use potted plants? You can even use them as door prizes at the end of the night – put each person's name in a hat from each table, and give them away.
Solo Blooms. Get small vases and decorate them with solitary flowers. This is a beautiful centerpiece that does not cost a lot.
Only Candles. Use nothing but candles. This is a perfect centerpiece if you have a later dinner or an outside reception.
Running Vines. This type of centerpiece you will want to use on a rectangle table. Use some sort of runner and decorate with running vines throughout the table.
Statement Vases. Find (or paint and design) vases with statement colors and patterns. Fill them with whatever you want, but the vase will be the focal point.
Wine Bottle Centerpiece. Use fine bottles as a vase for 2 or 3 stems.
Fall Leaves. If you have an autumn wedding, fill a mason jar with fall leaves. Or, place the leaves on the table and put other elements on top with candles and pebbles.
A Bowl of Ornaments. Having a winter wedding? You can get both large bowls and holiday ornaments cheap. Use them to make a winter statement centerpiece.
A Bowl of Colored Eggs. If you are having a spring wedding, make a bowl of colored eggs. They do not have to be real!
Seashells and Starfish. If you are having a summer wedding, use items like seashells and starfish to highlight the season. You can put them in a bowl, fishbowl, or mason jar. Or you can just decorate the table with them.
Paper Flower Bouquet. Buy small vases and wrap them with twine. Put a few large paper flowers inside, and now you have a rustic but beautiful centerpiece.
---
---
Leave Affordable Wedding Centerpieces and Go Back To Wedding Centerpieces
Go Back To Wedding Ideas