Garden Wedding Decoration Ideas and Tips
Are you interested in garden wedding decoration ideas and tips - keep on reading!? Nature is quite beautiful and It creates the romantic ambiance and the lets you feel the unimaginable joy of unity. When you are looking for the Perfect Decorations for your garden wedding you should remember that they may vary in forms but overdoing it can destroy the beauty of nature.






Garden Wedding Decoration Ideas - The Basics
Garden Wedding Decorations can be quite dazzling. There is a tendency to put a lot of flowers and decorations to enhance the beauty. A word of advice though, you should be extra careful not to overdo it as the beauty of nature is elegant and quite remarkable on its own. Hiding the beauty of nature with exaggerated designs will only result is your décor to lose some of it's natural beauty and elegance. Choose a theme that blends with the surroundings and coordinate it with the elegance you see.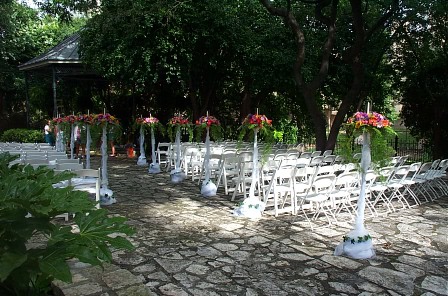 Garden Wedding Decoration Ideas - Spring Weddings
Garden Wedding Decorations may vary form season to season. Springtime weddings tend to have garden wedding decorations with a lot of blooming flowers and decorations that show the awakening of nature after their long winter sleep. This season is best accented with pastel colors. During spring time, weather are very unpredictable - make sure that you have an alternative solutions to the Garden Wedding.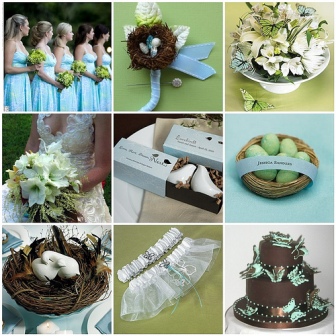 Garden Wedding Decoration Ideas - Summer Weddings
Summer Garden Wedding Decorations are vibrant and bold in colors. The summer is also known for heat so choose a good wedding time when the sun is not at its brightest. Provide tents for the guest in case the heat is too much. Accentuate it with fresh colored berries and citrus fruits. Summer is the season of flowers. There is no need to over decorate. Even though you will have many choices you can choose a few flowers to focus the main part of your decorations on.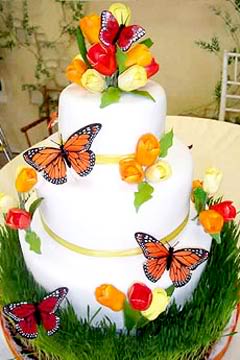 Garden Wedding Decoration Ideas - Fall Weddings
The beautiful Autumn Season is the time when the leaves change their colors. . Autumn is the best time to accessorize your garden with darker wood colors to emphasize the beauty of the changing leaves. You can use flowers with darker, richer shades such as dark yellow, orange, and beautiful reds.



Garden Wedding Decoration Ideas - More Ideas and Tips
You can add colors to the aisle by using flowers or if you are short in budget, you can create a dramatic effect by showering the side with flower petals. Make sure to match the colors of the season to the flowers and bouquets. Decorate the arches, terraces or fountains with simple and elegant flowers that highlights the beauty of nature. Of course you can use other garden wedding decorations such as ribbons, bows, tulle, decorate flower pots, stones and so much more.


Garden Wedding Decorations are best when used in accordance with the season. Having a garden wedding is already a lovely sight. Nature has its own beauty, use it to your advantage.





Subscribe to our free monthly newsletter today! All subscribers get access to a free wedding planning ebook.
Wedding Ideas Newsletter
Share your wedding stories today! Share wedding planning stories and your ideas today. Share what you know and ask our readers for their advice and thoughts on your questions and ideas!
Wedding Stories and Advice
Leave Garden Wedding Decoration and Go Back To Wedding Decorations
Go Back To Wedding Ideas
Looking For Wedding Ideas? Search This Site For What You Are Looking For!


Custom Search
Butterfly-Design Candle and Place Card Holder
Their hearts will be all aflutter when your guests are treated to these butterfly-design candle holders. Place card holder and delicate favor all in one, each attractive favor features an ivory frosted glass votive holder surrounded by a wire base, adorned with tiny butterflies. The wire base extends at the top to form a stylized butterfly shape that will hold your place card or a note or photo once your guests take them home. Each is 3 1/2" tall and comes individually packaged in a white box.
Save 10% on Favor Orders Over $200
Available from WeddingFavors.com
Use coupon code Save10
Offer expires 2010-10-31
Buy Now
Floral Favor Collection Watering Can Candles
Can these Floral Favor Collection watering can candles add color and cheer to your special occasion? You bet they can! Whether the calendar says it`s spring or summertime, or you just want to add some of the seasons` warmth and charm to your event at any time of the year, these colorful watering can design candle favors are a delight. Measuring 3 1/2 x 1 1/2, each candle, from Fashioncraft`s Floral Favor Collection has a ceramic outer watering can shape , delivered in an assortment of colors including sunshine yellow, lavish lavender, peony pink and garden green , with a poured white candle inside  Perfect as spring and summer wedding and shower favors, each comes in a clear topped box with a colorful daisy design base finished with the saying A Sprinkle of Love and tied with a white organza bow and a matching For You tag.
This item is available from our shopping partner, Blue Rainbow Design.
Enjoy This Site?
Then why not use the button below, to add us to your favorite bookmarking service?


Flower and Butterfly Votive Candle Holder
This flower and butterfly votive candle holder measures 5in. tall and comes in lovely, springtime pink and green hues. The holder would make a wonderful table decoration for a bridal shower or garden themed reception.
Free Shipping on Orders Over $175
Available from Sophie's Favors
Use coupon code FREESHIP
Offer expires 2010-12-31
Buy Now
Butterfly Garden Indian Wedding Vase
A wedding vase is traditionally used by Native American couples in the Southwest but it is being used increasingly by couples everywhere drawn to the culture's spirituality and reverence for nature, the earth, and the environment. During the ceremony each person drinks from a spout to symbolize both individuality and unity. The vase is one-of-a-kind handcrafted in New Mexico with traditional methods including hand etching, and materials including real jasper stone and inlaid horse hair. It measures 8" tall and is signed by the artist, Hilda Whitegoat of the Navajo Pueblo.
This item is available from our shopping partner, My Spiritual Wedding.