Wedding Planning in Vegas
Wedding planning in Vegas can be a lot of fun, or a lot of hard work. We would like to take the hard work out for you!

_____________________________________________________________________________
Advertising Disclaimer:
Pamela Kazmierczak (owner of wedding-planning-101.com) is a participant in the Amazon Services LLC Associates Program, an affiliate advertising program designed to provide a means for sites to earn advertising fees through advertising and linking to amazon.com.
On my pages you will find text links and photo links to amazon products as well as other programs I am an affiliate of. I also use other forms of advertising such as google adsense. 
If you click to add or purchase an item through a link, I might earn a commission.
_____________________________________________________________________________
Las Vegas weddings come in many different unique varieties. The first thing you really want to know is what type of wedding you want. Are you going to Vegas to elope or are you planning an elaborate destination wedding for 200 guests or is it something in between?

Either way, let me give you a few tips on wedding planning in Vegas to help you out on your big day!

Do you want to create fireworks by marrying in Las Vegas on the Fourth of July or do you want an extra special Valentine's Day, one to remember with an anniversary every year? Well, in Vegas, so does everyone else. Typically people do get married on holidays, but in every other city it is less than in Vegas. Most brides tend to stay away from holiday weddings as they want to be the center of attention, not the three day weekend. However, many people choose to celebrate their holidays in Las Vegas by getting married, go figure.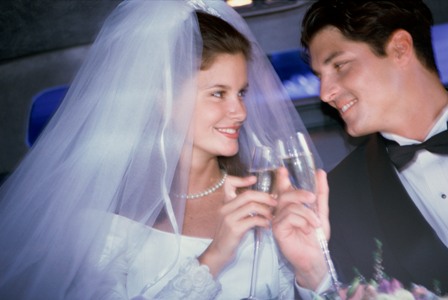 If you are one of the people who really wants to be married in Sin City on a holiday you need to plan ahead. Holiday wedding planning in Vegas can be done, but it is better to not be spur of the moment. If you are eloping on a holiday you will be waiting in long lines in the heat to get married, the wait could be several hours. If your wedding is a little more planned you should keep in mind that the holidays are a busy time for Las Vegas, they get a lot of tourists. With that being said, realize your guests could also have difficulties getting a flight in, a car rental or a hotel room if enough planning isn't done ahead of time. Finally reception sites could be booked for months ahead of time for the holidays, so if you do dream of getting married and having your wedding reception in Las Vegas on a holiday, realize you will need plenty of time to plan it all out.

Las Vegas has plenty of wedding chapels to choose from. Decide what kind of Las Vegas wedding you want and then research the chapels. When you are wedding planning in Vegas you can do the typical small chapel elopement or you can have a destination wedding inside a chapel. Many of these wedding chapels also offer garden services, get married outside in nature can be very romantic. Want a little something different? Many people who are wedding planning in Vegas do too! Check out Vegas Adventure Wedding Chapel. They offer a lot of fun packages – you could have an Elvis Wedding, get married in adventurous places or romantic, like a lakeside wedding.

If you are planning your wedding, then wedding clothes are probably not a concern, as you probably already have everything you will need for the big day. However, if you are eloping you may not have a dress, and you probably really want one. Do not worry, Vegas has you covered. There are plenty of bridal shops in Vegas to shop at. Want to wear a wedding gown but don't have cash to spare? There are also many shops in Vegas which rent wedding gowns and tuxedos so you can get married and take the pictures without having to pay outrageous prices for something you will never wear again. I will caution you when shopping to remember the weather and to try to choose a dress that is a little lighter, especially if you have to wait in line for a wedding chapel to fit you in!

Every bride, whether she is wedding planning in Vegas or getting married anywhere else in the world, needs to think about hair and makeup. Remember what I said about holidays, how you need to plan in advance, well the same goes for salons. There are many salons on or near the strip and most hotels have spas and salons on site, but it would be best to get appointments so you know everything will be perfect.

Leave Wedding Planning in Vegas and Go Back To The Wedding Reception
Go Back To Wedding Ideas