Reasons For Giving A Used Engagement Ring
Are you planning on getting a used engagement ring for your fiancé? Before you do you should discuss it with her including why you are thinking of going this route instead of the traditional internet or local jewelry store. With a proper explanation most women would not mind her engagement ring being used, we are quite understanding. But what are some reasons you may have for this?






Used Engagement Ring - Family Heirloom
Giving your fiancé a used engagement ring when it is a family heirloom is always an acceptable practice. You could choose to make the announcement that her ring belonged to one of your family members during the actual engagement proposal. While you are proposing you can ask if she will do the honor or not only marrying you, but to wear a ring which is important to you because of whomever it belonged to. Feel free to add as much details and information as possible. Let her know that it is not simply a used engagement ring, but one which was worn by one or more woman that are very important to you.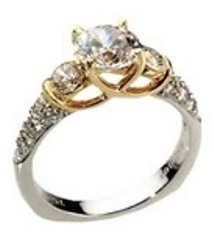 Used Engagement Ring - Choosing a Specific Style
Sometimes the reason you want to buy a used engagement ring has nothing to do with the cost but with the style. You may want to give a style which is not popular in wedding rings anymore or even choose to give antique or vintage engagement rings to your fiancé. There is nothing wrong with this, especially if this is a choice they will adore, but what it does mean is that you will certainly need to purchase a used engagement ring.


Shop For Engagement Rings
Save 10% of your engagement ring setting with coupon code RING10


Used Engagement Ring - Financial Reasons
There really is no shame if you cannot afford to buy a new ring at a jewelry store. Your fiancé should be marrying you because she loves and adores you, not because of what you can buy her. It really should not matter if you choose to give her a used engagement ring, as the ring itself is just a symbol of the love you share and the commitment you are both going to make.



Used Engagement Ring - To Give Her Better Quality
Even if you can afford to buy a decent engagement ring at the store or online, you might ultimately decide to buy a used engagement ring because by getting one which is not brand new you can get more carats or a more flawless diamond. Of course this decision might be made on an impulse as well. You might go to an auction or an estate sale and find the most perfect ring that you simply cannot pass up. Perhaps you an online and see an auction or a sale. There are many reasons and places that you may find the perfect ring for your beloved.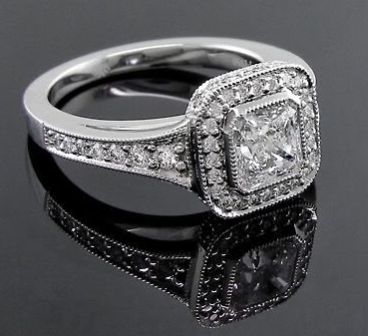 Subscribe to our free monthly newsletter today! All subscribers get access to a free wedding planning ebook.
Wedding Ideas Newsletter
Share your wedding stories today! Share wedding planning stories and your ideas today. Share what you know and ask our readers for their advice and thoughts on your questions and ideas!
Wedding Stories and Advice
Ready To Shop? Check James Allen's Impressive Diamond Ring, Wedding Ring, Wedding Band and Fine Jewelry Collection Today! You Will Not Be Disappointed!
Save 10% of your engagement ring setting with coupon code RING10
Leave Used Engagement Ring and Go Back Engagement Ring Styles
Go Back To Wedding Ideas
Looking For Wedding Ideas? Search This Site For What You Are Looking For!


Custom Search
1/2 Carat Diamond Princess Cut Bridal Set
Four sizzling princess cut diamonds highlight a lavish 14 karat white gold ring display that additionally boasts a great row of ten brilliant round stones (1/2 carat (ctw)) set fancily in the cool metal.
This item is available from our shopping partner, My Jewelry Box.



Enjoy This Site?
Then why not use the button below, to add us to your favorite bookmarking service?






ADD SHOPZILLA ADS, AFFILIATE BANNERS, NEWSLETTER SIGN UP, ETC...